Jeff Barry achieved his first success as a producer with The Raindrops' releases, but he'd already been producing records for at least two years. It was a skill he showed an affinity for quite early on: He had conducted the band (featuring King Curtis on tenor sax), and practically co-produced his first solo record for RCA Victor in 1959! In 1962, he received his first label production credit for "Caravan Of Lonely Men," recorded by Carlton Records artist Tony Richards. However, production assignments increased substantially after he and Ellie Greenwich came under the tutelage of Leiber and Stoller. Jerry and Mike were arguably the hottest independent production team around in the early 1960s; working with The Drifters, The Coasters, Ben E. King, The Exciters, Jay & The Americans, Mike Clifford, Sammy Turner and many other artists, they had more work than they could handle. They were only too happy to let Jeff and Ellie take on some of the overflow. With label credit usually going to Leiber-Stoller Productions, Jeff and Ellie wrote songs and produced sessions for The Darlettes ("Here She Comes"), Baby Jane and The Rock-A-Byes ("Hickory Dickery Dock"), Ray Peterson ("Give Us Your Blessings") and The Exciters (the original version of "Doo Wah Diddy Diddy"), scoring chart records with the latter two. In late 1963, Jerry and Mike decided to launch their own record label, Daisy, and reactivate Tiger Records, a dormant label they'd established a year earlier. Jeff and Ellie were tagged to produce material for this new business venture. They were heavily involved with Vic Donna's "I Won't Be Me Any More," Moody and The Delta's "Everybody Come Clap Your Hands," and at least one more of the eleven releases these labels marketed between November of 1963 and May of 1964. Even before the last Tiger release had hit the streets, Leiber, Stoller and rock 'n' roll label veteran George Goldner had asked Barry and Greenwich to help them launch yet another pair of labels. In the spring of 1964, these five stockholders were busy auditioning talent for the new imprints, which were to be called Red-Bird (a vehicle for pop releases) and Blue Cat (for rhythm and blues singles). By now, Phil Spector had decided to collaborate with other writers, and no longer required Jeff and Ellie's services. They hardly missed the work, because there was plenty for them to do as Red-Bird staff producers and unofficial A & R directors.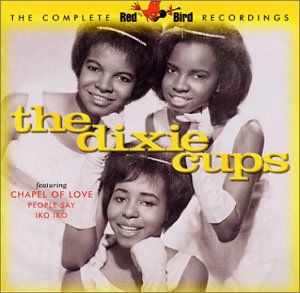 The Dixie Cups
Sisters Barbara and Rosalie Hawkins and cousin Joanmarie Johnson, originally known as the Mel-Tones, were among several New Orleans-based groups brought to Red-Bird Records by artist manager Joe Jones. Jones was also a songwriter and a recording artist in his own right; he'd scored a memorable hit for Roulette Records in 1960, "You Talk Too Much." At Red-Bird, he'd supervise recordings by blues singer/guitarist Alvin Robinson. However, the three Mel-Tones were put under the care of Barry and Greenwich. The couple immediately began rehearsing the girls on a song they'd written the previous year with Phil Spector, "Chapel Of Love." As the first release on Red-Bird Records by the renamed Dixie Cups, the song shot to the top of the charts and instantly became a wedding standard. The Dixie Cups' records had an easy-rocking New Orleans groove that was influenced by Wardell Quezergue, their music director and an associate of Joe Jones. According to the Dixie Cups themselves, Quezergue wrote basic arrangements for "Chapel Of Love" and the other records the girls cut for Red-Bird, although Mike Stoller was usually credited on the labels. Likewise, Leiber and Stoller were credited as producers of all but the first Dixie Cups release, which was credited to Joe Jones. Make no mistake, though: Jeff and Ellie produced the sessions, and every Dixie Cups record they produced made the charts. There were four Top Forty Dixie Cups hits in all: "Chapel Of Love," "People Say," "You Should've Seen The Way He Looked At Me" and "Iko Iko." Although it rose no higher than #20, this last song proved to be the most enduring hit after "Chapel Of Love." A folk melody adapted for R &B consumption by Louisiana musician Jesse Thomas, the success of The Dixie Cups' version transformed the song into a New Orleans anthem; today, every jazz, rock and blues band in the city knows and plays it. Jeff Barry dreamed up a revolutionary percussion-only background for the song after hearing the girls sing it to themselves during a break. Manager Joe Jones (who claimed writing credits on "Iko Iko" after its release) took the Misses Hawkins and Johnson to ABC Records in 1965. By then, their hit streak had cooled in the wake of the British Invasion.
Independent producer Steve Venet brought two fondly-remembered girl groups to Red-Bird, The Jellybeans and The Butterflys. Because of Venet's relative inexperience, Leiber and Stoller teamed him with Barry and Greenwich for a pair of releases on both acts. The Jellybeans, led by the rather tentative voice of Elyse Herbert, were unlikely recipients of Jeff and Ellie's largesse; however, they proved to have the right stuff to take the couple's new song "I Wanna Love Him So Bad" into the Top Ten shortly after "Chapel Of Love" hit #1. The follow-up, "Baby, Be Mine" did less well, but lay a tuneful foundation for the Caribbean percussion sound that would later appear on "Iko Iko." An unreleased Jellybeans album includes versions of several staples in the Barry-Greenwich catalog, among them "Doo Wah Diddy Diddy," "Here She Comes," and "Chapel Of Love." The Butterflys, contrary to widespread belief, were not the overdubbed studio voices of Ellie Greenwich, though she did sing background on their singles. Their sultry-voiced lead singer was probably a fourteen-year-old bobbysoxer named Teri Nelson, who'd later cut an album on the Kama-Sutra label under her own name. The Butterflys never managed a Top Forty hit, but their two chart singles, "Good Night, Baby" and "I Wonder" are widely regarded as samples of the finest in girl group songwriting and production. The former, in particular, is frequently culled for inclusion on compilations. The latter is the definitive version of a Barry-Greenwich-Spector song that was also recorded by The Crystals (for release in England) and The Ronettes (for their highly-regarded 1965 album, Presenting The Fabulous Ronettes).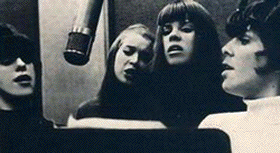 The Shangri-Las
Ellie Greenwich had been schoolmates with an eccentric, streetwise character named George Francis Morton. He suddenly showed up at her office in the Brill Building one day in 1964, claiming that he could write and produce hit records. After he impressed the doubtful lady with a demo, she and Jeff Barry helped him land a staff songwriter/producer job at Red-Bird. Morton's demo played a most unconventional song called "Remember (Walkin' In The Sand)," sung by a between-record-deals girl group comprised of two sets of sisters. This group, The Shangri-Las, would do more to revolutionize the image, repertoire and perception of girl groups than any other, before or since their appearance on the scene. Jeff and Ellie helped George Morton (whom they nicknamed "The Shadow" for his habit of disappearing suddenly) structure his song and recut his demo. The record's evocative surfside sound effects (produced vocally by Jeff) and daring lyrics, which dealt with loss of virginity and abandonment, hit the Billboard charts like an atom bomb and lodged in the Top Five. Lead singer Mary Weiss Stokes had a tremulous teenage voice that was perfect for putting across such melodramatic material; it sometimes sounded vulnerable, sometimes insolent, and sometimes both simultaneously.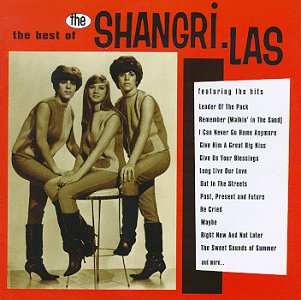 The Shangri-Las
On the group's second turn at bat, Barry, Greenwich and Morton gave Mary all the melodrama she could handle. "Leader Of The Pack," the greatest rebel-without-a-cause song of all-time, shocked early '60s America with its morbid atmosphere and grinding motorcycle crash sound effects. It was banned in various regions of the country, but that didn't stop it from topping the charts! It hasn't left pop radio since. Future Shangri-Las singles, the best of which were written by Barry and Greenwich, hewed closely to the same pattern of pathos, controversy and teen angst. "Out In The Streets" dealt sensitively with manhood, the redeeming power of love, and how the two can sometimes come into conflict. "Give Us Your Blessings" told the story of a youthful couple who succumbed to a car crash on their way to be wed (although it seemed tailor-made for The Shangri-Las, the song had previously been a minor hit for Ray Peterson). "The Train From Kansas City," perhaps Jeff and Ellie's finest song collaboration, found a recent bride contemplating the possibility of taking an extramarital lover. Although "Shadow" Morton soon began to demand (and often get) sole production credit on the singles, Jeff and Ellie co-produced The Shangri-Las' vinyl melodramas with him at least through the end of 1964.
In late 1964/early '65, cracks began to appear in Jeff and Ellie's marriage. Writing together was easy, but living together as husband and wife proved increasingly difficult; Jeff had fallen in love with another woman. Despite stress in their personal lives, they managed to buckle down at work and create excellent records for numerous Red-Bird and Blue Cat acts. Actor/singer Steve Rossi held forth on their chalypso-styled ballad "Nobody But You" (also recorded by The Tokens). The Ad-Libs rocked out to "He Ain't No Angel" (waxed earlier in a frenetic gospel style by Leola and The Lovejoys on Daisy Records). The Soul Brothers were treated to the extremely catchy "I Got A Dream," and Sidney Barnes was blessed with a Motown-inspired backdrop for his song "I Hurt On The Other Side." With its clever Smokey Robinson-inspired lyric and funky Ellie Greenwich background vocals, this percolating single was the couple's most soulful production yet. They bagged their biggest R & B success with honey-voiced Sam Hawkins (no relation to The Dixie Cups) and his fiery rendition of "Hold On, Baby." This gospel-meets-blues handclapper went Top Ten R & B during the summer of '65; surprisingly, it's probably the least well-known of Jeff and Ellie's hits. Jeff Barry sometimes supervised sessions by other young producers, most notably Ronald Moseley and Robert Bateman on their Holland-Dozier-Holland-flavored "Welcome To My Heart," waxed by The Bouquets. He and Ellie produced artists outside the Red-Bird stable, too, charting modestly with Connie Francis ("Don't Ever Leave Me") and The Drifters ("I'll Take You Where The Music's Playing"). They even stepped out of the shadows to take bows as artists in their own right, only separately this time. Ellie's quite promising release took her squarely into Shangri-Las territory: "You Don't Know" was a dramatic ballad with a love triangle theme, co-written and co-produced with Jeff and Shadow Morton. It didn't make the charts, but quickly became a cult item. Jeff continued to mine the Motown vein with "I'll Still Love You," a peppy finger-popper that would've been ideal for Marvin Gaye. Unbelievably, this superb single also failed to find an audience. Ellie had a follow-up ready for release ("Another Boy Like Mine," a great song which was also cut by The Dixie Cups), but time was running out. Before they knew it, all of Red-Bird and Blue Cat's best-selling artists had defected to other labels, and Leiber and Stoller had sold their stock shares. The Red-Bird era was history, and soon, their marriage was over, too.
Divorce papers in hand, their professional split was headed off by Phil Spector, who reunited them in early 1966 to pen material for his latest signing, Ike & Tina Turner. These writing sessions produced the incredible "River-Deep, Mountain-High" and the irresistible "I Can Hear Music," which Phil allowed Jeff to produce as a Ronettes single. Both singles would fail upon initial release, only to be successfully revived later in the decade by The Supremes with The Four Tops and The Beach Boys, respectively. Collectable cover versions were also waxed by Dobie Gray, Toni Wine, The Easybeats, Freddie Mercury (using the pseudonym "Larry Lurex") and Deep Purple. Ellie Greenwich would continue to co-produce artists with Jeff Barry through the spring of 1968, but with increasing frequency, he began to take on solo projects. The few songs he and Ellie wrote during this period weren't collaborations so much as totally independent ideas fused together. For all intents and purposes, their stellar songwriting partnership was over. Curiously, a lot of rock music history books leave the impression that Jeff's hitmaking streak ended at this point. That's hardly the case! There's a strong argument to be made that his success in the years following his divorce was even greater than before. In the onslaught of the British Invasion, folk rock, psychedelia, singer/songwriters and self-contained groups, Jeff Barry moved forcefully to carve out a niche for himself and his music. When the 1960s came to a close, he'd find himself not only at the top of the charts, but also at the peak of his skills as a songwriter and producer. As for the catalog of songs he'd amassed between 1960 and 1966, it would prove to have a market life far beyond anything he had imagined. As fruitful as Jeff's years working with Arnold Shaw, Leiber and Stoller, Phil Spector and Ellie Greenwich had been, the full harvest of his talent wasn't even close to being realized. For millions of music lovers, the best was yet to come.