Birthday:
November 4
Birthplace:
New Jersey
Marital status:
Divorced
Children:
None
Favorite entertainer:
Ron Dante
Favorite songwriter:

Jeff Barry
Favorite movies:
A Hard Day's Night
Apollo 13
Moonstruck
Grease
The Joy Luck Club
Favorite books:
Love Can Build a Bridge (
Naomi Judd
)
Memoirs of a Geisha
Apollo 13
Everything by
Sylvia Browne
Everything by
John Edward

(see a trend here?)
The Joy Luck Club (Amy Tan)
The Kitchen God's Wife (Amy Tan)
The Hundred Secret Senses (Amy Tan)
The Bonesetter's Daughter (Amy Tan)
The Opposite of Fate (Amy Tan)

(see a trend here?)
Favorite color:
Green
Favorite food:
Asian (especially sushi!)

Note - For links to all my web sites and general Internet presence, visit
Laura's Websites
.


Laura's Oldies Sites
- Links to just those sites that relate to the great music of the 50's, 60's and 70's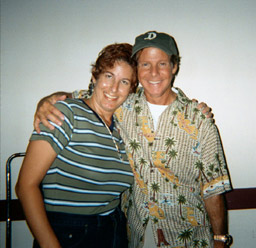 (Above) Ron Dante and I backstage in Orlando, FL, 08/28/2000 -- our first meeting!