1963 - 1968
Through an old acquaintance from his days with WJAR-TV in Providence, Rhode Island, Clay is brought to the attention of WPIX-TV (Channel 11). At the behest of the station, Clay tapes a pilot, The Young World of Clay Cole, with Chuck McCann as Clay's announcer/sidekick and Bobby Darin as the guest. The station is sold on the show, which will begin airing that fall; Chet Dowling, the person who'd brought Clay to the station, will be the producer. In the meantime, Clay, now employed by Channel 11, returns to Freedomland in July for a late-night, live summer series, Clay Cole at the Moon Bowl. Clay also films a commercial for Wrigley's Doublemint Gum. On his way to the Peppermint Lounge to celebrate having won the audition, he is mobbed by fans and, somehow, accidentally injured by a police officer's baton and arrested for striking a law enforcement officer. It will take Clay several months to navigate through the legal system and obtain an acquittal in court.
The Young World of Clay Cole debuts in October of 1963. It's in a talk-show format and features primarily (but not exclusively) musical artists, with a secondary emphasis on comedy, and airs at 6:30 p.m. Eastern on Saturday nights.
That December, Clay begins hearing a song called "I Wanna Hold Your Hand" on the radio, sung by a British band called The Beatles. As 1963 surrenders to 1964, Beatlemania has begun.
After Dowling's departure from The Clay Cole Show, a replacement producer introduces a new segment to the show - "Clay's Cole Bin," which features the musical guests doing comedy skits for the show's final quarter-hour. This is a hit with both the fans and the participating guests, who embrace the chance to show off their comedic sides.
The Clay Cole Show is not only the very first American television program to present The Rolling Stones, it is also the only program ever to have both The Stones and The Beatles on the same show, thanks to a live satellite feed from Channel 11's sister station, WGN, in Chicago, IL. The Stones are live in-studio, and The Fab Four are shown performing in concert at a Chicago arena courtesy of live footage. This broadcast, which Clay playfully dubs "The Beatles vs. The Rolling Stones," sends the show's ratings through the roof and is re-broadcast on three other nights. (Sadly, the videotape of this, as well as all of Clay Cole's shows, is erased and re-used by the station to save money and lost to history forever.)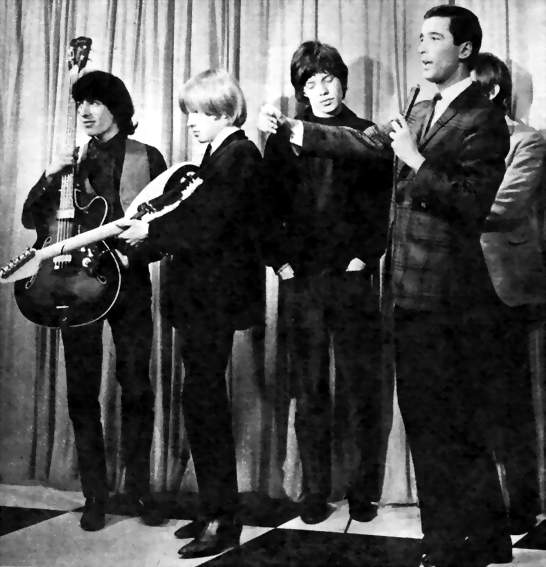 As the show celebrates its first anniversary in the fall of 1964, Clay is given a second hourlong show, which will air on Sunday nights. Clay makes personal appearances in addition to his TV work and is regularly featured at a New York supper club called The Living Room; history repeats itself when Clay's Christmas-through-New-Year engagement at the club breaks the all-time house record.
Clay becomes a partner in a nightclub venture; the room is called Clay Cole's Happening Place. His partnership and endorsement ends after a destructive fistfight and the infiltration of a criminal element with which Clay cannot afford to be associated.
Nineteen sixty-five is a year of upheaval. Clay's mother, Evelyn Rucker, has a stroke and passes away at the young age of 52. Still devastated from the loss, two months later, Clay enters into a short-lived marriage.
The Clay Cole Show is reformatted into Clay Cole's Disk-O-Tek. Both the studio audience and the home viewers are a few years older than the 14-to-17-year-olds who'd previously made up the demographic, and the dress code is more relaxed. The show continues to feature comedians as well as musical acts. Clay's program has also gained a reputation as a solid stepping-stone for the British Invasion groups towards American network television appearances.
Clay continues to make personal appearances, mainly within New York City's boroughs and in New Jersey, including a return to Palisades Amusement Park to host the Free-Act stage and the Miss American Teenager pagaents, and a couple of summers entertaining at the New York World's Fair. In 1967, Clay's show, now 90 minutes in length, begins broadcasting in color.
By this time, it is the beginning of the end of Clay's career as a rock and roll TV-show host. Music is heavier, more psychedelic, and the hippie counterculture is moving into the forefront and exerting its influence - an influence with which Clay, a self-described "black-tie [and] tuxedo guy adrift in a tie-dyed, tee-shirt world," is becoming more and more uncomfortable. The taping of the program isn't fun any longer; he is tired and ready to walk away from the mic. After a weeklong appearance at the New York Paramount Theatre, hosting four shows a day at the legendary venue but feeling none of the old razzle-dazzle, and opening and closing a dance club called Clay Cole's Land of 1000 Dances at the Essex House Hotel in Newark, New Jersey, Clay gives WPIX-TV eight weeks notice. The time has finally come for Clay to resign from the still well-received Clay Cole's Disk-O-Tek and his days as one of the New York-Metro area's most popular rock and roll emcees.
Clay's final show for Channel 11, which includes guests Paul Anka and The Cowsills and features a surprise live telephone call from Jerry Lewis, airs at the end of 1967. As '67 gives way to '68 and Clay Cole celebrates both the New Year and his thirtieth birthday, he is also marking the end of an era, for himself as well as for the millions who tuned in to his show every week and caught him at his numerous personal appearances.
After Clay's departure, the show he had given life to, and instilled magic in, does not last another year. It had been Clay Cole the youngsters had been tuning in to watch.
All told, Clay Cole has been a fixture on TV in the New York-Metro area for more than eight years, during which time he has not only presented many of the best-known names in the world of music and comedy but has also developed his very own fan base. Now, the time has come for Clay to begin a new phase of life, and a brand-new career behind the scenes.
1968 - 2010
Although he has stepped away from the mic, Clay is far from retired; he will remain active in the business he loves until 2002. Ultimately, he will be involved in the production of more than 3,500 TV shows, including the CBS-TV show People, based on the magazine of the same name, which he creates along with Raysa Bonow and David Susskind in 1979.
Clay's final stage appearance takes place in 1970 at New York's Academy of Music, where he presents a three-day Christmas show. With a few exceptions, most of Clay's work after he leaves his popular television program takes place behind the scenes. He has become a freelance TV producer who enjoys the independence and travel associated with his career as well as being out of the spotlight; in later years he will tell interviewers (and state in his book) that he had not enjoyed some of the aspects of the fame that his TV show and personal appearances had brought to him.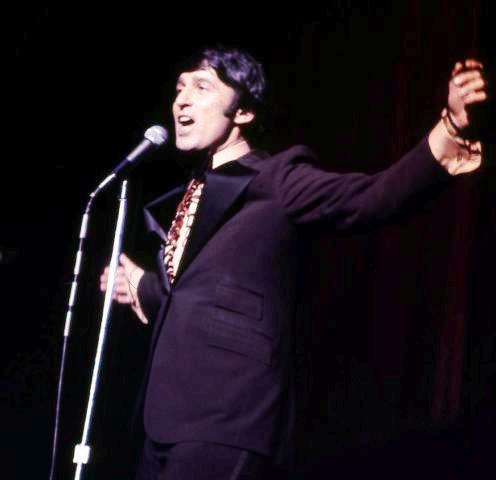 In 1974, Clay joins Jay Fontana in the management of a talent agency that specializes in the placement of go-go girls in nightclubs. Clay's good name is compromised when an assailant pretending to be him telephones several of these girls and arranges to meet them at remote locales late at night, where they are assaulted and robbed. The perpetrator is caught, but the episode will come back to haunt Clay a few years later when his bid for co-hosting duties on People is turned down by CBS after a background check. In 1984, the movie Fear City, which is loosely based on the real-life episode but enhanced to include murder, is released; it is written and directed by two young filmmakers who'd been working in one of Clay and Jay's unused offices as the drama unfolded.

HBO invites Clay to host a two-hour concert called Clay Cole's 20 Years of Rock 'n' Roll. The show, which airs in 1974, takes place on the stage of Rockland Community College in Suffern, New York and includes several backstage interviews that Clay conducts. Among the guests are The Drifters, The Coasters, The Platters, and Johnny Maestro and the Brooklyn Bridge. In 1979, Clay again appears in front of the camera, as co-host for WABC-TV's weekday show AM New York.

In 1981 and 1982, Clay is presented the Emmy Award by the National Academy of Television Arts and Sciences as "producer of outstanding entertainment programming" for the Joel Siegel Academy Awards special. Clay is delighted to be an Emmy recipient but even more tickled by his induction into the NYPD Legion of Honor, which he calls his proudest moment.

On September 1, 2001, just a week and a half prior to the events of 9-11 that will destroy the World Trade Center, Clay Cole leaves New York City. He will ultimately reside on Oak Island, North Carolina. Clay's final television project is as writer-producer-director of the TV special based on the 2002 San Remo Song Festival, among whose participants are Britney Spears, Alicia Keys, and Alanis Morissette.
After doing an Internet search on his own name and learning that he has been dead for ten years (according to a forum post), Clay decides to once again step out from behind the curtain. The result will be the book
Sh-Boom! The Explosion of Rock 'n' Roll (1953-1968)
, which Clay pens over a four-year period. He also launches a website,
www.claycoleshow.com
, loaded with photos, news, info, links, and remembrances. Additionally, Clay is one of the founders of the
Hit Parade Hall of Fame
, an organization that recognizes the contributions to pop music by recording artists through yearly nominations and inductions.
Sh-Boom!
is released on October 1, 2009, and the year that follows is a busy but fun one for Clay as he goes on the road and does radio and TV interviews to promote the book. The day after its release, Clay is interviewed by deejay Ronnie Allen for the
Jersey Girls Sing
website; the audio interview resides on
Ronnie's Radio Page
. A month later, Clay does an interview with Mike Miller for his
Harmony Street
site. This too is archived on
its own page
on Mike's website. In between these interviews, Clay attends the 2009 of Friends of Old Time Radio Convention in Newark, New Jersey - where he is
presented an award
by
Brian Gari
for his contributions to radio - as well as a tribute to Connie Francis in Belleville, New Jersey, also attended by the Jersey Girls (Denise, Bernadette, Arleen and Peggy), Bob Crewe, and Frankie Valli and Tommy DeVito of the Four Seasons. A planned three-minute interview with Norm N. Nite at the Sirius XM studios in the Rock and Roll Hall of Fame in Cleveland turns into a surprise three-hour broadcast, with telephone tributes coming in from Connie, Lou Christie, Dion, and many other notables. Clay also enjoys a reunion with The Baby Sitters from his early days in television, whom he has not seen in over 50 years. On November 28, Clay is one of the
guests
at BEATExpo 2009 in Stamford, Connecticut, along with Sid Bernstein.
Clay's 72nd year, 2010, is a whirlwind of personal appearances and interviews for radio and television, including a
stop
in the Tampa Bay area and a
writeup
in a local paper, the Beach Beacon, as well as a
TV appearance
on Studio 10. Clay will return to Tampa Bay in April as host of the oldies concert presented by
2B Productions, Inc.
and featuring Jay and The Americans, The Crystals, The Coasters, JT Carter, and Mike Miller.
Clay is happy and quite moved when an
online petition
to get him inducted into the Rock Hall is drafted by Denise Ferri, Bernadette Carroll, and Ronnie Allen (from the Jersey Girls Sing website). The petition is endorsed by Clay's fan club president, Marcia Habib, and quickly gains momentum as Clay's friends and fans add their electronic signatures to Vote Clay Cole into the Rock and Roll Hall of Fame.
From July 30th through August 1st of 2010, Clay is one of the
guests
at the National Rock Con in East Rutherford, New Jersey, where once again he is reunited with Sid Bernstein and scores of fans, friends, and fellow celebrities. This will turn out to be one of his last major public appearances.
December 2010
Clay's website is updated for the holiday season, with Christmas songs playing on several pages that display festive pictures of rock and rollers decked out in red and green and white garb. Clay begins writing and sending Christmas cards to his family members and his many friends.
On the morning of the 18th, Clay takes a break from the greeting-card task and starts a pot of coffee. He and his brother Rick are planning to meet for breakfast, as they normally do on Saturdays.
I live every day as if it were my last, because one of these days I'll be right. ... I'm not a hero. I have not acted bravely under fire, saved lives or changed the world. So, I live my life in the pursuit of one simple virtue, that one day, I might merely be remembered as a good person.
~Clay Cole, from Sh-Boom! The Explosion of Rock 'N' Roll, 1953-1968
Clay Cole passes away at home on the morning of December 18, 2010, just two weeks shy of his 73rd birthday. In accordance with his hopeful prophecy, he will always and forevermore be remembered as a good person.
Albert Franklin Rucker, Jr. (Clay Cole)
01 January 1938 - 18 December 2010
Primary Sources:
Clay Cole Show - Clay's official website (now accessed via the Internet archive site)
Special thanks to Denise Ferri, Bernadette Carroll, and Ronnie Allen
Other Sources: