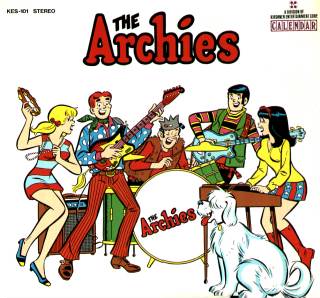 In the summer of 1968, noted producer/songwriter Jeff Barry assembled musicians and vocalists for the purpose of recording cartoon soundtrack music. Before he was through, Barry would do no less than revolutionize the sound of children's music. Unwilling to accept the premise that songs for preteens had to be superficial and silly, he spiced his compositions with liberal dashes of rhythm 'n' blues. The result was a superlative soundtrack album that's held up better than many albums by more "serious" acts that were issued at the same time. The Archies' debut long-player was, and remains, one of the best children's rock 'n' roll recordings ever.
The lead track, "Everything's Archie" (theme song of the cartoon series) has a deceptively simple and catchy melody, like a nursery rhyme. However, its unexpected hard rock edge makes it one of the most memorable TV themes ever, performed with much exuberance by Ron Dante and Toni Wine. By contrast, "Boys And Girls" is an aggressive rockabilly-tinged nugget that surely would've been as appealing in 1958 as it was in 1968. Crisp one-two handclappings punctuate Dante's delightfully sassy vocal reading: Okay, boys and girls/School's in/The lesson for today/Is love. Jeff Barry's tunes are augmented on the album by those of Ritchie Adams and Mark Barkan, and their tasty "Time For Love" is evidence of how well this veteran duo could write songs for kids (The Banana Splits' hook-laden "Tra-La-La Song" is also one of their creations). Happy-go-lucky whistles, fingerpops and handclappings enhance the lilting melody and invite kids to join in and sing along. However, the melody isn't quite so lilting that adults can't enjoy it, too.
In the unlikely event that you manage to snooze through these first three cuts, "You Make Me Wanna Dance" provides a wake-up call you cant possibly ignore. How could any rock fan resist its sizzling organ, wicked rhythm guitar, bodacious bongos and blistering drums? Not to mention Jeff, Toni and Ron Dante's steady-on-the-beat handclappings? Small wonder that the cartoon Betty Cooper's ponytail wouldn't stop swinging to this instant classic! The twangy "La Dee Doo Down " didn't necessarily sound like a hit when first telecast on The Archie Show in 1968, but given the demand these days for danceable country music, it could provide some enterprising Nashville crooner with a best-seller! Imagine patrons of a honky tonk bar enthusiastically line-dancing "The Veronica Walk" to this feelgood number. Demonstrating another of his many musical talents, Jeff Barry gets down-down-down! on bass vocals.
Had any of them bothered to take time and listen, rock critics would've been shocked to find "Truck Driver" on this album. It's a bonafide twelve-bar blues with a raw piano, bass and guitar arrangement. Ron Dante rises to the occasion, laying on an anguished and soulful vocal reading. A decidedly adult number lyrically as well as musically, "Truck Driver" is all the proof you need of Jeff Barry's commitment to not produce another run-of-the-mill childrens record. "Catchin' Up On Fun" is another gem from the Adams and Barkan song treasury, even better than "Time For Love". With its hip-swaying rhythm and smooth harmonies, this tune fairly begged for release as a single. Unfortunately, the best it could manage was a promotional pressing on the backs of Post cereal boxes. In the '60s, strange things like that could happen!
"I'm In Love" picks up where "You Make Me Wanna Dance" left off, only with the guitar sound fattened up considerably. Add a sledgehammer approach to the drums, and you've got one seriously rowdy track. But while the music is full-tilt rock 'n' roll, the vocals are 100% gospel. Pastor Dante goes to church, fervently preaching the virtues of true love, while behind him up in the choir loft, Brother Barry and Sister Wine clap hands and shout out their testimony. Next up is "Seventeen Ain't Young", a song powerful enough to make anybody want to testify. This has to be one of the finest teen anthems ever written, and it should've become a standard. Ron Dante was in his early twenties when he recorded it, but surely no younger man could've conveyed teen angst better than he does here: Seventeen ain't young no more/Not like it was once before/It's old enough to know how you feel/Old enough to know that love is real.
How good can an album get? As good as "Ride, Ride, Ride", and if you like hot rod songs with cocksure lyrics (I got a new set of drag wheels/You know they're mag wheels/Eleven inches wide) and Indy 500 sound effects, that's awfully good. Archie and Veronica, in the persons of Dante and Wine, harmonize better than they ever did in the comic strips as Arch burns up the highway in his red jalopy. Then it's back to the Adams/Barkan songbook one more time, but be warned: This one's rated PG-13! What were parents to think of "Hide And Seek", a song that encourages impressionable tots to pair off and French kiss to a sleazy, hard-edged rhythm and blues beat? While some might've found it objectionable that executive producer Don Kirshner allowed such a suggestive tune to be included, others were delighted that he did. After all, the best bubblegum music always mixed a little spice in with the sugar. Ron Frangipane deserved a Grammy for his gritty, gutsy organ work on this track.
The final song on this extraordinary album is "Bang-Shang-A-Lang", a rocker in the grand tradition of earlier Jeff Barry hits like "Da Doo Ron Ron" and "Doo Wah Diddy Diddy". Axemaster Hugh McCracken takes center stage on a damn-the-torpedoes guitarfest that strips bubble gum music right down to its bedrock basics. As dynamite on vinyl as it was on pop radio, this was the single which let it be known that The Archies were in town, and planning to stay. A good many people over the age of thirteen must've approached The Archies with skepticism back in the fall of '68. However, by the time the last strains of "Bang-Shang-A-Lang" died out of their ears, it's a good bet that those people were hungry for more. Fortunately, Jeff Barry and his trusty studio crew were more than up to the task, and Archies fans wouldn't be disappointed with what was yet to come.
Review written by Don Charles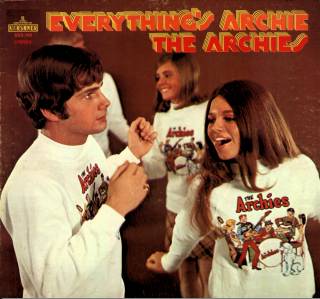 The first time I heard an Archies song ("Sugar, Sugar") was around 1974, not long after I started reading Archie comic books. It was so cool, so danceable, so . . . Archie! I loved it. Three years later, I found two Archies albums, Everything's Archie and Sunshine in a Honolulu thrift shop. When I got home and listened to them, I was floored at just how great the music was. From the very first track of Everything's Archie, I knew I would love the entire album.
"Feelin' So Good (SKOOBY-DOO)" is a mondo mean song. Everything clicks, from the guitar, bass, keyboard and super bad drum work to Ron Dante's bold and sassy singing. This would be my favorite of the twelve tracks, and on my turntable, I gave it all the play it never got on pop radio. Next, I climbed up to Ritchie Adams and Mark Barkan's "Melody Hill", and the hike was sure worth it. Hugh McCracken's powerful guitar licks on this track hooked and held my attention from the start. This is a really cool track.
Next in line is a song that, except for "Sunshine", got the most play on the Archie cartoon series. "Rock And Roll Music" is a funky Jeff Barry original that convincingly demonstrates rock music's irresistible appeal, thanks to more of Hugh McCrackens wicked guitar licks, Ron Frangipane's slick organ work, and a surprise cameo vocal by The Ohio Expresss Joey Levine. This is the cut for anyone of any age who digs the Big Beat. Ritchie Adams and Mark Barkan chip in again with another catchy and fun number, "Kissin'". Thanks to Jeff Barry's bongo drums, this reworking of "Twinkle, Twinkle, Little Star" has a nice little beat you can snap your fingers to. A bit on the cute side, but still good, and the next track more than makes up for any shortcomings.
Every time I hear "Don't Touch My Guitar", I think of how it might've sounded if Jimi Hendrix had recorded it. Here Jeff Barry created one of the best blues songs I've ever heard. Hugh McCracken turned in a fantastic performance, wielding his axe in a manner that would make even Eric Clapton envious (halfway through the song, Ron Dante compliments McCracken with an awe-inspired "Fingers, work it out!"). I don't know if Adams and Barkan wrote "Circle Of Blue" with the Archie/Betty/Veronica love triangle in mind, but this mellow ballad captures to perfection the bittersweet pain of such a relationship. Ron Dante's poignant lead vocals bring home the frustration young love can cause. End of Side One.
The flipside kicks off with the all-time standard bearer for bubblegum rock. That's right, I'm talking about the legendary "Sugar, Sugar"! When you hear Hugh McCracken and Vinnie Bell's acoustic guitar intro, it's time to get on the floor and swing your hips to the melody of a really sweet, and I do mean sweet song - no pun intended. Its appeal has yet to wane after nearly thirty years of airplay; to say that this is a record I never tire of hearing is an understatement. Ron Dante tells you what it's like to put a girl up on a pedestal in Jeff Barry's "You Little Angel, You". This '50s-flavored number has a bouncing, fast-paced rhythm carried along by crisp handclappings and more of Hugh McCracken's outasite guitar licks. Ellie Greenwich's contralto counterpoint and Jeff's bass accents make this catchy song even catchier. "Angel" could easily have been a Top Forty smash in its day, as I've heard lots of oldies from that era with the same kind of youthful energy.
The team of Adams and Barkan returns to bat with the breezy "Bicycles, Roller Skates And You", another ode to young love graced by Ron Frangipane's excellent keyboards. But then, abruptly, they turn up the heat with the mean and raunchy "Hot Dog", another of my favorite tracks on this album. The blistering guitar intro and wild organ take no prisoners, and keep you rockin' and reelin' all the way up to the final, screaming riffs at the fade. Ron Dante is clearly havin' a ball as he snarls Put some mustard on my roll/Because you're barkin' up my soul. Oh, yeah! I'll take lots of mustard on my dog!
After that radioactive number, we cool down with "Upside-Down, Inside-Out", which nevertheless manages to generate some heat in its own way. Hearing Ron Dante and Toni Wine sing about being turned topsy-turvy with desire, it's not hard to picture a lovesick Archie Andrews trailing after a smirking Veronica Lodge, who knows she's got the boy wrapped around her little finger! The effect a girl can have on a guy is the theme again on the album closer, "Love Light". Jeff Barry, in his commitment to write music that appeals to both kids and grownups, created a powerful record in the mold of "Truck Driver", surprisingly adult-sounding with its thundering drums, beatnik-style bongo accents and mean bass guitar. Were it recorded today by a blues artist like Robert Cray or Bonnie Raitt, "Love Light" could shoot up the charts like a rocket - it's just that good. The same can be said for fully half of this album's selections. To categorize Everything's Archie as a mere bubble gum record is to do a disservice to Jeff Barry, Ron Dante, Don Kirshner and all the talented people who contributed to it. Simply put, this is pop music at its finest.
Review written by Jeff Branch