If a list of legendary 1960s songwriters were to be compiled, then the name Jeff Barry would certainly rank near the top. Barry is responsible for a remarkable number of classic rock songs: "Tell Laura I Love Her" by Ray Peterson (and in the UK, Ricky Valance). "Chapel Of Love" by The Dixie Cups. "Leader Of The Pack" by The Shangri-Las. The Crystals "Da Doo Ron Ron," later updated by Shaun Cassidy. The Ronettes' "Be My Baby". Olivia Newton-John's "I Honestly Love You." "Hanky Panky" by Tommy James and The Shondells . . . and "Doo Wah Diddy Diddy" by Manfred Mann. Just to name a few! Barry's credentials as a record producer are equally impressive, including the smash Monkees hits "I'm A Believer" and "A Little Bit Me, A Little Bit You", the early hit singles of Neil Diamond (including "Cherry, Cherry"), Bobby Bloom's "Montego Bay," and of course, the worldwide blockbuster "Sugar, Sugar" by The Archies.
Jeff Barry's work with The Monkees and Neil Diamond prompted Calendar Records CEO Don Kirshner to recruit him in the summer of 1968. The objective was to write and produce songs for a studio rock ensemble. This group, marketed at preteen record buyers, was based on the popular comic strip characters Archie, Betty, Veronica, Jughead and Reggie, created in the 1940s. Within less than a year, The Archies would knock the music industry on its collective ass with "Sugar, Sugar". The act would go on to rack up five more American hit singles under Barry's direction, including another million-seller, "Jingle Jangle". Archies songs were telecast weekly on The Archie Show, a top-rated American cartoon series that ran on the CBS-TV network in various formats for nearly a decade. While intended for children, the quality of Archies releases was such that the music's appeal wasn't limited to any age group.
The recording sessions were mostly held at RCA (now BMG) Studios in New York City, and the session crew included many of the finest musicians the city had to offer. Hugh McCracken, Vinnie Bell and David Spinozza played guitar; Chuck Rainey and Joey Macho played bass; Ron Frangipane and Bobby Bloom were on keyboards; Buddy Saltzman and Gary Chester alternated on drums; and Jeff Barry himself played various percussion instruments, with Bloom sometimes joining in. Although Calendar Records label copy always read "Music Supervision by Don Kirshner", The Archies' A & R supervisor was more often than not respected Latin music producer Herman Diaz, Jr. During the 1940s and '50s, Diaz supervised many seminal salsa recordings by Tito Puente, Tito Rodriguez, Perez Prado and other Latin jazz legends.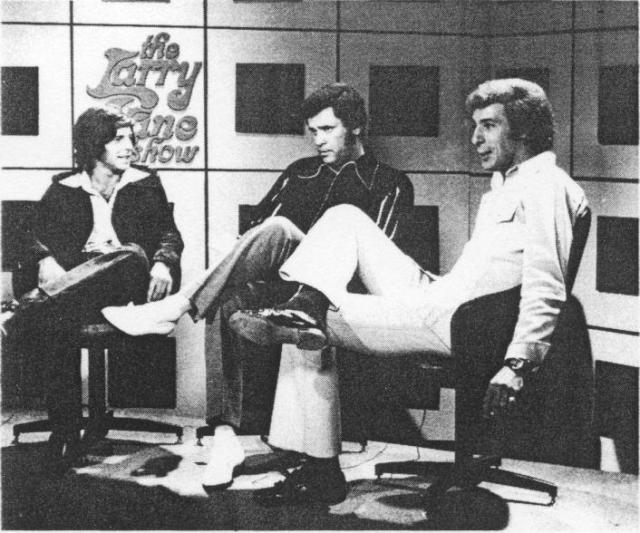 Ron Dante, Larry Kane and Jeff Barry, c. 1971
Vocally, The Archies amounted to a trio of singer/songwriters. Ron Dante was the voice of Archie. A much in-demand singer for publisher's demos and television commercials, he would later become Barry Manilow's producer. Toni Wine provided the singing voice of Veronica. Like Jeff Barry, Ms. Wine was a noted songwriter, with hits like "Candida", "Black Pearl" and "A Groovy Kind Of Love" among her credits. Jeff Barry was the third member of the triumvirate, and his distinctive bass voice was occasionally heard singing the part of Jughead. When more voices were required, they were supplied by New York-based singer/songwriters like Ellie Greenwich, Andy Kim, Joey Levine, Jeannie Thomas, Tony Passalacqua, Jamie Carr, Ritchie Adams and the multi-talented Bobby Bloom. Members of Playhouse, a group signed to Barrys Steed record label, reportedly lent their vocal harmonies as well. In late 1969, Toni Wine quit and was replaced by a former Columbia Records artist named Donna Marie. This lineup would remain intact until Jeff Barry relocated to Los Angeles in late 1970 to accept a job with the music division of Paramount Pictures. Two years later, the act was discontinued.
Since The Archies' music was created for a cartoon series, soundtrack albums were released. There were four in all, plus a soundtrack "best-of" collection. There were also two legitimate studio albums released, one under the group's name, and another credited to Ron Dante. History has not been fair to these recordings. From the very start, rock critics held The Archies in low regard because of their "manufactured" origins and blatant appeal to children. Over the years, the Archie soundtracks have been savagely attacked, denigrated, and used to represent trashy pop culture at its worst. A closer examination reveals that the very opposite is true. The Archies were, and continue to be, a symbol of American popular culture at its very best. How could anyone not like a winning combination of loveable cartoon chartacters with excellent singers and the great music of Jeff Barry? The time is long overdue for their releases to be accorded some critical attention that's free of snobbery and political correctness.