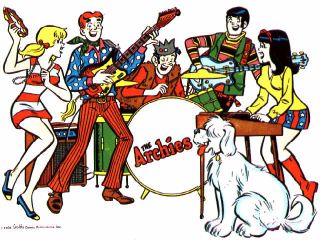 Image is the most important consideration for some people when it comes to rock 'n roll. According to this school of thought, if an artist doesn't put out the right kind of visuals and attitude, he probably isn't worth listening to. Members of a band have to look sufficiently surly. They must sneer convincingly. Their torn T-shirts, tattoos and black leather need to convey the proper air of defiance. Cynical attitudes, acquired from years of performing in cheap dives, are essential.
Don't let them be too cute!
Nobody who's too appealing to fourteen-year-old girls is acceptable. A real rocker wouldn't be caught dead with his picture in magazines like
Teen Beat
, and it goes without saying that a band can't be anything like The Archies. A cartoon studio group with its own Saturday-morning TV show is just about as uncool an image as you could ever want. So it comes as no surprise that rock critics have been trashing Archies records for 30 years now. Wouldn't
they
be surprised, though, if they ever took the time to really listen to Archies records? They'd discover that this "bubblegum" band cut more than a few great songs. Between September of 1968 and September of 1971, The Archies gave Saturday-morning TV its best rock n roll since the animated Beatles crashed the kiddie airwaves three years earlier. Adults never realized how good it was . . . or so it seemed, until a song called "Sugar, Sugar" was released, and rocketed into the stratosphere.
In order to understand why "Sugar, Sugar" was so good, you have to know its pedigree. It traces its lineage back to the exceptional talents of three men, all highly respected inside the music industry. During the late '50s and early '60s, song publisher and pop music impresario Don Kirshner nurtured the talents of legendary songwriters such as Neil Sedaka, Barry Mann, and Carole King. His Aldon Music company gave the world unforgettable tunes like "On Broadway," "Breaking Up Is Hard To Do," "Up On The Roof," and "Will You Love Me Tomorrow." Credit Kirshner with the vision and dealmaking prowess that brought the Archie comic strip characters to video and vinyl. Jeff Barry, the man Kirshner put in charge of The Archies' music, crafted their million dollar sound. Barry was also a major mover and shaker in '60s rock 'n' roll. He'd burst onto the scene the very first year of that decade, penning Ray Peterson's classic tearjerker, "Tell Laura I Love Her." Three years later, he and his then-wife Ellie Greenwich almost single-handedly defined the girl group genre. Together, they wrote and/or produced "Chapel Of Love," "Leader Of The Pack," "Da Doo Ron Ron," "Be My Baby," "Iko Iko," and many other enduring hits for the likes of The Crystals, Ronettes, Chiffons, Dixie Cups and Shangri-Las, often in collaboration with eccentric masterminds like Phil Spector and George "Shadow" Morton. Barry and Greenwich even scored a pop hit of their own ("The Kind Of Boy You Cant Forget") as The Raindrops. Their success extended into the British Invasion/garage band era, with #1 smashes for Manfred Mann ("Doo-Wah-Diddy") and Tommy James and The Shondells ("Hanky Panky"). In 1965, the couple discovered Neil Diamond and produced his first nine hit singles. Whenever you hear "Cherry, Cherry," "Kentucky Woman" or "Thank The Lord For The Night Time" on the radio, you're hearing the rudiments of what would later become the Archies Sound.
The paths of Jeff Barry and Don Kirshner intersected when Barry placed some of Diamond's tunes with Kirshner's new publishing house, Screen Gems Music. At the time, Kirshner was executive producer for The Monkees' wildly popular TV show. He subsequently hired Barry to supervise the group's recording of Neil Diamond's "I'm A Believer," and as a single, it became one the biggest-selling rock platters of all-time. By 1967, creative differences had ended both Kirshner's association with The Monkees and Barry's partnership with Ellie Greenwich. Both men promptly launched their own record labels. Kirshner founded Calendar Records in July of 67, and in September, he arranged distribution through RCA Victor. Then on May 18, 1968, Billboard Magazine reported the following: "Don Kirshner is readying another TV-berthed group for the record market. Kirshner . . . is now involved with Filmation (Studios) and publisher John Goldwater in the formation of a new rock n roll music group . . . which has been created for Filmations animated "Archie" TV series. The series is set to bow on CBS-TV in the fall. Filmations Norm Prescott, Lou Scheimer and Hal Sutherland have signed Kirshner as music director of "Archie," and to build a singing group to vocalize over an animated quintet called The Archies." Not entirely true. The title Kirshner chose for himself was "Music Supervisor," and for the actual hands-on music direction, he engaged Jeff Barrys services. Kirshner and Barry shared the belief that rock 'n' roll created for children could be commercial enough to get on the radio. Together, they set out to prove themselves right. During the summer of 1968, they auditioned dozens of singers at RCA Victors Manhattan recording studios. Barry also found himself writing a slew of new songs for the TV series, even while he ran his Steed label and nurtured the recording career of his star artist, Andy Kim.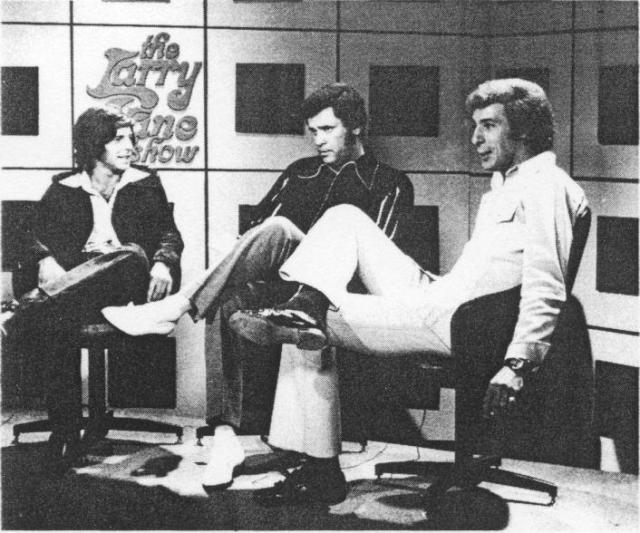 Ron Dante, Larry Kane & Jeff Barry, c. 1971
The Ohio Express's Joey Levine, songwriter Ritchie Adams, and demo singer Kenny Karen were among those Kirshner and Barry considered for the singing voice of Archie. However, there's reason to believe that Jeff Barry was always partial to Ron Dante, the third member of our magic triumvirate. He'd previously used Dante as a backing vocalist on Neil Diamond's recording dates, and had cast him in a Broadway-bound musical he was producing called The Freaking-Out of Stephanie Blake. The blue-eyed, chestnut-haired Staten Island native had also crossed paths with Don Kirshner in the early '60s. Kirshner hired him as a staff songwriter, actually his first job in the music business. Later, Dante joined a novelty trio known as The Detergents, whose solitary Top Forty hit "Leader Of The Laundromat" just happened to be a spoof of Jeff Barry's song "Leader Of The Pack." (A lawsuit ensued, but it was settled so quickly, there wasn't even enough time for hard feelings to develop!) After leaving the Detergents, Dante became one of New York's most in-demand jingle and demo singers; his vocals graced TV and radio commercials for Lifesavers, Dr. Pepper, Kentucky Fried Chicken (KFC), Coppertune suntan lotion, and many other products, as well as original demo versions of classic rockers like "Five OClock World," "It Hurts To Be In Love" and "We Gotta Get Out Of This Place." When the Archies gig rolled around, keyboard player Ron Frangipane urged him to audition for Don Kirshner and Jeff Barry. Dante, who aspired to a career as a pop singer, reasoned that The Archies could be a vehicle to move him in the direction he ultimately wanted to go. "So I called, and the office set up an appointment, and I walked into RCA," Dante later told journalist Carl Cafarelli. "They auditioned me. They said, Well, can you do different types of voices?" So I did, like, two or three different types of voices for Jeff and Donnie, and they finally locked into one sound. They said, Oh, you'll be good . . ."