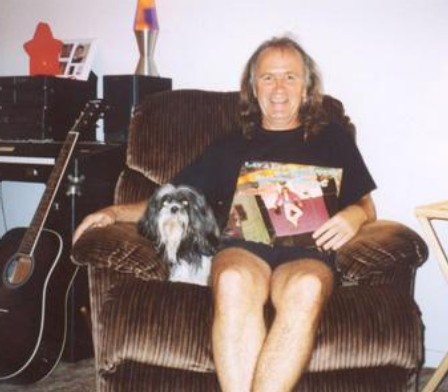 ROBIN HOLDING A COPY OF THE "LAY A LITTLE LOVIN'" LP
An album called Lay A Little Lovin' On Me was later released. The recording sessions, which took place at RCA studios on West 44th Street, were a blast! Robin brought in members of the Hair cast to sing on some of the tracks, and several of the musicians from the show, including guitarist Charlie Brown, bass player Jimmy Lewis, and drummer Idris Muhammad, also lent their talents to the proceedings. Jeff threw an in-studio party for everyone, complete with catered food and drink. Between the booze and the obligatory weed, according to Robin, "the whole RCA building was at least 3 feet off the ground that day!" The room was filled with not only marijuana smoke but also the sounds of some two dozen young people singing at the top of their lungs.
The album tracks ran the gamut from gospel ("Glory Glory," "Now is the Time,") to novelty ("Lost in Boston"), and from the bluesy ("I Got a Feelin") to the boozy ("Beer Drinkin Man")! Of the latter song, Robin grins, "I remember doing the lead vocal with a beer in one hand and a mike in the other!" In addition to producing the album, Jeff Barry contributed two songs as composer--the title track, and "Hang In There Baby," which firmly established this Yankee white boy as the latest example of blue-eyed soul. Robin really let loose on this number, tossing his burnished copper curls back and wailing the blues from deep down in his soul. Every song on the album showcases Robin's incredible range and raw vocal power.
During the Steed days, Robin got to know several of the other artists with whom Jeff worked. Robin recalls, "Out of all of them I knew Bobby Bloom ["Montego Bay"] the best. He and I became good friends [and] used to sing backup sometimes on each others' tracks. Bobby had an incredible voice. Also I remember one time flying to Houston, Texas [in 1971] with Ron Dante [of The Archies] to do The Larry Kane (TV) Show; on the way we drank some beer and had a lot of laughs. Toward the end of the flight Ron ordered coffee & he asked for two sugars. When they brought it, Ron took the two little packs of sugar and held them close together in his hand and said, 'Hey, Robin, look!' I turned and saw the words Sugar Sugar and laughed, then we both started singing Sugar, doo do doo do do do...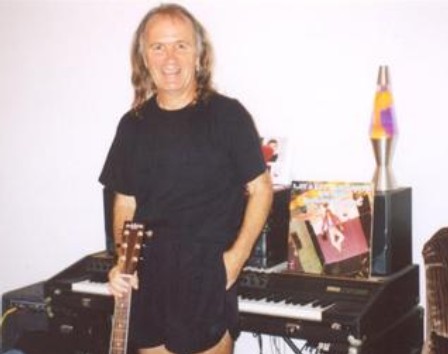 ROBIN WITH THE TOOLS OF HIS TRADE
"I also worked with Toni Wine, the other half of the Archies--what a sweetheart she was and what an amazing voice she has. She is singing on 'Mary, Janey and Me,' another single I had on Steed." Robin adds, "That song was about an actual 'menage a trois' that I had; we changed the names to protect the innocent! Both Billboard and Cash Box picked it to hit--I even remember one of them said, 'Don't pass this one by.' But the program directors were afraid of it." Robin released a half-dozen singles on Steed between 1969 and 1971, including another chart hit, "Got To Believe In Love." Its blistering groove took him squarely into hard rock territory, a 180 degree turn away from the poppish sound of "Lay A Little Lovin' On Me." On his album, Robin tackled blues, gospel, pop, and rock--he could handle it all, and he gives Jeff Barry much credit for letting him do it his own way: "Michael [Butler] is a mentor of mine, and so is Jeff Barry ... Jeff was never afraid to 'break the mold' with me."
For his part, Jeff was impressed by Robin's cutting-edge instincts. "Robin was always a pleasure to work with," he enthuses. "Lighthearted, hard-working, energetic, and talented as hell. We drove across the country from NY to LA, and we had a ball!" Ah, the road trip. Therein lies a tale . . . as you'll see, this jaunt out to the West Coast in 1971 came close to being the last trip Robin took anywhere!
"Jeff and Bobby [Bloom] had already bought property out there [at which] my wife and I were going to look," he recalls. "Jeff also bought a new Citron for his wife that he wanted to drive across country. I remember leaving New York, with Jeff, Bobby, and my [now ex-] wife Joanne. We alternated drivers as we traveled, so the other could sleep. We wanted to try and drive nonstop across the whole country, but when we hit Joplin, Missouri, we decided to get a good night's sleep in a hotel."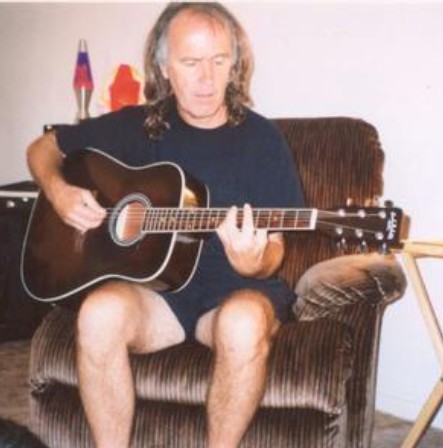 (Above and below) ROBIN SERENADING ME WITH "SODOMY"(!)
They needed that rest, because things were about to get crazy! "The next morning," Robin cackles, "it was my turn to drive! Up to this point we [had been] making remarkable time. It only took a little while before we hit the Oklahoma border, and the highway turned into the widest highway I ever saw, and it started to go on a down slant . . . for some reason, there was no other traffic around. At that point I was already going approximately 85 [miles per hour] which was a normal travel speed for our driving up to that point--when we could get away with it--and if I remember correctly, the speedometer went as high as 110. So I said to Jeff, who was now in the passenger's seat, 'I'm going to bury it!' And before he really had a chance to respond, I floored it! I heard Jeff say something like 'All right . . . here we go!' Then Bobby from the back seat started yelling, 'Go! Go!' while Joanne was screaming, 'We're all going to die!'"
Egged on by Jeff and Bobby, Robin gunned the accelerator--90--95--100--105 MPH until he finally hit the magic number, 110. He took his terrified wife on the wildest ride of her life! "I slowly backed off, and I think there was a big PHEW! throughout the car." Ah, but the thrills weren't over yet. "I will never forget driving through the Mojave Desert in the middle of the night--every once in awhile you would see a pack of wolves sitting on the side of the road just staring, their eyes glowing from the reflection of our headlights!" What's a little danger to such hardy souls? Pshaw! After sunrise, the travelers felt bold enough to pull off the road and lay down on the ground for some desert suntanning . . . predators be damned! "A few hours later, we reached L.A.," Robin recalls. "I felt like Jack Kerouac in On The Road! The overall trip, including our stop in Joplin, took approximately 72 hours, but if you deduct the layover hours our driving time averaged well over 70 MPH. What a wild, wonderful time those three days were!"
In California, Jeff Barry signed on as a staff producer with A & M Records, and having shut down his Steed label, he arranged a recording deal for Robin there. He and Joanne remade Jeff's 1964 chart-topper "Chapel of Love" as a duet; the A & M single was released under the name Robin & Jo. Despite a percolating rock/gospel arrangement and some intensely soulful vocals, it failed to get any airplay. The couple returned to New York, leaving Jeff and Bobby Bloom in Hollywood. Just a couple of years later, Bobby Bloom was found dead of a gunshot wound under mysterious circumstances. Robin was devastated. Bobby was just 28 years old. "When I heard of Bobby's death, it really freaked me out. He was out in LA, and I had moved back to Boston at the time so we hadn't had any communication for some time. I was led to believe it was suicide." Robin still feels the loss. "Bobby was not only an amazing talent but also had a wonderful heart and spirit," he says.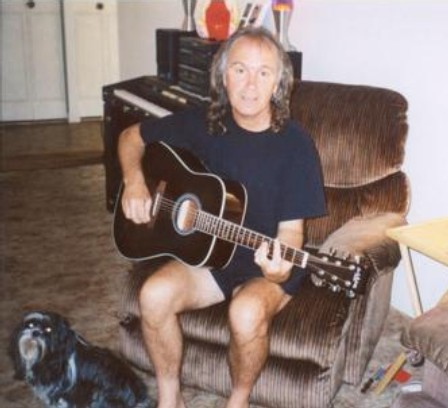 (Early Sunday morning) "THINK THE NEIGHBORS ARE ENJOYING THIS?"
It was 1974. The Sixties were over, and so were the days of innocence. The heyday of hippiedom was gone forever. The world wore a more cynical face, and changing times were at hand for all the former flower children. Many married and began raising families; Robin McNamara was no exception. Robin and Joanne had one child, and were married for ten years. Of his ex, Robin says simply, "She is a great talent in her own right but more importantly a wonderful mother to my son." Robin spent the 1980's recording and touring intermittently, performing on the same bill with acts such as Rare Earth and Paul Revere and The Raiders. He married for a second time, and when that marriage ended, Robin picked up stakes and headed south. "I came to Florida in 1988 I had been coming down for years and always knew that someday I would be coming back to stay."
Unlike many others, however, he didn't come to Florida to retire. "I have had my own publishing company for over 20 years and am also in partnership in a recording studio, all of which keeps me quite busy. A couple of years ago I was asked to be a consultant on a revival of Hair in Tampa. Man, what fun that was! We sold out for three weeks." Robin made the rounds of local TV and radio stations to promote the Hair revival. During one appearance, on a St. Petersburg morning radio show known for its family-friendly format, Robin demonstrated that he'd lost none of his daring. "Michael Butler was in town staying with my wife and I, and he did the interview with me. I said to him the night before that I was considering [singing] 'Sodomy' [on the air] and he said, 'Go for it!'" Robin caught the usually unflappable host completely off guard with the shocking song. "When I was done, the DJ, the engineer and everyone else were all nearly on the floor in laughter. After we left we were listening to the show on the radio and the phones lit up with calls, some [of which] were hilarious! Most people seem to love it but not all . . . but Hair always was controversial." No kidding?
Robin McNamara has every intention of keeping himself busy in the profession he loves. "We are putting together a new rock operetta titled Stuck in the 60's [which] is still in the formulation process now; we are in the studio recording the cast album, and also in preliminary rehearsals." (Webmistresss note: Watch this space for more information on this musical.) Look for his spicy 1971 composition "Mary, Janey and Me" to appear in an updated version. "We will be re-recording that song again soon," he confirms. "Today I think an updated version of a song like that has more potential then ever with what's on the radio, and if you listen to it, it's not nasty, it's funky and innocent." As he says this, Robin's eyes twinkle with mischief. "Yeah . . . right!" he laughs. Now in his fifth decade of life, Robin doesn't play the "star." He never did. He remains very nonchalant about his fame. As he puts it: "We are all just humanoids in the overall scheme of things." Spoken like a true hippie, dude.
Email Robin McNamara at: theolhippie@gmail.com
(Except where noted, all photos on these pages by Laura Pinto)
Back to Page One of essay
Visit the Hair Salon for updates to this article and access to Robin's platform, My Convictions, and a companion message board
Robin McNamara's official site - check it out!
Under construction: Stuck in the 60's
Comments about this article? Visit the Oldies Connection Message Board.
Scroll down for more external links: