Perdóneme, señorita . . . but have you heard of The Mexican Elvis? You may have seen him on TV shows like "Oprah," "The Tonight Show," or "Live with Regis and Kathie Lee." You may have read about him in Newsweek, People, Rolling Stone, or The Advocate. You may have caught his cameo appearances in such films as Mi Vida Loca.You may even have heard one of his recent albums: Graciasland, GI (Ay, Ay) Blues, Fun In Español. But believe me, nena, you haven't really seen or heard him until youve done so in person! If you're not one of the lucky ones whove caught him live during one of his annual tours, then do yourself a favor and get lucky. There's nothing like it! If you think Bruce Springsteen concerts are awesome . . . if Janet Jackson's dancing entrances you . . . if Madonna's stage shows are the most elaborate thing you've ever seen . . . bueno, you probably won't change your mind after seeing El Vez . . . but he'll make your tetas tingle just the same! He puts on a show that's muy provocativo. He gives you sex, art, politics, religion, kitsch, camp, humor and an abundance of pop culture from both north and south of the border. And instead of a million-dollar budget like Madonna has - he's got a million peso budget! That means you dont have to mortgage your casa in order to buy tickets.
¡Hay mucho comentario! Everybody's talking about him, nena. New York's CitySearch website advises that patrons of an El Vez concert will be treated to an experience akin to taking a Latin-American studies class taught by Liberace. Chicago's Columbia Chronicle states that it's possibly the most fun one can have with pants on! The Celebrity Cafés Dominick Miserandino sums up the appeal of a Mexican Elvis performance: "Costume changes! Dancing! The Lovely El-Vettes! Social commentary/criticism, satire . . . the story of Latino history through the music of Elvis Presley." His recent Boxing with God tour (in support of his new album of the same title) had a gospel theme and the feel of an old-fashioned tent revival meeting. That is, a revival meeting crossed with a Bette Midler concert, the Ike and Tina Turner revue, a Chicano pride rally and a night in a strip club! "(My mission) is to just to spread the message of love," he proclaims from Graciasland, his rancho in East Los Angeles. "I think I'm spreading the idea of what God is about!" He's everywhere, even when you're dancing in a nightclub, or having sex, or by yourself at home. But please don't stay at home, nena. Come and see, and hear the message El Vez has to share with you! It's gonna move you, groove you, and make you feel good about your raza. "When people leave an El Vez show," he often says, "I want them to feel happy to be Mexican - even if they're not!" He gets a crowd laughing, and singing along, and partying like a roomful of locas. Its more fun than eating chicharrónes with your Uncle Chencho!
Verdad, El Vez is the hottest thing since jalapeño cornbread, and the most radical case of cross-cultural fertilization America has seen since Malinche got friendly with those Spanish conquistadors. But who is this phenomenon? Conceptually, he's the love child of Elvis Presley and Dolores Huerta of the United Farmworkers Union, adopted and raised by Exene Cervenka and The Cisco Kid in a shared child custody agreement. He's as comfortable in a charro suit as he is in a leather jacket. He hangs out with chicks named Gladysita, Lisa Maria, Priscillita and ¡Qué Linda! Thompson, and travels with a Mariachi band that sounds suspiciously like a group of punk rockers. With a five-inch pompadour rising off his head, wicked sideburns, and a microphone in his hand, his aesthetic connection to the King of Rock 'n' Roll is impossible to miss. Yet, his pencil-thin moustache evokes Mexican matinée idols like Luis Aguilar and Pedro Infante. One minute, he's belting out a 60s rock classic like "Walk A Mile In My Shoes," and the next, he's putting a modern spin on a century-old Spanish-language folk ballad like La Negra. He's a cultural contradiction - a singing and dancing melting pot. His Anglo and Chicano influences are so thoroughly integrated, you can't tell where one ends and the other begins! And really, nena, he wouldn't have it any other way. "For it to get lost in the translation is, to me, an added bonus," states the man behind the moustache.
In his true identity, the Latino Love God known as El Vez is mild-mannered Robert López, formerly a teenage singer and guitarist with West Coast punk rock bands. Born and raised in Chula Vista, California, rock 'n' roll was Señor López's passion. "I've been in bands since I was sixteen," he says. "Music has always been a major, major part of my life." But he loved his Chicano culture, too, and after spending his young adulthood in groups like Catholic Discipline, Bonehead, and The Zeros, he hung up his rock n roll shoes to become an importer of Mexican folk art. This eventually led to him landing a job as curator for La Luz de Jesús, a Hollywood art gallery devoted to the preservation of Mexican-American history. So what inspired this art historian and ex-punk rocker to take the stage as an Elvis clone? Señor López has explained it this way: "(Mexican-Americans) invented the velvet painting of Elvis, and made many busts of him. And when I was a kid in the 60's, I had uncles with continental slacks and slight pompadours in that Elvis style. I thought Elvis looked like my uncles! He looked Latin." But even though he felt an affinity for Elvis Presley, the idea of paying homage to the King didnt occur to him until he saw others doing it. In 1988, he put together an exhibit of Chicano folk/pop art inspired by Elvismania. Anglo Elvis impersonators appeared in conjunction with the exhibit, and after seeing them in action, Señor López felt that he could portray Elvis just as convincingly as they could. Actually, he felt he could do it better! To prove it, he journeyed to Bad Bob's nightclub in Memphis, Tennessee shortly afterward, and entered a contest for Presley impersonators. He was the only Mexican-American in competition, un pocho solitario contra muchísimos rednecks. ¡Madre de Dio!
"It was a dare to myself," he later told writer Jim Washburn. "I figured, if I make a fool of myself, it'll be in Memphis, where they won't know who this fool is! That's what made it fun . . . I was taking chances and didn't care." Combing his dark brown hair into an exaggerated version of the hairstyle he remembered his uncles wearing, he took the stage as El Vez for the first time. To the music of familiar Elvis tunes, he sang original song lyrics that drew from the Mexican-American experience. The crowd loved his humorous and uniquely Chicano take on the Elvis legend, and an unlikely star was born. The consensus was that he had created a thinking man's Elvis . . . with a Latin twist. Subsequently, outfitted with an array of bell-bottomed jumpsuits in dazzling hues of red, white, green and gold (Señor's favorite color), he hit the nightclub circuit. "The first five years," he remembers, "I wasn't always on the road. I still ran an art gallery at the same time, and I would sporadically do El Vez shows." However, the act proved so popular that it soon brought an end to his quiet life as a demure museum proprietor, and returned him full-time to the rock 'n' roll lifestyle. Fame, riches, glamour, groupies and income tax problems were his true destiny, claro que sí. Soon, he had a trio of trashy muchachas known as The Lovely El-Vettes accompanying him on stage, and somewhat later, a band that he christened the Memphis Mariachis.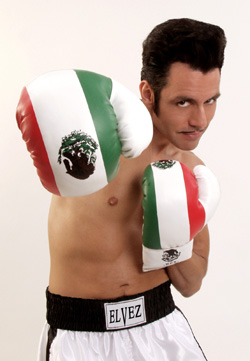 Over time, as the character evolved, it became clear to anyone paying attention that imitating Elvis was no longer what Robert López was doing. "I was just making it up as I went along," he says. "I had these opportunities, and I would just try to get away with as much as I could. Sometimes I still do that, you know - how can I push this envelope, or take it over the top?" While pushing that envelope, he has managed to create a totally unique character: a Mexican Elvis impersonator with an agenda all his own. Nowadays, his stage presence is as likely to evoke Carmen Miranda or the Artist Once Again Known as Prince as it does Elvis Presley. The King probably wouldn't have been caught dead in a see-through jumpsuit made of black fishnet, but El Vez has the huevitos to boldly go where no Elvis impersonator has gone before! "I use the spirit of Elvis," Señor has explained, "the skeleton, the frame, and then I go to Mars, the Revolution, church, or wherever I choose. Elvis (is my) frame of reference." Robert López couldnt pretend to be Elvis and make the cultural and political statements he loves to make in song. It wouldnt work. But as El Vez, he can comment on barrio life, criticize US immigration policy, recount the legend of the Aztec god Quetzalcoatl or sing the praises of Mexico's Zapatista rebels and it all seems perfectly natural! "Some people are just looking at 'Oh, here's another great Elvis song,' or 'Look what he did to this Elvis song' and not even paying attention," he notes. "(But) if they start thinking about César Chavez . . . to me, thats a wonderful thing." Éste hombre López, hes so clever, nena! The audience has so much fun, it never suspects that it's in the process of being educated and indoctrinated. ¡Olé!
Robert López is a music as well as an art historian, and that fact comes across loud and clear onstage. He acknowledges that there's a big catalog of musical history in his repertoire. Steeped in four decades of American popular music, his song catalog ranges from Elvis evergreens like Hound Dog and Heartbreak Hotel to covers of Beatles, Jimi Hendrix, Simon and Garfunkel, James Brown and Edwin Hawkins Singers tunes. "All my favorite parts of rock n roll I added up to make the El Vez show," he says. "I used David Bowie, Kiss, The New York Dolls, Iggy Pop . . . Little Richard, Mick Jagger . . . old-school stuff like Eydie Gormé or (Mexican ranchera singer) Vicente Fernández . . . Mexican rock n roll bands like Los Teen Tops and Los Locos del Ritmo . . . all those (stars) blend into the music stylings of the show, and the performance stylings, and costumes. It's all influenced by those bands, and many, many more." The golden oldies just seem to come pouring out of him, but they sound fresh and new. That's because he Mexicanizes them! The Pointer Sisters' "Yes We Can Can" becomes "Mexican" Can after being dipped in salsa verde. James Brown's "Say It Loud!" goes on a trip to East LA and comes back as "I'm Brown and I'm Proud." The Mexican ancestry of Lloyd Price's "Lawdy Miss Clawdy" is revealed in "Señora Lupe." Elvis' "Suspicious Minds" crosses the border and is transformed into "Immigration Time"; wrapped in a corn tortilla, "Viva Las Vegas" tastes like "Viva La Raza"; and those fabled "Blue Suede Shoes" look more like "Huaraches Azúles" when El Vez is wearing them. And, nena, you haven't lived until you've heard his show-stopping rendition of "(You Ain't Nothin' But A) Chihuahua!" ¡Sí Señor! Rock critics have unanimously voiced approval of the way El Vez "takes liberties with the songs (in order to) weave his tales and delight the young ladies."
Delight them he does, too, with an act that depends as much on showmanship as politically-charged lyrics. A revolving disco ball glitters overhead! The Lovely El-Vettes toss their Gloria Estefan hair extensions, and shake their micro-miniskirted Jennifer López nalgas! El Vez dons an ancient Aztec headdress replete with lavender ostrich plumes! Extra-terrestrial Mayan Saucers soar through the air! A vision of the Holy Virgin of Guadalupe magically appears! And theres nearly as much bare skin on display as you can find in an episode of NYPD Blue. You've heard of Tex-Mex? El Vez has invented something new: Sex-Mex! His show is, in a word, nalga-licious. Ask him why he brings such in-your-face sexuality to the stage, and Señor López shrugs, "Rock n roll is sexy. (It's) the idea of dancing, and music, and sex. The idea with The El-Vettes is, we want to have everyone's tongues hanging out! One or two people in the past have said, 'Oh, isn't it sexist to have girls in skimpy outfits?' But I'm wearing less clothing than they are, and I'm being just as sexual as they are with my dancing. I think that makes it equal-opportunity!" But does he worry that the heavy titillation factor of his show might distract from his socio-political message? Never, nena. "I'm pretty explanatory with what I'm singing about, (but) everyone's gonna take it on different levels," he believes. "If it turns into something else - about sex, or the dancing aspect of it - that's great! I think you can mix that joyfulness of rock n roll, of dancing and sex, with those other issues at the same time. (So) you'll take what you want and disregard the rest, or you'll come back later and say, 'Oh! I didn't think about that.' That's what you get when you mix it up. It will be interpreted in different ways, and I like that."
Although the character of El Vez is based on the Elvis Presley of later years, and Señor López is himself a middle-aged man, hes kind enough not to subject his female fans to hog jowls, love handles, a beer belly and sagging nalgas. El Vez is buff! Bounding on stage recently in Kansas City, Missouri, he threw off his boxers robe to reveal a trim, five-foot-nine, 150-pound bundle of muscular manhood . . . and nena, when he stripped down to a pair of oh-so-tight gold lamé shorts, the only bulges in sight were the kind a woman wants to see. Im 41 years old, Señor states matter-of-factly, and rock n roll is usually a young man's game. "If you wanna stay in the game, you gotta stay healthy! The stage show is a cardio workout for me, and I lift weights . . . and I think I avoid the peanut butter and banana indulgences of Elvis!" In his opinion, being a man in his 40's is more of an asset than a liability. "I couldn't do what I do now when I was 21, because it comes with experience," he stresses. "It comes with watching other performers . . . seeing them live, and seeing them on TV. I think all those little bits (of experience) have added up to what I do now as El Vez. It's a culmination of all those 41 years, and it comes out like this."
It comes out like this, nena, and it goes all around the world! El Vez has appeared before adoring crowds all over North America, Europe and Australia. There seems to be no national, generational, class or racial limit to his appeal. Robert López reports that El Vez draws "a mixed crowd, from Latinos, to club kids, to Elvis fans, to yuppie types. I think we have a big mix of ages, too. I've had 21-year-old girls come up to me and say, 'Oh, I love you . . . but so does my Mom!' So we mix it up very well, and I'm glad to do it that way." While the character is approaching its fifteenth anniversary, his creator shows no sign of wanting to retire him. "I have two other bands," he says, "a country and western band, and a punk rock band. I do El Vez about half the year, and the other part of the year I work on my other projects. (That) keeps me fresh, and by the time I get done with those other things, it's time to get back with my El Vez work. I have many different shows, and they all kind of deal with different issues." What's more, Señor feels that El Vez provides him with a unique opportunity for creative, not to mention political, expression. "If I have an idea, I get to execute it on stage. If I say, 'I'd like to sing a song about this' or even something as silly as I would like to wear this kind of outfit, I'm lucky enough to be able to materialize those ideas. Most artists arent able to do that." That constant stream of fresh ideas keeps his show in the must-see category for the thousands of fans who keep coming out for his tours every year.
There's fun in-between tours, too. Every December, El Vez goes home to Graciasland and stages his big Christmas Spectacular. That's when he gets to sing "(I'm Dreaming of A) Brown Christmas" and spread holiday cheer to all the little cabrónes in his neighborhood! Of all things Elvis in the world, Señor Robert Lópezs cilantro-and-lime-flavored creation is perhaps the most maravillosa. To paraphrase rock critic Jon Laundau's famous statement of three decades ago: I have seen the future of rock and roll . . . y se llama El Vez!