For reasons Ron still can't fathom, The Detergents were always the next-to-last act to go on, which effectively made them the Stones' opening act. Audiences anticipating the performance of Mick and the guys with their sexually charged repertoire were understandably not pleased at having to sit through the preceding groups, who were about as far removed from the Stones as the man on the moon; and by the time Ronnie, Danny and Tommy were onstage with their instruments, serving up such white-bread tunes as "Leader" and "From L.A. to New Orleans," the crowds were not shy about expressing their feelings. In Philadelphia, the guys handed out free copies of their LP, The Many Faces of the Detergents, prior to the concert. Midway through their act, however, they discovered the hard way that flat, embossed cardboard albums make excellent missiles when hurled at targets, even at three moving targets. One sailed into the neck of Ronnie's guitar, and he managed to duck before the next one got his own neck; but he never missed a beat. He didn't take it too personally. "The fans who came to see the Stones just couldn't wait [to see them] and made that known to all who came on before them. … [but] I didn't mind since I wanted to see them play too."
Despite the contrast in their performing styles, The Detergents actually got on very well with The Stones. They hung out together, shared rooms, even trashed a hotel room at one stop. There was no malice involved; just a bunch of guys, with youthful high spirits, having a blast. Dick Clark sometimes traveled on the bus with the acts, and "one day out by the pool in Baltimore Danny from the group accidentally pushed him in with his suit on. Dick just laughed it off." The hijinks were, for the most part, just good clean fun.
There was other things going on as well (inevitably so, this being rock and roll in the Sixties), with which Ron, although he was anything but a shrinking violet, didn't get involved. "[The others] didn't have any influence on me since I was a pretty straight guy. Never got into drugs or the big rock and roll party scene on the tour." At times it was hard to ignore what was going on around him (especially when there was petting, and sometimes actual sex, taking place up against the side of the bus as it was parked behind the venues), but Ron stayed out of it. He was one of the youngest members of the Caravan and pretty much kept to himself most of the time. While others were raising hell, the most sinful thing Ron did was play cards with members of the Imperials--when he wasn't catching up on his sleep as the bus rumbled down the highways. Ron was a young man with a strong sense of self, and he didn't need to walk on the wild side to have fun; in fact, he was having the time of his life. And, to be fair, most of the other young artists on the Caravan were of the same mind as Ron.
"[Dick Clark] was a real gentleman and very friendly to all the people on the bus," Ron says. "We toured for about a year and a half and then the group disbanded when we stopped having our followups played on the radio. I had a jingle career starting so I was happy to be off the road and into the studio. All in all it was a wonderful experience that I will treasure for the rest of my life." Paul Vance vainly tried to squeeze another hit or two out of the group, but by 1966 the novelty had worn off, and the group was never able to recapture the momentum of the first year.
In addition to making records, Ron began the potentially lucrative career of singing jingles for TV and radio commercials. One of his earliest was an ensemble session for the newly introduced chocolate beverage Devil Shake; others were for General Tire and Coppertone. Before the decade was out, Ron recorded dozens and dozens of jingles, so many that at times it was impossible to turn on a radio or television without hearing his voice. In 1966, Ron recorded a fun, bouncy tune, "221 East Maple," b/w "Think" (both written by Neil Levenson, who also produced the session), for Columbia Records. Ron also threw himself into songwriting with a fresh enthusiasm, becoming a much more prolific composer than he had been prior to the Cabin Kids-cum-Detergents.
One of Ron's most frequent songwriting partners was Gene Allan. They met while Ron was working for Bobby Darin's music publishing company during the mid-60's. "We wrote four songs the first day we met," Ron says about Gene, who was already an established composer, having written hits such as "Mr. Lonely" for Bobby Vinton. Allan moved his family from Pittsburgh to New York City to set up a full-time partnership with Ron, and the Dante-Allan songwriting team turned out dozens of tunes for artists like Jay and the Americans, Johnny Mathis, Gary Lewis, and Bobby Vee. In 1966, Ron recorded the upbeat "Janie Janie," a Dante-Allan creation, b/w "I'll Give You Things," written by producer Neil Levenson, on Columbia. In 1967, Dante and Allan composed most of the tracks for an album being recorded by a new five-boy, two-girl group, The Eighth Day (no relation to the R&B group of the same name); the LP, titled On the Eighth Day, was co-produced by Dante, Allan, and Bob Feldman. Singles spawned by the LP included "Hey Boy (The Girl's in Love With You)" b/w "A Million Lights," and "Glory" b/w "Building With a Steeple," all of which were penned by Dante and Allan. Feldman also produced several of the singles Ron recorded from 1966 to 1968, including "Hold Back the Sun" b/w "I Think I Wanna Love You Baby" (released under the name Noah's Ark), "The Absence of Lisa" b/w "Gypsy Be Mine," and "(He's) Raining in My Sunshine" b/w "Follow a Dream" (which was arranged and conducted by Jimmy Wisner).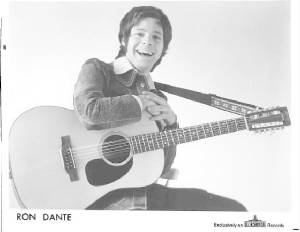 In 1968, just about the time Ron reinvented himself, or at least his name, for the second time (the first having been when he'd changed it from his birth name of Carmine Granito years before), feeling he'd outgrown the moniker "Ronnie," his career began its upward spiral. Through a friend, Ron Frangipane, the newly christened Ron Dante learned of the auditions being held to find the primary singing voice for an up-and-coming animated group, The Archies, to be featured in the Saturday-morning cartoon The Archie Show. Frangipane had already been tapped to do arrangements, and he suggested that Ron try out for the spot of lead vocalist. As history records, Ron got the job. He spent much of the summer of 1968 in the studio, turning out a bunch of full-length songs as well as the tunes that would be used to spotlight the Dances of the Week (each show would feature a new dance and the debut of a brand-new song sandwiched between two ten-minute episodes). Jeff Barry, who wrote most of the group's songs, was producer, and Ron's old friend and boss, Don Kirshner, was music supervisor. From 1968 to 1972, The Archies would release five studio albums on the Calendar/Kirshner label, and one greatest-hits compilation.
Also through Frangipane, who'd been hired to write the arrangements for a forthcoming Broadway show, Billy (based on Billy Budd, by Moby Dick author Herman Melville), Ron and Gene Allan were tapped to compose the music for the play. The songs helped sell the show to potential backers; they did dozens of auditions to get the funding they needed. Billy opened, coincidentally, at the Billy Rose Theatre on March 22, 1969—and ran for exactly one night. As has happened with so many other Broadway productions, the critics killed it and the play closed after just one performance. Ron was understandably devastated, but he would have the last laugh when, a few years later, a Broadway show he produced, Ain't Misbehavin', would win the Tony Award for Best Musical of 1978. Ron had no way of knowing this at the time, of course, although an antidote for his present disappointment was on the horizon. One of the songs he'd recorded for The Archies, "Sugar, Sugar," on which he shared lead vocals with fellow Kirshner veteran Toni Wine, was about to be released and within just a few short months would establish itself as Record of the Year, earning Ron his first gold record and becoming the #1 song of 1969.
Enter Paul Vance.
"I had a meeting with Paul and Lee [Pockriss] and they played me 'Tracy,'" Ron notes. "Right away I knew it was a very well crafted song and I could put my voice and backgrounds on it easily. The 'Tracy' session was a great night in the studio. Lee did the musical arrangement and I did the vocal arrangement. I did the lead first which took about a half hour and then did the background parts. There were at least three different parts I wanted to do to create the effect of many singers." The finished product sounded like a hit to everyone involved. The next time Ron heard it was on the radio being introduced as The Cuff Links. Ron watched in amazement as "Tracy" sailed up the charts along with "Sugar, Sugar." Although neither song had his name on it (which must have sorely tried even Ron's good-natured patience, when he allowed himself to think about it), Ron was still overjoyed to see his songs doing so well. He was hustled back into the studio to record a Cuff Links album, which would be named Tracy and, of course, feature that song along with several other Vance/Pockriss compositions. Ron had already recorded two of the album's songs prior to the Cuff Links session, but with completely different arrangements. "Lay a Little Love On Me," which had been released under the name Abrahamm & Strauss, featured Ron singing lead with a lilting British accent just for a little something different. (The flip side was a rather strange tune called "Oh What a Wonderful Day [Hey Pierre]," which featured far-out lyrics about people mysteriously disappearing and fish "playing in the grass;" to this day Ron is not sure exactly what the song was supposed to be about, although it could be about the ecology … or perhaps a drug trip, or maybe some kind of catastrophic nuclear event. Probably the translation depends upon whom you ask.) And "Aunt Matilda's Double Yummy Blow Your Mind Out Brownies," a playful satire on recreational marijuana use, had come out under the name The Two Dollar Question although, like the Cuff Links, it was just Ron on both leads and backgrounds. The meter of "Lay a Little Love" was changed completely for the Cuff Links album, and Ron provided expert (and thrilling) background vocals that had been absent from the original version. As for Aunt Matilda and her cannabis-laced brownies, Vance and Pockriss rewrote the lyric, and "Sally Ann" was born. "I finished all the lead vocals and backgrounds in one or two days. That was a lot of singing even for me but we had a time schedule to meet since the record company needed the album to be released at the same time [the single] was climbing the charts."
Unquestionably, 1969 has turned out to be Ron's best year so far, despite the disappointment of Billy. Things would get better and better for Ron, as the 60's gave way to the 70's, and Ron met a young composer named Barry Manilow at a jingle session, and they decided to go into the studio to co-produce a demo together, and Barry was signed to a recording contract and ended up selling millions of records with Ron at the production helm. And there was the little sideline Ron had going as a Broadway producer, with Ain't Misbehavin' and another Tony-Award-winning play, Children of a Lesser God.
Paul Vance and Ron parted ways after the first Cuff Links album. Ron was unable to record a second Cuff Links LP for Paul (Rupert Holmes would later do so) since he, Ron, had just signed an exclusive with Don Kirshner pending release of his first solo album, Ron Dante Brings You Up on Kirshner Records. The LP was produced by Jeff Barry, and the title track, "Let Me Bring You Up," was written by Jeff with Andy Kim, who together had penned "Sugar, Sugar" as well as several other Archies tunes. (Paul Vance went on to have a big hit as composer in 1974, with "Playground in My Mind," recorded by Clint Holmes; that's Paul's son singing the "My name is Michael" chorus along with Clint.)
Nowadays, Ron's pre-Archies recordings are going for a pretty penny at online venues such as eBay. Collectors have paid as much as $100 USD for one 45-rpm record by Ronnie Dante. Even The Archies' final album, This is Love (which also happens to be the only Archies LP produced by Ron), has sold for upwards of $50 USD as well, itself sometimes topping the hundred-dollar mark.
Today, Ron continues to produce, record, and tour. For information on his career, go to Ron Dante Online. You'll find his current concert itinerary on the front page, as well as the latest news. Click on the link called The Vault to access Ron's audio/video room; step inside and listen to several vintage recordings, including "Don't Stand Up in a Canoe" from 1964 as well as "Aunt Matilda's Double Yummy Blow Your Mind Out Brownies," songs from the Tracy album, and much more.
Special thanks to Ron Dante