♫♪♫♪♫
January 25 & 27, 2013
Memories of Gold: A Night of Solid Gold Doo Wop feat. The Brooklyn Bridge, JT Carter originator of The Crests, The Del Satins, & Manhattan Harmony
Doo Wop's finest, all-time favorite hits: "The Worst That Could Happen," "Blessed Is The Rain" (The Brooklyn Bridge); "Teardrops Follow Me," "Feeling No Pain" (The Del Satins); "Beside You," "16 Candles" (The Crests); "There's A Moon Out Tonight" (The Capris); "Sincerely," "That Girl's Alright" (Manhattan Harmony).
January 25, 2013: Van Wezel Performing Arts Hall, Sarasota, FL
January 27, 2013: Carole and Barry Kaye Performing Arts Auditorium at Florida Atlantic University, Boca Raton, FL. Tickets may be purchased by clicking here or calling the number on the flyer below.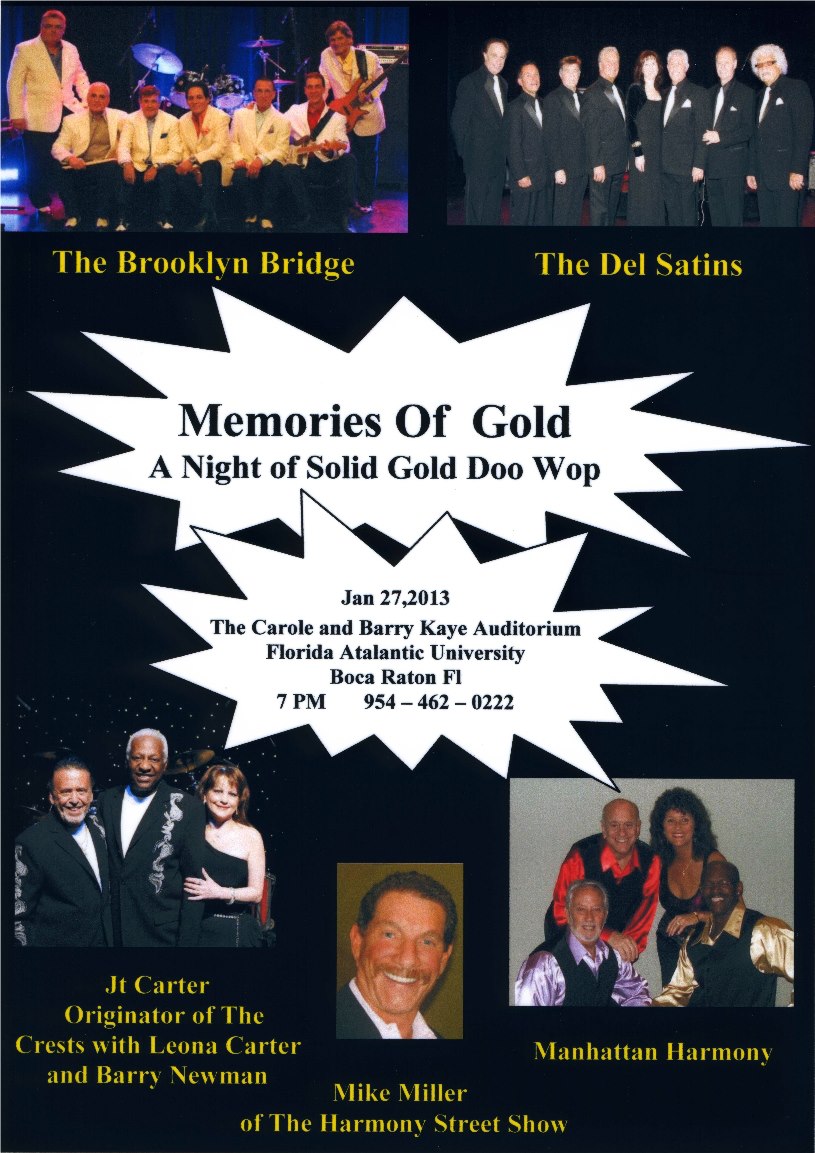 ♫♪♫♪♫
February 1, 2013
Rock 'n' Roll is Here to Stay at the Sunrise Theatre in Ft. Pierce, FL! This exciting show, presented by Kyman Entertainment, will feature Ron Dante of The Archies, Joey Dee and the Starliters, The Mystics, and The Rip Chords. For info and tix, visit the Sunrise Theatre website!
More concerts & events will be added to this page soon—please check back!