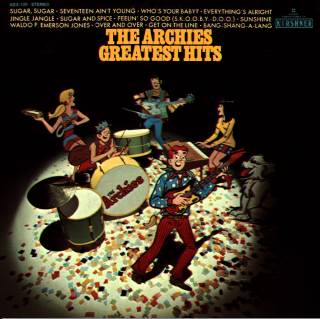 The Archies' Greatest Hits isn't merely a collection of chart singles and album cuts. It's the aural document of a phenomenon in American popular music. These songs from the soundtrack of a Saturday morning cartoon were of such high quality, they were able to successfully compete in the marketplace with releases by The Beatles, The Rolling Stones, and Elvis Presley. So complete was acceptance of The Archies as a pop entity that people seemed to forget that they were a children's music act. Music critics actually began evaluating Archies records in the same manner they would, say, a Simon and Garfunkel release! And even though their judgments were overwhelmingly negative, that they judged at all is evidence of the sensation Don Kirshner's studio aggregation had generated. There was a veritable slew of Saturday morning singing groups in the late '60s and early '70s - The Banana Splits, The Hardy Boys, The Cattanooga Cats and The Evolution Revolution, just to name a few - but none of the others had such a remarkable impact.

Heard back-to-back, these twelve tracks prove that this studio aggregation had a lot more going for it than sugar and spice and everything groovy, as noted in the lyrics of "Sugar And Spice"(included here). Not to say that there's anything wrong with those things! But listen closely, and you'll hear much more. There are elements of gospel, calypso, blues and country music in the grooves of this incredibly listenable LP. For instance, a Caribbean influence is detectable in the marimba sound of "Sugar, Sugar", but is more fully realized on "Sunshine", the undeservedly low-charting single co-written by singer/songwriter Bobby Bloom, and featuring him on percussion and backing vocals.

The energetic call-and-response style of gospel music features prominently on "Who's Your Baby?", a powerhouse rocker sung by Ron Dante and Donna Marie, and is showcased to perfection on "Get On The Line". Producer Jeff Barry used Sunday morning imagery more than once on Archies records, but never more effectively than on this anthemic ode to unity and brotherhood. Dante socks it to you with his enthusiastic demand to get on the line for love, not to mention what Toni Wine does to you with her righteous vocal counterpoint. Anybody who isn't up on their feet and groovin' by the time "Get On The Line" fades out must be certifiably brain dead!

Straight-ahead rock 'n' roll was an Archies specialty, and this collection more than delivers the goods in that department. Garage rockers like "Over And Over", "Bang-Shang-A-Lang" and the hook-laden masterpiece "Feelin' So Good" (with backing vocals by Jeff Barry and Joey Levine) more than fulfill a rock fan's requirement for powerful dance tracks. For those who like more pop-oriented fare, there's "Waldo P. Emerson-Jones" and the exuberant platinum-seller "Jingle Jangle", again featuring the multitracked voices of Dante and Wine. Both tracks rise above novelty lyrics thanks to the quality of the vocal performances, razor-sharp guitar and bass, and Jeff Barry's solid production values.

Then we have "Seventeen Ain't Young", a standout number that represents The Archies' soulful side. Amidst all of their rockin' dance fests, Dante and friends committed a number of superlative ballads to vinyl, and this one is arguably the most distinguished of those. Jeff Barry's angst-filled lyrics come across with exceptional poignancy in Dante's interpretation, and the effect is emotionally wrenching . . . not at all the kind of feeling you expect to get from a children's song. "Seventeen" is the one number guaranteed to haunt you long after you've finished listening to this album.

Finally, there are two little-known gems, "Sugar And Spice" and "Everything's Alright", examples of more traditional bubblegum music. While both tunes are Ron Dante compositions, they couldn't be more different on the surface. The former is a pulsating rocker in the vein of "Who's Your Baby?", and the latter is a laid-back singalong. Yet both songs convey the same sense of light cheerfulness that you tend to find in the best children's music, a feeling of innocence, optimism and joy that only the very young can experience. If a sunbeam could be captured in two-and-a-half minutes worth of black vinyl, how would it sound? Probably a lot like "Sugar and Spice", with "Everything's Alright" on the flipside.

Last but not least, there's the global smash "Sugar, Sugar", the Archies song that set the kettle boiling in the first place. What more can be said about a song that's managed to become a late '60s pop culture anthem, as familiar to millions of people as their own names? Over the years, rhythm 'n' blues crooners, grunge bands and jingle singers hawking chewing gum have all recorded "Sugar, Sugar", but the original platter remains definitive. Ron Dante and Toni Wine sang their way into the history books, while guest performers Andy Kim and Ray "Gitarzan" Stevens provided the handclappings heard 'round the world. Despite persistent efforts by snobs and politically correct killjoys to vilify this song, it's still going strong.

The Archies' Greatest Hits has never been out of print for long; that's an indication of how enduring its popularity has been since its first release almost thirty years ago. If you can only afford to buy one original Archies album, this is the one you need for your collection.
Review written by Andy Bishop and Don Charles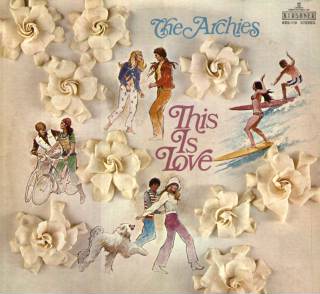 It really did look like the end of The Archies in September of 1970. Jeff Barry had donned his trademark cowboy hat and strode off into the Hollywood sunset; Donna Marie (who'd replaced Toni Wine) left at the same time to marry a New Jersey businessman; and Ron Dante was busy writing and producing songs for artists like The Village East and The Eighth Day, as well as thinking about a solo career again. The Archies' final Jeff Barry-produced single, "Together We Two" peaked on the Billboard charts at a miserable #122. Word inside the music business was that the act was history, but Don Kirshner wasn't ready to give up on his cartoon superstars just yet.

Kirshner hired Ritchie Adams as the group's new producer and convinced Ron Dante to return by promising him a co-producer's role. So it was that in December of 1970, Adams and Dante booked RCA Studios and began crafting eleven new tracks that would make up the bulk of This Is Love, the fifth and final Archies studio album. In addition to being the first long-player not produced by Jeff Barry, it was also the first not to include any songs recorded for the Archie TV series. Unlike before, it wouldn't benefit from national exposure on the CBS network. That could explain why the music was aimed at an older audience; fans were quick to note some decidedly adult-contemporary leanings. This revamping wouldn't postpone The Archies' demise for long, but it did succeed in revitalizing their sound for the new decade.

Ritchie Adams set a new mood with songs like "Maybe I'm Wrong", a wistful midtempo rock ballad wrapped in sumptuous harmonies. This tuneful toe-tapper ends all too suddenly in a sweep of drums, bass, keyboards and wailing voices. Gene Allan and Ron Dante make their presence known with "Throw A Little Love My Way", a colorful calypso ditty that lovingly tips its hat to Jeff Barry's Caribbean influences. As Dante croons to tantalizing tropical rhythms, you can easily imagine him in a Hawaiian shirt, sipping a Piņa Colada. Ah . . . life is good.

For another tasty treat, look no further than "Easy Guy", the most commercial-sounding track on the album. Dante delivers a feverishly intense vocal on this number about a man who's been burned by love and has grown cautious with his heart. You've got to play it fair, he warns his new love interest. Don't ever take me for a fool/I've attended every school/That's a fact, so don't you try/Or you'll lose your easy guy! Nothing less than a top notch AOR pop nugget from the pens of Ritchie Adams and Bob Levine. The first word of "Carousel Man" should've been spelled with a "K", because this Ron Dante/Bob Gengo effort is obviously a tribute to Don Kirshner! Listen for the lyric's references to "Mister K". The circus calliope arrangement is a bit more bubblegum-ish than fans were used to hearing, but even so, "Carousel Man" is a jaunty, rousing tune with straightforward commercial appeal.

Turn another page in the Ritchie Adams songbook, and you'll discover "Don't Need No Bad Girl", a half funky, half country stomper with in-your-face lyrics. Sneering and swiveling his hips like Elvis Presley at his fiercest, Ron Dante musically confronts his lowdown, cheatin' ex-girlfriend: Baby, you fooled me once before/So don't come trippin' round my door/'Cause I ain't comin' out to play no games! Co-written by Al Gordon, this is unquestionably one of the album's highlight performances. Songwriter Mark Barkan wrote the lyrics to "Little Green Jacket" about an actual green sports jacket he was fond of wearing. Barkan also included sly references to Coppertone Suntan Lotion in this song, an inside joke about Ron Dante's past work as a jingle singer for the Coppertone company! This '50's-styled rocker with guitar licks courtesy of the reliable Hugh McCracken dates back to the Everything's Archie sessions, but for some reason, it was left unrecorded for two years. Thankfully, it was dusted off in time to be included here. Harkening back to The Archies' earliest waxings, "Jacket" provides Dante with his best uptempo vehicle on This Is Love.

It's only fitting that Jeff Barry's last contribution to The Archies' catalog appears here, and just as you'd expect, it's a killer! "Together We Two" may have failed as a single, but this merry, papaya-scented rewrite of The Dixie Cups' "Chapel Of Love" is one of the finest songs Barry ever collaborated on with Andy Kim. Ron Dante and Donna Marie's duet vocals grow more passionate as the track reaches its climax, yet the youthful innocence of the lyrics is never sacrificed. Nor is innocence a casualty on Adams and Levine's "Should Anybody Ask", a tune that has the same wistful quality as "Maybe I'm Wrong". However, the arrangement is much more delicate, and the melody has a pronounced country ballad flavor. Dulcet mandolin strains reverberate through this beautiful production like ripples on river water.

Piano, xylophone and choral harmonies create a sensuous blend as Dante's voice caresses "This Is The Night", a midtempo adult-contemporary ballad with extra emphasis on "adult". The lyrics clearly describe a man's lustful anticipation of a night to be spent in the arms of his lover! MMM-mm, he moans. Don't be shy/And don't be afraid/Just let my love/Sweep you away/We've been waitin'/For too long/For a love so wild/A love so strong. Whew! This is another Adams/Barkan composition that lay unrecorded since 1969. Obviously, its subject matter was considered too sexy for The Archies back then, but what a difference the change of decades made! Gene Allan and Ron Dante give up the funk on their infectiously danceable "Hold On To Lovin'", a record which propels you onto the dance floor with handclappings, percolating conga drums (shades of Barry and Bloom!) and a Latin-tinged fuzz guitar. The groovy rhythms engage you so completely, you're totally unprepared for what happens near the song's climax: HORNS! A full brass section sneaks up on the melody and starts jamming alongside the rhythm players. It marks the first time brass has ever appeared on an Archies recording, and its introduction on this pulsating track couldn't be more apropos.

The Herb Alpert sound commands even more attention on Ritchie Adams and Al Gordon's "What Goes On?", a soft rock vehicle infested with Brazilian percussion. It eventually transforms itself into a jazzy instrumental featuring flutes, woodblocks, bass and cymbals. After listening to its entire three-minute-fifty-three-second length (making it the longest Archies track ever released), fans had no doubt that Adams and Dante had fashioned their own distinctive Archies sound, quite different from anything that had come out of the Jeff Barry sessions. "What Goes On?" is an example of what was great about the new sound, but "This Is Love" is an example of what wasn't so great: Occasional lapses into 100% pure bubblegum, the kind of thing Jeff Barry had always avoided. Actually, if you don't mind the chirpy arrangement, "This Is Love" isn't half bad. There are spirited femme backing vocals (probably sung by Jeannie Thomas, lead singer of 1960s girl group The Rag Dolls), and Dante's recitation in the middle recalls "Seventeen Ain't Young". Still, you can't deny that this tune doesn't fit in with the album's other, more sophisticated material. Nor can you deny the fact that, as a single, "This Is Love" missed the charts entirely.

In mid-1971, Ritchie Adams returned alone to the producer's soundbooth and cut a baroque ballad titled "Love Is Living In You", co-written by Bob Levine and frequent Neil Sedaka collaborator Phil Cody. Either Cody or Adams sang the lead vocal, and the track was issued on 45 in January of 1972. Despite its excellent production values and a feather-light Joe Renzetti arrangement, it fared no better commercially than "This Is Love". In April, Don Kirshner coaxed Ron Dante back into the Archies fold one more time to cut what turned out to be a farewell single. Thanks to Dante, the group's swansong wasn't a sad one at all, because this single was comprised of two knockout productions. "Strangers In The Morning", an uptempo country pop lament about one-night love affairs picked up where "This Is The Night" left off, while "Plumb Crazy" achieved a masterful homage to The Archies biggest hit, "Sugar, Sugar", and to the vintage Jeff Barry sound. Strings as well as horns embellished these superb tracks, which were expertly arranged by former Tommy James and The Shondells music director Jimmy "Wiz" Wisner.

Thus ended an exciting, lucrative and, yes, artistically satisfying career for The Archies, and just like the classic comic strip characters that inspired them, their music will live forever. Given the participation of such skilled musical craftspeople as Don Kirshner, Jeff Barry and Ron Dante, it really couldn't be any other way.
Review written by Don Charles