It's Up To The Woman
Neil was thrilled when Jeff Barry arranged to produce an album with legendary British pop star Dusty Springfield. Dusty was his all-time favorite female vocalist. Naturally, he was tapped to write original material for the project; except for covers of songs by David Gates and Carole King, plus an obscure showtune, the album was to consist of brand new material. Co-writing alternately with Gil Slavin and Joe Renzetti, Neil managed to get four songs into the track lineup, all with a distinctly different feel to them. "All The King's Horses" was a light, swinging tune whose bouncy melody belied its heartbreak lyric. "Natchez Trace" was a kick-ass blues rocker in the Janis Joplin style. "Have A Good Life, Baby" was a delicate bossa nova ballad dealing with the end of a relationship; and "Love, Shine Down On Me" was a torrid gospel number that tore a wrenching, almost suicidal vocal from Dusty. This latter tune definitely had the Neil Goldberg magic, but it might not have made it onto the album without some extra effort on his part. "I was so sure that 'Love Shine Down' would be a hit," he laughs. "It was played for her, but there was no decision. (So) that same afternoon, I wound up in the same Chinese restaurant as Dusty and Jeff Barry." Neil whipped out a pen and scribbled a quick message. "I called over a waiter and had him deliver a fortune cookie to their table with a little strip of a note in it. It read, 'Love Shine Down' is a smash hit!" He stayed long enough to see the amused reaction from Barry and Dusty. It was enough. Dusty Springfield did include the song on her album, and her performance of it was arguably her best ever. Hearing the reconstructed album for the first time three decades later, Neil was properly dazzled. "Jeff Barry honored Dusty's true style and great voice," he declares. Regrettably, the LP's release got canceled, but tracks from it began filtering out in the 1990s. A stand-alone CD release may not be too far off. Recent biographies have tended to portray the woman born Mary Catherine O'Brien as something of a shrew, but Neil recalls her as "sweet and kind," with a gentle, unassuming personality.
While he did meet her, he was unable to attend her recording sessions. During this time, he took an extended sabbatical. Many young musicians during that era became interested in eastern religious philosophy, and dozens were traveling to India to confer with respected holy men like Maharishi Maheesh Yogi. Neil was, and is, extremely wary of religious doctrines, but he nevertheless longed to make his own pilgrimage. "I had had some very deep meditation experiences, and I heard the masters in India could take me deeper. I met an unknown yogi saint (and) he showed me how to surrender to God. I had a profound mystical awakening which rocked me to my soul and changed me forever." That trip was a necessary step toward Neil becoming the deeply spiritual man he is today. Unfortunately at the time, it not only may have prevented him from working on Dusty's album, it also delayed the start of his own Jeff Barry-produced solo project.
Fortunately, Tom Jones didn't delay recording the Golberg-Renzetti song "It's Up To The Woman" for his million-selling She's A Lady album. This was another example of extra effort on Neil's part paying off ... and of having friends in the right places. Neil knew a man named "Moxie" who had a knack for making things happen. Having written a powerful new ballad, he mentioned to Moxie that it would be perfect for Tom Jones. Out of the blue, his pal called one day to say that the Welsh superstar was rehearsing a new show at the famous Latin Casino in Cherry Hill, New Jersey. He had just bribed the Casino's doorman to let them into the rehearsal! Neil didn't have to be told twice. Grabbing a one-sided dub of "It's Up To The Woman", he was in Cherry Hill within the hour. "We watched Tom rehearse with about thirty other people," he recalls. "It was quite something to see! As he was leaving, he passed right by us." Leading his entourage, Jones carried himself like royalty, head high, spine straight as a column, a cashmere maxi-coat flung across his shoulders like a prince's cape. Never the shy one when it came to his music, Neil boldly stepped forward and pitched his song. "He took it from my hand and elegantly handed it over to one of his assistants. Off they went like a royal procession." A year passed, and Neil heard nothing. By then, he assumed Jones's assistant must have chucked his demo into the garbage. Au contraire! Upon hearing the song, Jones and his producer/manager Gordon Mills quickly tapped it for inclusion on his next LP. "It's Up To The Woman" was another of Neil's take-no-prisoners, gospel-tinged workouts; it had to be sung with great passion, and Jones's reading of it did not disappoint. Neither did the royalty checks, which, unlike the ones for "Do It In The Name Of Love," came through ASCAP. "It was a great feather in my cap, and I made some money with it," Neil acknowledges. "Tom Jones, wherever you are, that was mighty kind of you to cut my song! (I'm) glad you liked it that much."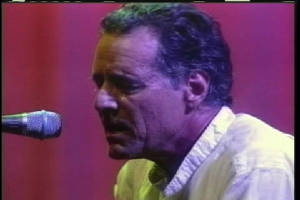 Jeff Barry was unbelievably busy in the late '60s and early 1970s, but he finally found time to fulfill the key clause in Neil Goldberg's contract: Launching him as a solo artist. Neil was delighted to find himself with a singles deal on a major label (Epic, then a subsidiary of the CBS conglomerate and now part of Sony/BMG Music). "My attorney, Richard Rosenthal called me one day and said, 'I've been trying to get through to you all day! Clive Davis wants you in his office at 4:30!'" It was no joke. The powerful CEO of Columbia Records was interested in him as an artist. Neil had to steady his jangled nerves, but by the time he walked into Davis ' West 52nd Street office suite, he felt calm and confident. "He was very warm and gracious. He said he had heard a tape of me singing, and he liked my voice. He asked me to sing one of the best songs I had written for him." Neil took a seat at Clive's piano, and with great enthusiasm began performing a bluesy country ballad, "A Lifetime Too Long." After just a few bars, Clive stopped him. "I don't want to hear anymore! I want you with the label." Talk about love shining down! Neil was over the moon. Within a very short time, he found himself in the studio cutting his first Columbia single. "My first release with CBS was called "One Woman," (which I) co-produced with Joe Renzetti. I loved the song, and we all believed in the powerful record. There was a page in Billboard promoting the record (and) it seemed like a natural, but it could not take off. I was so disappointed!" But Clive Davis's belief in Neil's talent was unshaken. Additional recording dates were scheduled; Davis was determined to find that all-important first hit.
In 1973, a stunning platter called "Everybody's Song" emerged, with Jeff Barry handling the production duties this time. "The 'Everybody's Song' session was amazing," Neil remembers. "We started with a different song, which I don't recall anything about. We had a basic, strong groove of a track, and as Jeff was about to add some sweetening (strings), he got an idea, as he was fooling with a synthesizer." Electronic gadgetry was still a novelty on records then, and synthesized music tended to sound tinny and canned. Jeff Barry was after a warmer sound, though, and through experimentation, he achieved it. The keyboard part he played blended quite nicely with the other instruments; on record, it resembled a line of Scottish bagpipes. "He played that great figure through the whole track! It fell perfectly against the rhythm, and gave (the music) an uplifting and inspiring feeling of victory and hope, changing the whole concept of the recording." Neil's gospel instincts kicked in, and he wrote a new, hopeful lyric about a song that was so irresistible, everyone in the world joined together to sing it. "It was one of Jeff Barry's greatest productions," he proclaims, but adds modestly, "I don't know if the artist and the song were quite strong enough." Both were plenty strong enough, but the record's release coincided with an unfortunate incident that landed him in jail.
It was the era of the Viet Nam war, and like many young people, Neil was caught up in the spirit of protest. At an antiwar rally in Washington, DC, he was singing an original composition titled "It's Raining Bombs On Viet Nam" when things suddenly turned ugly. Police began harassing a group of elderly Quakers. When they started arresting the old people and dragging them into paddy wagons, the crowd exploded in anger. Neil was among sixty or so people who ran to support the Quakers. When the dust cleared, he'd been arrested for charging a police line. "We were all released with no charges, no guilty pleas and no fines," he explains, "but we did spend the night in jail." The action he took was in the name of love, as always, but in this particular instance, some rather powerful people weren't feeling the love. His beautiful, magical record fell into a promotional black hole following this incident. "Clive Davis had government pressure put on him, and he was not happy." As a result, another Neil Goldberg single that everyone agreed had major hit potential died a slow death of neglect. His chances for a successful singing career always seemed to go up in smoke. Neil started feeling hopeless; he couldn't seem to escape that persistent dark cloud. Yet neither could he ignore that inevitable silver lining. "Everybody's Song" was co-written by a young woman who was to have a profound effect on Neil's future. "Susan Keane was/is a warm, fun, great person with a heart full of love. She was an aspiring actress, and had a small part in the first Godfather movie ... she was a good friend of mine and Jeff's. She introduced me to my soul mate." Susan played matchmaker between Neil and pretty Jan Thomas, much to the initial chagrin of both. "(She) kept telling both my (future) wife and I that she had found the perfect person for each of us, that she knew we were meant to be together. Both Jan and I resisted, but from the first night we met, the deal was sealed."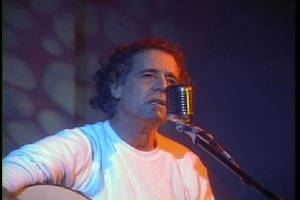 Got To Believe In Love
The music industry moved west in the '70s, and Neil Brian Goldberg eventually moved with it. Today, he and wife Jan live in mountainous Northern California, leading a simple life that nevertheless is blessed with an abundance of love, laughter and music. A few years back, they cut an album of experimental music under the names Gandharva and Eternity. Lately, he's been busy performing new songs on local public access TV, compositions he describes as "unique (and) rhythmic ... with powerful, but not 'in your face' messages." Those performances are in the process of being collected onto DVD. Neil is also penning the screenplay for what he says will be "a heart-touching, animated Christmas story." He's very excited about these new projects. Yet, his favorite thing to do today is the same thing he loved doing in the '50s: Making personal appearances in front of live audiences. Recently, he returned home to Philadelphia and gave several free concerts at the assisted living facility where his mother now resides. He beams with pride when he speaks of those dates. "The old folks perked up and glowed with joy! I consider those performances among my most important, and most successful." Like his mentor Jeff Barry, Neil has never lost the desire to write and sing songs for children. He's been known to play for local children's groups, and naturally, he treats the youngsters to live versions of his original "Archie" songs. Yes, Virginia, there is a place other than Cartoon Network where you can hear revolutionary Bubblegum tunes like "One Big Family," "The Big Boat," "Mister Factory" and "The Lonely Cricket" ... if you're the right age, and in the right place at the right time! Recalling the last time he put on one of these special shows, Neil raves about what a wonderful experience it was. "The kids loved it! I had them dancing, singing along (especially on 'The Laughing Song') and playing little percussion instruments." He's happy to discover that crowds of screaming teenyboppers at Steel Pier or thousands of rock fans at a peace rally aren't the only audiences capable of delivering that natural high he craves. In fact, the high he gets from playing to the very young and the very old might even be a little bit more satisfying.
Neil's most gratifying project in recent years was a radio show called "In The Spirit." A friend who owned a radio station in Santa Cruz, California facilitated his desire to broadcast spiritual messages mixed with music. The idea for his show evolved over a period of years, during which time he guest-hosted other radio programs. Finally, "In The Spirit" debuted in 1998, running once-a-week through the following year. It was quite eclectic, a program that was, he stresses, spiritual but not religious in nature. "I opened with a recording of a high Native American chant. Then I came in with some cosmic rap, some live songs (and) then I would play ethereal New Age music." He'd give on-air readings of ancient inspirational texts, deliver what he calls "affirmations and visualizations" meant to spread goodwill, and take telephone calls from his listeners. He enjoyed it immensely. Neil burned one of these radio segments onto CD. Several years later, it came back to haunt him in a way he'll never forget. "I was troubled all night on the eve of 9/11/2001 ... very troubled. Got up and went through a box of stuff (and) came across a CD marked 'God In America, A Visualization.' I did not remember making it, so I put it on. It was just one seven-minute track." As it opened, Neil was praying fervently: Picture the White House, the Capitol buildings, all the Senators ... Lord, we hold this up to you ... and we ask you to bless our nation, bless our Capitol ... let the Good prevail ... we ask for Divine Power to come and take hold of this nation ... confound our enemies, send away the evil that tries to come here. "Then," he remembers, "I visualized the Divine Power of protection and light covering the Capitol." Warm memories of producing his radio show came rushing back. Yet, he couldn't shake that uneasy feeling which had awakened him. "Later that morning, I heard about the attacks on New York and the Pentagon, and I was confused. Why was I hearing that prayer at 2:30 (in the morning), and still we were attacked?" Neil believes in the power of prayer to work miracles. That belief was strengthened as he continued to monitor news reports. "I heard about the planes which did not make it to the Capitol." He had to wonder if his prayer, perhaps combined with those of other people who felt the same disquiet that night, helped save lives. He thinks of it as Divine Intervention. Someone else might prefer to call it magic. It doesn't matter what you call it if the result is miraculous and good.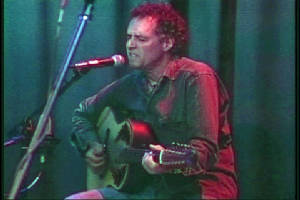 Neil is anxious to bring "In The Spirit" back on the air soon. "I would like to do it nationally," he states. "I am willing to take steps if any opportunity comes, but a way will have to be made if it is to be." Neil still uses lyrics to make uplifting statements. The best of his recent work includes a thrilling punk rocker, "The Last Princess." It's a searing critique of the entertainment media, as well as a tribute to the late Princess Diana, whom he recognized as a positive force in the world. Neil has also cut a remake of Robin McNamara's "Now Is The Time" featuring himself on vocals, and a compelling message song that he calls his all-time favorite work. "Love Storm," co-written by Jan Goldberg, sounds like a heartfelt prayer set to music. It conveys power, and warmth, and magic. To Neil, it's a musical visualization of the kind of peaceful and harmonious world he'd like to live in. "Both 'Now Is The Time' and 'Love Storm' were given (to me) from higher realms," he claims. "'Love Storm', (recorded) by Ritchie Havens, was the theme song for World Unity Day in the 1980s. (It was) never released, but (it's) still getting play on college stations and on KPIG here in Santa Cruz." Ritchie Havens' record was a recurring musical theme on Neil's "In The Spirit" radio show, and if he's successful in re-launching it, he vows that "Love Storm" will be the new main theme.
The rock 'n' roll road Neil Brian Goldberg started walking back in 1950s Philadelphia was an unlikely path to spirituality, but its unexpected twists and turns did finally lead him to a deeper understanding of life. His current thinking reflects the wisdom he gathered on his journey. "I had some deep and rare experiences in the world of Yoga and spirituality," he muses, pausing to stress that "Yoga is a science, not a religion." He feels he's finally found the proper balance between the spiritual and the secular. "I had the mistaken idea that to be 'spiritual,' one had to 'renounce the World,' (but) I did not have a cave in India. Rent and food still had to be paid for. (God) led me to the path of right livelihood and selfless service. (I'm) right back where I started, but with less ego!" Neil continues walking along his mystical road, eager for what lies around the next bend. "I used to seek the truth (but) now I walk in it." Part of that truth is something he has always understood. Whatever it is that you do ... you've got to do it in the name of love.

Thanks to Jeff Barry, Robin McNamara, Gil Slavin, Susan Morse, Laura Pinto and especially Neil Brian Goldberg.
**Note - The stills used on these pages are from Neil Goldberg's appearances on local Santa Crux TV - on the Idle Hands show. Special thanks to: Merlin, the producer of Idle Hands.**