By the time Ed's website was launched, he'd already been turning out his own music from his own recording studio for a number of years, promoting mainly via word of mouth. His official site,
EdRambeau.com
, added a global aspect to his network marketing and, now having a newer, larger audience for his work, Ed plunged into his home recordings with a fresh enthusiasm. He turns out several new CDs per year, sometimes two (or more) within a month. Ed often makes use of professionally rendered backing tracks for his songs, other times he does the arranging himself, particularly with his own compositions, and all of the instrumentation. Even in the case of the former, Ed still makes each song his own: "I do most (not all) of my own background vocals, usually in three-part harmony. And I do change lyrics here and there either to update a song or add a different touch." Altered lyrics or no, Ed's renditions of even the most recorded and performed tunes are a joy to listen to because his diction is so flawless; no matter how many times you've heard a song in the past, when Ed sings it, you feel as though you're hearing it for the very first time.
Today, Ed continues recording, traveling and performing, as well as keeping the CDs coming at his usual frenetic pace. As of this writing, Ed has just released his latest masterpiece, The Cad. This CD merits a special mention despite the fact that this essay will be seen by many folks over the coming years, long after Ed has turned out subsequent collections – it is such a standout that it deserves to be in the spotlight no matter how many excellent CDs follow it.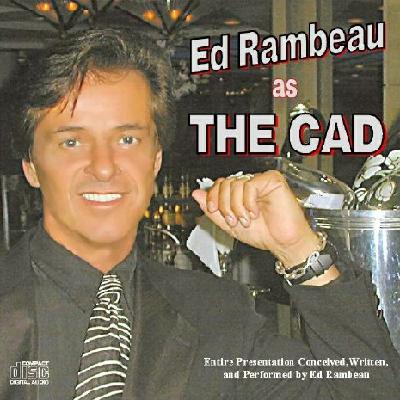 Ed is an artist who continually surprises and delights his fans (and sometimes even himself) with new aspects of his talent. The Cad, which took just under a week for Ed to conceive, believe, and achieve, is a perfect example of this. Quite simply, this CD is a work of art. Even Ed, who has been an established songwriter for more than four decades, was amazed at how the words and music just flowed out of him. During this six-day period from conception to achievement, the storyline virtually manifested itself out of Ed's being, with such ease of effort that Ed is convinced he was getting inspiration from above. Few people will argue with this conviction after listening to the tracks. The Cad is a modern-day rock opera whose protagonist, Tony Godiva, an extremely self-centered egomaniac whose reputation precedes him, finally meets his match. The twelve-song concept CD tells the story of Tony and his various conquests, and details what happens when he hooks up with the love of his life. While the plot may not be a new one, Ed takes such a novel approach in executing it that the result is a creation that's unique, original, and extremely pleasurable to hear. The tracks are:
Sittin' Here (sung at Tony's home)
Rhumba! Mambo! Samba! (sung at the Dance Club)
Haven't I Had Her Before? (sung at the Dance Club)
THE CAD (sung at the Dance Club)
The Jig Is Up (sung outside the Dance Club)
A New Town (sung driving in Tony Godiva's car)
The Blond With The Gazungas (sung at the New Dance Club)
Out Of Control (sung at Tony's New Home)
I Can't Believe It's Happening (sung at Tony's New Home)
Dress Up (sung at Tony's New Home)
Where Hides The Woman? (sung at Tony's New Home)
Sittin' Here (Reprise) (sung at Tony's New Home)
(All of these tracks can be heard by clicking HERE for the streaming audio on Ed's IACMusic.com page - note that only the first twelve songs on the player are those from The Cad.)
Here is the story of The Cad, in Ed's own words:
"About a year ago I was speaking to an actor friend of mine, who has since passed away, about a TV sitcom idea called The Cad. After he died, I hadn't thought about the idea until one day while thinking of him I recalled the conversation and decided to do The Cad as a new and innovative CD concept wherein all the songs on the CD would tell a story (the story of TONY GODIVA, THE CAD). Perhaps my actor friend was even helping me from beyond because the entire concept just seemed to write itself. I didn't even put one word of the lyrics down on paper. I just stood in front of the mic and got the melody and then sang a line. Then did the same with the next set of lines and so on, and before you knew it The Cad was born. My intention is to try to get it on Broadway or perhaps off-Broadway as a one man show. Then there's also the possibility of enhancing it with a book and making it into a full Broadway show. Knowing that's a long hard road, I'm ready for any obstacle that stands in my way and am bound and determined to make it all happen. Wish me luck."
We do, but Ed is such a gifted man that he hardly needs to be wished any luck at all – he was definitely born with all that he requires!
In addition to his other activities, Ed uses the Internet to maximum advantage,
promoting his music via his
MySpace
and
MusicForte
profile pages. He shares a good deal of original music with his fans and friends by way of a dedicated Yahoo community,
Jukebox Rambeau
. And Ed still keeps in touch with his old mentors, Bud Rehak and Bob Crewe, who states: "Knowing [Ed] and working with him has been – from the start – very enjoyable. He's a great human being and a wonderful writer and recording artist." Bob, we couldn't agree more!
Acknowledgments:
Many thanks to Ronnie Allen, Bob Crewe, Rosemarie Edwards, and Diane Renay, with special thanks to Ed Rambeau.
*"Navy Blue" - composed by Bob Crewe, Bud Rehak and Eddie Rambeau, published by EMI Longitude Music. Administered by Broadcast Music, Inc. (BMI)
Note: Ed Rambeau's half-hour radio show, Ed Rambeau's Little Corner of the World, can be heard every second Friday at 8:30 p.m. Eastern on OldiesYourWay.com. In addition, the shows are archived on Ed's website.
Please be sure to scroll further on down this page for a bunch of Ed-related links.

Click to join Rambeau_Music
DIRECTOR'S CUT: MORE RAMBEAU QUOTES (which didn't make the final edit)
On playing instruments:
"I made several attempts at playing different instruments but just didn't seem to have the patience for it at the time so consequently never learned to play any of them. I do program music, however, because I have the ability to arrange a complete musical composition without ever having studied arranging. My original composition 'One Time More' found on the RAMBEAU Romantic and Sexy CD was not only arranged by me but I played every single instrument you hear on that particular recording. It was a slow process but it was well worth the time invested."
On being in a musical family:
"My Mom and Dad were not musical; however, they did love to dance in their youth and attend[ed] and won many dance marathons. My brother played the accordion. He was 10 years older. He played it very well although I never really ever had a fondness for the instrument. He went on to learn a few other instruments like piano and harmonica. He's now totally in love with the harmonica. My sister attempted to play the accordion but the only thing she ever learned how to play was 'I Can't See Me In Your Eyes Anymore.' We all kinda laugh about that until today."
On recalling timelines (just one of several observations):
"Can't remember the actual year. I'm not very good at remembering stuff like that. I can barely remember having dinner with Hedy LaMarr in Hollywood shortly after my first Shindig taping but Bud Rehak keeps insisting that we did. I do remember watching the show with her on TV, however."
On today's music:
"As with any musical era there are always a few songs that slip through that are enjoyable to me (that's if you can hear the lyrics). Rap is definitely not for me although I have heard a few that are the exception. I think there will always be good music mixed in with the music of the time and those are the songs I watch for and choose to record. Many folks have thanked me for allowing them to hear the lyrics of a song for the very first time. I do pride myself on my diction; after all, a singer is a storyteller and what good is a story if you can't hear the words."
On mentoring:
"I have been approached many times by young hopefuls and I always give them my professional advice but don't really have the time to do much more. There is currently one singer I'm coaching named Greg Maro. He is presently recording his first CD with my assistance and it will be called Introducing Greg Maro."
BELOW:
YouTube video player featuring Ed Rambeau performance and promo videos. Use the arrows on either side of the video window to toggle through the selections. The player only displays the first 50 videos (and there are nearly 80 on the playlist!) ... so, to view the playlist on YouTube, click HERE.