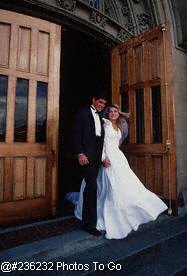 In 1964, "Chapel of Love," written by Jeff Barry, Ellie Greenwich and Phil Spector and recorded by The Dixie Cups, sailed to the #1 spot and reclaimed the U.S. charts from the British Invasion. But, more than that, "Chapel" quickly established itself as a favorite wedding song. For the past 30+ years, couples from all walks of life have included the song "Chapel of Love" in their wedding festivities, either playing the recording during the ceremony or having the tune performed live at the reception by a local band.
Nothing, however, could possibly compare with having the original artists, The Dixie Cups themselves, on hand to perform "Chapel of Love" live for the radiantly happy couple and their guests! And now, thanks to modern technology (i.e., the page you are now reading on the World Wide Web), it is not only possible to get this legendary New Orleans trio to sing at your wedding, it's surprisingly easy to arrange.
Are you planning to get married in the near future, or do you know someone who is? If so, why not consider booking The Dixie Cups—original members Rosa and Barbara Hawkins, along with Athelgra Neville—to perform at the wedding? Think of how beautiful and unforgettable the occasion would be, with these three ladies singing "Chapel of Love" live and in person at the celebration—a blessed and magical day that everyone, from the bride and groom to the wedding party to the guests, would remember for the rest of their lives.
To book The Dixie Cups for your wedding or anniversary party, or to request information, please send an email to
thedixiecups@yahoo.com
along with your contact info (name, address, daytime telephone number) as well as the location (city and state) and approximate date of the event. Someone from The Dixie Cups' organization will get in touch with you—and you can begin planning this special and truly unforgettable day.