Listen to a story that will change the way you think about so-called bubblegum music and children's television shows. It's the story of three beautiful girls who stepped from the pages of a popular comic strip, acquiring flesh, blood, bone, singing voices and a recording contract in the process. It's an incredible story that, to varying degrees, involves The Beatles, Elvis Presley, Motown, the civil rights movement, feminism, and The Mickey Mouse Club! You've never heard a story like this.
In the beginning, there were no Pussy Cats. There was only Josie, a comic strip redhead marketed by the same company that gave the world Archie and his friends. Making her first appearance in the late 1950s, Josie James was a typical teenage schoolgirl, drawn by artist Dan DeCarlo in the likeness of his wife, Josephine. Josie got her own comic book in 1963 and over time assembled a supporting cast that included Melody Jones, a dizzy, platinum blonde; snobby, super-rich siblings Alex and Alexandra Cabot; a socially-conscious, bespectacled brunette named Pepper; and a doting boyfriend in the person of beatnik wannabe Albert. Pepper and Albert disappeared from the strip in subsequent years. After an aborted relationship with a hippie named Clyde, Josie took up with a hunky blond folksinger named Alan Mayberry. At some point, he apparently showed her a chord or two on his acoustic guitar.
In 1965, an ABC-TV cartoon series starring The Beatles launched a decade-long craze for Saturday morning TV shows with rock 'n' roll soundtracks. Three years later, Archie Comics licensed its main characters for use in a Filmation animated cartoon. The Archies became a phenomenon both on TV and radio, thanks to a batch of Top Forty-friendly songs. "Sugar, Sugar" was still in heavy rotation on pop radio when Archie Comics executives decided to try and make lightning strike twice; they inked a new licensing deal with Hanna-Barbera Studios ( home of cartoon classics like "The Flintstones"). The first animated all-girl rock group hit the storyboards in preparation for its Saturday-morning debut. The Josie strip was revamped along the lines of the forthcoming TV show. Demure Josie was transformed into the tomboyish leader of an all-girl band. Melody was recruited as drummer. Alex assumed the role of their none-too-capable manager, and muscle-bound Alan M. signed on as roadie. A love triangle that previously involved Josie, Alex and Albert was reconfigured to make Alexandra a potential rival for Alan M.'s affections. A new character named Valerie Smith was introduced just in time to join the group as its bass player. These changes breathed new life into a feature strip that had, by the late '60s, lost its direction. However, not everyone was comfortable with such radical change. Josie and The Pussy Cats as we know them today almost didn't happen!
Allow songwriter and producer Danny Janssen to elaborate. Janssen came to the music industry after establishing himself in the education field. Trained at Concordia College and Wilberforce University, he worked his way up from high school instructor to Master Teacher (a teacher trainer). Harboring songwriter ambitions, he moved from Chicago to Los Angeles in the early '60s and sold his first song to producer Lou Reizner (who'd later be influential in the career of Rod Stewart). Reizner introduced Janssen to publishers and record executives who helped him get started as a professional songwriter. While still teaching, he got a foothold in the record business writing songs for The Lettermen. In 1969, he found himself basking in the glow of success after penning the "Partridge Family" theme song and two back-to-back Top Ten hits ("Little Woman" and "La La La [If I Had You]") that launched the career of Bobby Sherman. Unexpectedly, they also brought a happy ending to Janssen's own career as a teacher. "They took a picture of Bobby Sherman and me," he laughs, "and once that got out in the papers, I couldn't get in the school anymore!"
Lettermen lead singer Bobby Engemann (who used the professional name "Bobby Young") became Janssen's business partner, and the two founded La La Productions. Janssen's name had become linked with successful music marketing to preteens; cartoon moguls William Hanna and Joseph Barbera took note and came knocking on his door. "(Since) we catered to kids," he explains, "they asked us whether or not we would do (the music for) Josie and The Pussy Cats." To help with the project, Janssen recruited several young people he'd met in West Coast A & R circles, among them Austin Roberts and Sue Steward. Roberts, a rising star from Virginia, was lead singer of the three-man pop trio Arkade at the time. Previously, he'd worked with Janssen on his first project for Hanna-Barbera. "Danny asked me to write songs with him and be the lead vocalist for (musical numbers in) the 'Scooby Doo' cartoon series" Roberts remembers. "Then (he asked me) to help select the three girls for the 'Josie' series." Also from those "Scooby Doo" sessions came Steward, a talented young singer/songwriter from Kansas City. "It was my first, official, professional writing gig," she says. "What Danny did was, he signed a few writers to the production company . . . very inexperienced writers, but with a lot of promise." From the start, Janssen was interested in producing her as an artist, but she came on board La Productions initially as a staff writer and associate producer. Not everyone Janssen hired was a novice, though; music business veteran Bobby Hart completed his production staff. Hart was one-half of the pop-singing duo Boyce and Hart, and, with Tommy Boyce, he had produced The Monkees' first chart-topping album. As a songwriter, he'd penned big hits for The Monkees, Jay and The Americans and Little Anthony and The Imperials. Hart would eventually succeed Bobby Young as Danny Janssen's business partner.
Young's older brother Carl Engemann, then vice-president of Capitol Records, arranged an album deal, and things began to happen at a rapid pace. A massive talent search was conducted, attracting girl singers from all over the country. At one point, there were 500 finalists under consideration. Janssen, Young, Roberts, Steward and Hart held auditions for Pussycat singing voices at the famed Capitol Tower on Hollywood and Vine. They interviewed sixty-eight girls, settling on the final three just before meeting with Hanna-Barbera executives to finalize their production deal. The girl chosen to sing the part of Melody left the biggest impression on Steward. "Most people came in with just sheet music and an accompanist," she recalls, "but (this girl) came in with a five-piece band! She had on a mini-skirt, and go-go boots up to her knees, and . . . her hair was very big, and very white-blonde. I told Danny that if he hired (her), I was gonna walk! I thought he wanted her just because she was so good-looking." However, the leggy diva soon won Steward over with a warm personality, obvious talent, and Janis Joplin stage presence.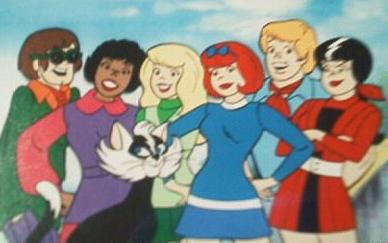 Janssen was actually more taken with another of his finalists, Patrice Holloway, the younger sister of '60s Motown star Brenda Holloway. "I just fell in love with both her and her voice," he remembers. Unfortunately, Hanna-Barbera initially weren't as enthusiastic about Holloway. They told Janssen and Young that they wouldn't recast the show to include a black singer. While Valerie Smith's skin color had raised little or no controversy at Archie Comics, the animators had evidently decided to portray Josie and The Pussy Cats as an all-white trio! This leaves us to speculate on who the third member was originally supposed to be. Perceiving HB's reaction as bigoted, Janssen angrily washed his hands of the project. Fortunately, there was a corporate change of heart. "I got a call from (Hanna-Barbera) about three weeks later," Janssen recalls. "They said, 'We've decided to do the series (and) we're gonna use Patrice!'" The vocal finalists were chosen for both their singing ability and their resemblance to the comic strip characters,. However, in the case of Patrice Holloway, the appearance of one character seems to have been tailored to resemble the singer! Janssen is reluctant to take credit for this little-known piece of civil rights history, but there's pride in his voice as he notes: "(Valerie) was the first black (cartoon) character ever used on a children's TV show."
Word about the principled stand he took spread quickly through the West Coast music community. On the day he arrived at Independent Recorders in Studio City to begin cutting the Pussy Cats soundtrack, "you couldn't even park in the parking lot at the studio!" he remembers. "I thought The Osmonds must have been there. They recorded a lot at Independent. I parked my car out on the street and went in." Inside, he encountered a throng of top LA session musicians, among them keyboard player Clarence MacDonald, flautist Wilton Felder, ex-We Five guitarist Mike Stewart, and from Elvis Presley's band, drummer Ronnie Tutt and bass man Jerry Scheff. "What's going on?" a bewildered Janssen asked session contractor Al Capps. "We can't afford all these guys!" Capps told him not to worry. "Danny," one of the assembled players shouted, "just cut this thing until it sounds great!" In a collective gesture of support for the courage he'd shown, the musicians waived their usual fees in order to work with him. Janssen is still profoundly grateful. "They were the best," he enthuses. "They really made me look good."