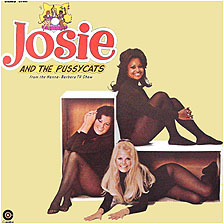 Work commenced immediately. Sue Steward: "It was a relentless pace! We wrote and recorded a song every week. We would write the song on Thursday, (the girls) would rehearse it . . . the following day, and we would record it either Monday or Tuesday. Then on Wednesday, we would either continue mixing, or start writing again." Steward worked most closely with the singers, running their rehearsals, teaching them their parts and choosing leads. "There was never, ever any attitude problem," she stresses. "No one was difficult to work with, really, and they were all excellent part singers. (I like) working with people who have good ears, and these girls did!" And what girls! Beautiful, auburn-haired Kathleen Dougherty, hired to sing the role of Josie, was a musical theater major at the University of Southern California. Capitol Records rechristened her "Cathy Dougher." Ironically, "Josie" seldom sang lead; trained in light opera, Dougherty wasn't the ideal front-person for a rock ensemble. However, she had the highest vocal range of the three, and Austin Roberts feels that her "pop/operatic voice (gave) the sound of the girls a little twist." It was left for Dougherty's group mates to switch off leads on the catchy numbers written for them by La La Productions' writing staff. Sue Steward co-wrote most of the compositions with Danny Janssen. "Danny and I came up with hook-oriented songs," she says. "We wrote everything on guitar. Often (at recording sessions), Cheryl would sing the melody."
South Dakota native Cheryl Stoppelmoor, the mini-skirted blonde who'd initially roused Steward's ire, impressed not only with her movie star looks, but also with her strident vocal style. Her name was shortened to "Cherie Moor" for publicity purposes. Though only nineteen, she'd recently come off the road after singing with a traveling folk/rock group. Her harmony parts weren't particularly awe-inspiring, but poured into tight-fitting miniskirts and bellbottoms, her curvaceous body parts had no trouble capturing the attention of the session crew's male members ("Cheryl definitely had the look," sighs Austin Roberts). What's more, as lead voice she acquitted herself admirably on hook-laden numbers like "I Wanna Make You Happy," "Lie! Lie! Lie!" and "Inside, Outside, Upside-Down." Stoppelmoor's crowning moment was her righteous reading of "I'll Be There," on which she shared lead vocals with an inspired Kathleen Dougherty. She also once shared a lead with Sue Steward! "We did a cover of '(They Long To Be) Close To You,'" Steward remembers. "The day that she did the lead, (Cheryl) had the most horrible case of laryngitis, and she couldn't hit the lowest note. So every time you hear (a low note), it's me! We sounded enough alike that we got away with it!"

Quick to laugh, with sparkling eyes and a dazzling smile, Patrice Holloway was singing professionally, writing songs and playing multiple instruments by the age of nine. She'd already recorded for Capitol Records (her 1967 single "Stay With Your Own Kind" was one of the first pop records to deal with interracial love), and her extensive work as a background singer made hers a familiar face to West Coast session regulars. She even had a hit composition to her credit: "You've Made Me So Very Happy," which she and sister Brenda co-wrote with Motown honcho Berry Gordy, Jr. The song was recorded by Blood, Sweat and Tears in 1969 and sold a million records. She possessed a sweet, sassy sexuality that reminded you of Diana Ross, but her voice was unquestionably the main event. Despite health problems, Holloway was magnificent singing lead on fired-up dance tracks like "Voodoo," "You've Come A Long Way, Baby," "Clock On The Wall" and "It's All Right With Me." Both Danny Janssen and Austin Roberts sing her praises. "She had a great R & B voice," Roberts enthuses. Sue Steward concurs. "Patrice," she says, "was amazingly talented." Her powerful lead vocals, which were often double-tracked, also graced the unforgettable "Josie" theme song.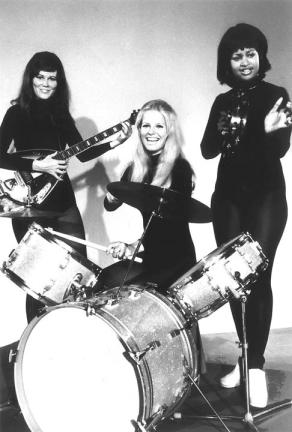 Once the soundtrack songs were dubbed in, a spanking new model called "Josie and The Pussy Cats" rolled off the CBS network's assembly line on Saturday, September 12, 1970. The series had a winning formula. Who could resist a glamorous female rock band dressed in leopardskin leotards, traveling to exotic locales and falling afoul of mad scientists and evil cabals? Who didn't laugh at the way Alexandra's outrageous attempts to upstage Josie always seemed to backfire? Who could fail to be charmed by Melody's prophetic earlobes, which wiggled at the sign of impending danger? In addition, the show was historic in terms of gender and race issues. "As I look at it in retrospect, I do think it was groundbreaking," Sue Steward observes. "It was the first (cartoon) presenting women as the lead characters, as the crimefighters . . . they weren't anybody's angels! They did their own thing." The episodes sported freaky titles like "Never Mind A Mastermind" and "All Wong In Hong Kong." Each one climaxed with a death-defying chase sequence over which The Pussy Cats' latest song was played. Veteran actors Janet Waldo (the voice of Judy Jetson), Jackie Joseph (a regular on the "Doris Day" TV series) and radio deejay Casey Kasem (Shaggy on Hanna-Barbera's popular "Scooby-Doo") were hired to voice the cartoon characters. Special mention must go to Mickey Mouse Club alumnus Sherry Alberoni, who deserved an Emmy for the gusto with which she portrayed the hapless, scheming Alexandra. The series brimmed over with spy spoof intrigue, slapstick, campy humor, high energy and - unusual for a children's show - sex appeal! And the music was every bit as sexy as those skintight leopard costumes worn by the main characters.
As recorded by La La Productions, Josie and The Pussy Cats were soulful divas. Their sound owed much to the recordings coming out of Detroit in the late '60s - the seminal disco rhythms of groups like Honey Cone, the Norman Whitfield-era Temptations, and The Jackson Five. "(We developed) a different kind of sound for them," says Austin Roberts, "hence the electric flute and a few other goodies." The all-star session crew, including at least one member of the critically-acclaimed Jazz Crusaders, lay down a futuristic fusion of rock, R & B and Latin jazz, replete with guitars, bongo drums, handclappings and the aforementioned flute accents. Electronic oscillators, first brought to prominence on Diana Ross and The Supremes' 1967 hit "Reflections," were also an important part of The Pussy Cats' sound. Danny Janssen: "Al Capps would have a basic arrangement, and then these guys would just go crazy improvising! I can't take too much credit." Session drummer extraordinaire Hal Blaine replaced Ronnie Tutt after the earliest dates, and organist Billy Preston may have lent his keyboard expertise to at least one session. Austin Roberts added acoustic guitar licks to the recordings of his songs "Clock On The Wall," "Lie! Lie! Lie!" and "The Time For Love Is Here." Sue Steward crafted gospel-flavored vocal arrangements for all the tunes; she proudly dubs her work "Jewish Soul." She also sang background vocals, which made her the unofficial fourth Pussy Cat. Engineers Ron Malo, Howard Gale and David Kemper faithfully captured every exquisite note. Young actors like David Soul and Kurt Russell often stopped by to observe the recording sessions; the dates quickly became known around Hollywood as a must-see event.
Capitol Records released six Pussy Cats singles (four were available only via mail-order through a special offer from Kellogg's) and an album. The album sleeve was a work of vintage cheesecake art, depicting the girls as vixens in black nylon! Josie and The Pussy Cats paper dolls, cups, posters and paperback books were marketed, promotional photos of the studio group were issued, and there was talk of a national tour. Lightning didn't strike twice, though; they never even came close to duplicating The Archies' success. The public seemed unaware that records were available, and the singles got a negligible amount of airplay. Austin Roberts thinks the songs may have had limited appeal "because we were writing specifically for the project." Danny Janssen, however, lays the blame firmly on a corporate doorstep. "Capitol Records didn't put a big push on anything (because) they were so used to having The Beatles," he believes. "They could've made a hit out of the Josie girls, (but) it's easier to just go (to a radio station) and say, 'hey, will you play the next Beatles record?' I think they got a little lazy."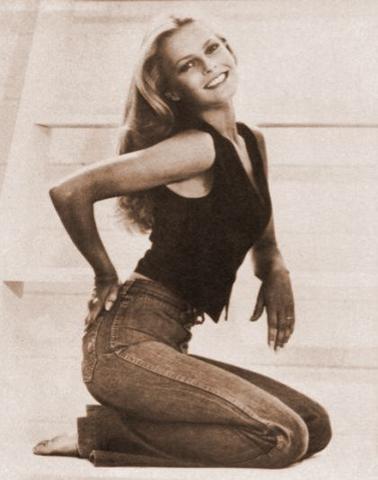 It was over much too quickly. Producer Jimmie Haskell and a group of anonymous studio singers provided music for "Pussy Cats in Outer Space," the second season; it was a misguided attempt to capitalize on NASA's recent lunar landings. Long tails and ears for hats gave way to clunky spacesuits and even clunkier plots. As Josie and her friends zoomed into the stratosphere, their ratings plummeted to Earth! Danny Janssen continued working with Patrice Holloway and cut some solo sides with her, but it's unclear whether "Evidence," "That's The Chance You Gotta Take" and "Black Mother Goose" ever got past the promotional pressing stage. Capitol Records did release a pair of singles that La La Productions cut with Sue Steward. One of them, "Knock-Knock, Who's There?" was a Bobby Sherman-styled bubblegum track that Janssen had high hopes for; however, Steward couldn't have been happier when it failed to get airplay. "I wanted to be Laura Nyro! And here they put me into this Bobby Sherman thing," she shudders. "It was horrible!" Steward worked with Janssen and his new partner Bobby Hart for a while, but eventually left them for a staff writer's job at Blackwood Music. Janssen and Hart then shifted their focus to Austin Roberts. "We all got along so well, creatively as well as fun-wise," Roberts confirms, "(they decided) to cut me as a solo artist. We made a deal with Wes Farrell and Chelsea Records, and had even more fun!" More about that later.
Sue Steward and her friend Cheryl Stoppelmoor maintained contact with Danny Janssen for several more years. He last spoke to Stoppelmoor in the late '70s, after she'd wed actor David Ladd and begun working steadily as a TV actress under her married name. Capitol Records had just signed her as a solo artist: "Cheryl came up to my penthouse with her manager, and wanted me to do an album with her . . . (but) I didn't want to go back to what we had done years ago." The album ended up being produced by Charles Koppelman's Entertainment Company, and it yielded a Top Forty single, "Think It Over," in the summer of 1978. Sue Steward, now working under her married name of Sue Sheridan, assisted in the production of this record, just as she'd done years before on Josie and The Pussy Cats' soundtrack album. "I wrote two songs on (Cheryl's) first solo album, which is actually how I ended up signed to The Entertainment Company," she recalls. "Everything leads to everything!" Unfortunately, the winsome blonde's recording career would falter in the United States, but she'd go on to become one of Japan's most popular singers during the 1980s.
Thanks in large part to reruns on Cartoon Network, interest in Josie and The Pussy Cats has remained high. So it came as no surprise when, thirty-one years later, they were revived in a Universal Pictures feature film that updated them as twenty-first century suburban punkettes. Now known as Josie McCoy, Melody Valentine and Val Brown, respectively, they careened through a danger-and-music-fraught adventure not unlike their cartoon escapades. With all due respect to actresses Rachel Leigh Cook, Tara Reid and Rosario Dawson (and to Kay Hanley, who handled Pussycat lead vocals this time out), the public really ought to "stop, look and listen" to the long-ignored sides recorded by the original 1970 group. After all, Danny Janssen's production company was hired to create music for thirteen more TV series, seven motion-pictures and thirty-three TV commercials; his collaborator Austin Roberts became a million-selling pop singer courtesy of the Janssen and Hart-penned ballad "Something's Wrong With Me," and subsequently wrote numerous Top Ten country hits; Sue Sheridan became a Grammy-winning composer of songs for movies like Beverly Hills Cop, TV series like "Fame," and artists like Dolly Parton; Patrice Holloway continued working as a session singer, and achieved cult figure status on England's Northern Soul club circuit on the strength of solo recordings like "Ecstasy" and "Stolen Hours;" and Cheryl Stoppelmoor blossomed into superstar Cheryl Ladd, Detective Kris Munroe on TV's "Charlie's Angels," Broadway and Las Vegas headliner, and leading lady of countless made-for-TV movies. "Those (sessions) were so much fun," Sue Sheridan says today. "Tremendous fun, and tremendous energy on those songs."
The true story of Josie and The Pussy Cats has finally been told. In 1970, the combined efforts of Archie Comics, Hanna-Barbera Studios, a forward-thinking guy named Danny Janssen, an ambitious group of novice songwriters and three immensely talented women brought comic strip characters to life. So vividly, in fact, that they left a lasting imprint on popular culture. No other pussy cats have ever purred as sweetly, or as soulfully, as these kittens did!
Note - Sadly, Patrice Holloway passed away on October 1, 2006. Click here to read Stuffed Animal's loving tribute, Requiem for a Pussycat, on the Spectropop website.

Article written and researched by Stuffed Animal.
Production and Remix by the Pineapple Princess, Laura Pinto. Special thanks to Charlie Feldman, Danny Janssen, Bill Pitzonka, Austin Roberts, Sue Sheridan and the staff of Rhino/Handmade. Dedicated to Patrice Holloway. Josie and The Pussy Cats are Copyright ©1970 Cartoon Publishing Company, a division of Hanna-Barbera Productions, and Copyright © 1970 Archie Comics Publications