Who's the fairest Mouseketeer of all? The bitchin'est babe on the beach? The original Candy Girl, years before The Archies minted the name in their million-selling song "Sugar, Sugar?" You don't have to scroll down to the bottom of the page to read the answer: Annette Funicello! She neither aspired to become an actress nor a singer (and, according to some critics, she never did), but soon after trading in her mouse ears for high heels, she starred in nine feature films, scored five Top Forty hits, and made history as one of rock 'n' roll's earliest female stars. Annette was just four when her family moved from Utica, New York, to southern California, eventually settling in Studio City. During Easter week of 1955, she danced the lead in "Swan Lake" at her ballet school's year-end recital. In the audience was Walt Disney, scouting for talented kids to cast in his forthcoming television show "The Mickey Mouse Club." Mama Funicello's baby girl won the 24th, and final, set of mouse ears. Over the next three years, her supple dancer's body blossomed into womanhood, triggering hormone attacks in pubescent boys all over the country! Millions tuned in every afternoon for the free lessons in feminine anatomy that Annette unwittingly provided.

Her progression to a singing career was, like her popularity, unexpected. Every Mouseketeer sang on the show, but only Annette's rendition of the ballad "How Will I Know My Love?" brought inquiries from viewers about where to buy the record. Miss Ann found herself signed to an artist's contract with Disneyland Records, and starting work on her first album. She did so under the eagle eye of A & R man Salvatore "Tutti" Camarata, whose long-as-your-arm list of credits includes work with Billie Holliday, Frank Sinatra and Bing Crosby. Though she was initally terrified, Tutti patiently walked her through the process and surrounded her with the best musicians he could find. A typical date (first at Whitney Studios, and later at Tutti's own Sunset Sound Recorders) would feature Allan Reuss on guitar, Cliff Hils on bass, Bobby Hammack on piano, Hal Blaine on drums and Jackie Kelso handling sax duties. Gloria Woods led a cadre of capable background vocalists. Yet, even studio cats like these couldn't disguise Annette's painfully thin singing voice. By double-tracking her vocals to bring more oomph to the records, Tutti crafted what became known in the music industry as "The Annette Sound." Thirteen albums later, it had become the sound one of surf music's chief exponents, as well as that of the first female bubblegum rock singer.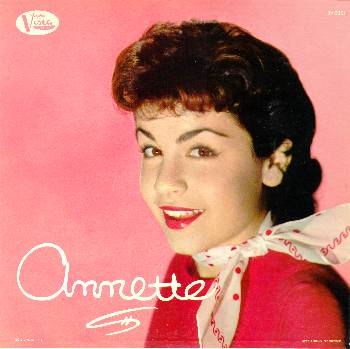 Annette
Released in 1959
Annette's self-titled first album on Disneyland Records' Buena Vista subsidiary introduced both artist and label to the long-playing record market. Every track on the LP was released as a single, and nearly every one charted! "Tall Paul," a bouncy, rope-jumping tune, launched the long and fruitful careers of songwriters Bob and Dick Sherman with the Disney organization. "Paul"(not a tribute to Paul Anka, contrary to what's often reported) double-dutched its way up the charts and into the Top Ten. What could be better suited to Annette's sweet demeanor and light, frothy voice than children's music? The term "bubblegum rock" barely existed in the late '50s, but no term better fits the material the Sherman Brothers wrote for her. They contributed five songs to Annette, including "It Took Dreams," "My Heart Became Of Age," "Wild Willie," and "Jo-Jo, The Dog-Faced Boy." In subsequent years, the duo would compose songs for many famous Disney movies like Mary Poppins and The Jungle Book, as well as the Disney theme park song, "It's A Small World."

When they infused rockabilly with bubblegum sensibility, the Shermans had Annette kicking up her heels in the Talent Rodeo, especially on "Jo-Jo," a wicked satire on the Elvis phenomenon, and "Willie," a rompin', stompin' hootenanny contender. Twenty-first century ears may detect phallic humor in the latter song - surely none was intended! Still, hearing the feverish way Miss Ann yelps Wild Willie, I love you so!, one wonders if more than just her heart wasn't coming of age. The Buena Vista Bombshell takes another turn at naughty playfulness with the vintage tune "Ma! He's Makin' Eyes At me." Every cut isn't bubblegum, though - the melancholy "Lonely Guitar," composed by Mousekepadre Jimmie Dodd for an episode of Disney's "Zorro" TV series gives La Funicello the chance to truly emote; her wistful yet determined voice does justice to this plaintive ballad. Then she becomes subdued on "Love Me Forever," its beautiful melody borrowed from the Neapolitan "Santa Lucia." Tutti Camarata must've loved this Harold Adamson adaptation - he later recycled it for her Italiannette album. All in all, Annette is an auspicious, ambitious and bubble-icious debut!