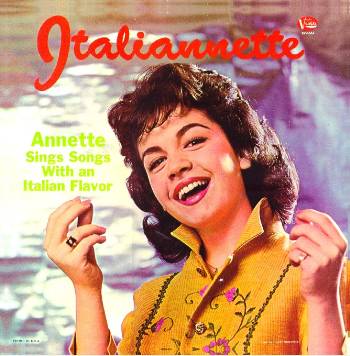 Italiannette
Released in 1960
Pass the spumoni and hide the salami! Dish out the rigatoni and start the music! Signorina Funicello, she's-a bringin' us Songs with an Italian Flavor, the second entrée in her theme platter trio (sandwiched between a Hawaiiannette luau and a Danceannette dessert). The album cover shows a decidedly ethnic-looking Annette, hands raised in an Italian salute . . . no, not that kind!!! She's a-snappin' her fingers, makin' the sound bubblegum makes when stretched taut against the palate. Got the fever for the flavor of Bazooka, Giuseppe? You've come to the right place. Italiannette begins with the swingin' Sherman Brothers-composed title track, which playfully poses the musical question: Italiannette, who's your fella? We wouldn't find out for another four years, but meanwhile, our bella bella gets boosted by Gloria Woods' molto robusto backing chorus. The quartet of Sherman tunes Annette performs on this delightful LP include the softly romantic "Mia Cara, Mi'Amore," the mandolin-sweet "Please, Please, Signore," and the highly danceable "Dream Boy," otherwise known as "Funiculi, Funicula" with English lyrics. Ah, La Funicello . . . bravissimo!

Also derived from traditional Italian melodies are "There's No Tomorrow," Anglicized from "O Sole Mio" (Elvis fans, think "It's Now Or Never") and "Lucky, Lucky, Lucky Me," a gay tarantella adapted by none other than television's "Uncle Miltie" - Milton Berle. Molto buono! Great stuff, but the modern songs have the edge: Tutti Camarata wrote his lip-smackin' "Mama Mama Rosa (Where's The Spumoni?)" especially for inclusion in this Roman feast. Don't ever listen to it when you're hungry! You'll never get through it without an emergency trip to your Italian grocer. Tutti's arrangement for Al Hoffman and Dick Manning's prayerful love ballad "O Dio Mio" is so luxurious, you want to lounge on it; our Disneyland Diva rises to the occasion with a performance that effectively conveys giddy infatuation. No big surprise that, as a single, it became an international million-seller. Yet, as much as we enjoy Annette's take on the Italian-American anthem, "That's Amore," Dean Martin's version still rules! It's heavy on the sweetbreads, but overall, Italiannette provides a most satisfying meal. Mangia! Mangia! Eat until it hurts!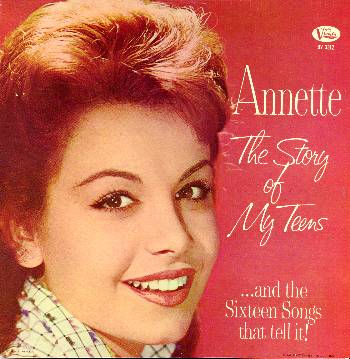 The Story of My Teens
Released in 1962
The Disney organization sometimes used Annette's album releases to celebrate milestones in her life. This one, her first hits collection, was issued in recognition of her 20th birthday. In order to alert fans that she wasn't a little girl anymore (a fact most of her male admirers had already determined), Buena Vista Records pulled out all the stops. The Story of My Teens . . . and The Sixteen Songs That Tell It! came with a lavish gatefold sleeve housing eight pages of color photos and text. Annette penned the liner notes herself, effusively expressing gratitude to songwriters Bob and Dick Sherman, Tutti Camarata, her fans, and of course, her beloved Uncle Walt. It was an instant collector's item.

The selections trace her progression from choral singer (with The Mickey Mouse Club on "Mouseketeer Closing Theme") to showtune interpreter ("I Can't Do the Sum", from her most recent Disney movie, Babes In Toyland). In-between comes a sampling of sugar-frosted rockers and wistful heartbreak ballads old and new, most of which have a Sherman Brothers credit attached. "¿Amo, Qué Pasó?," a haunting number with South-of-the-Border ambiance, is Funicello balladry at its best - she delivers her most mournful performance since "Lonely Guitar." The choicest uptempo tune is "Strummin' Song," a gum-crackin' ditty that's tailor-made for campfire singalongs. Naturally, her hit singles are revisited: "Taul Paul," with its jittery rhythms and irresistible ping-pong percussion; "O Dio Mio," practically a Barbara Cartland romance novel set to music; "Pineapple Princess," that Hawaiian Punch-flavored tale about a boy who comes floatin' down the bay on a crocodile right into Annette's heart; the aforementioned "Lonely Guitar"; and the fabulous "First Name Initial", a near-hysterical declaration of teenage devotion whose furious tambourine-shaking and frantic horn-honking make it one of the rowdiest bubblegum hits ever. Tracks from Italiannette and Annette Sings Anka round out a package that'd be perfect if not for "The Truth About Youth," a topical Sherman brothers song written especially for this album. Heavy-handed social statements from Annette? When you're a Pineapple Princess, that kind of behavior is verboten! If Miss Ann's future recordings were gonna sound like this, the fun was definitely over. But, thankfully, they didn't . . . and it wasn't!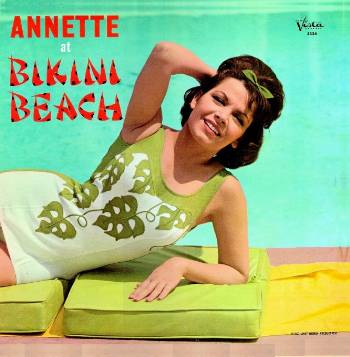 Annette at Bikini Beach
Released in 1964
By late 1962, Annette was ready to shelve her recording career and concentrate on acting. There was every reason to believe she'd cut her final album session . . . that is, until somebody yelled "SURF'S UP!" In 1963, Walt Disney lent his leading lady to American-International pictures for a starring role in Beach Party, a musical comedy pairing her with teen idol Frankie Avalon. The film was a surprise hit, kicking off a series of campy surfside movies. Their success made the Buena Vista Bombshell's name synonymous with surf music, not to mention crazy bouffant hairdos. They also reinforced her sex symbol status - guys who dug the way a teenage Annette filled out her Mouseketeer sweatshirt salivated at the sight of an adult Disneyland Diva strutting around in provocative fishnet bathing suits! Tutti Camarata began recording new albums built around songs from these movies, most of which were written by Gary Usher, Roger Christian and The Beach Boys' Brian Wilson. Tunes like "Secret Surfin' Spot," and "Surfer's Holiday" gave Annette a more aggressive image. If you believed the lyrics she sang, Miss Ann spent all her time hot rod racing, riding the waves, and cruising the shore for surfer hunks! Nothing could've been further from the truth, but this brazen hussy persona was enough to jump-start her stalled record sales.

By the time this, Annette's third beach party LP, was released, Guy Hemric and Jerry Styner had replaced Bob and Dick Sherman as her regular songwriting team. She may have earned a place in the firmament of surf music stars, but the Spearmint-coated material Hemric and Styner wrote for her ensured that she need never hit the beach without an adequate supply of Dubble Bubble! Bikini Beach is the chewiest entry in her beach party album series, and a consistent source of compilation material. Hemrick and Styner's "Bikini Beach Party" theme is rollicking good fun, carrying on where its predecessors, "Beach Party" and "Muscle Beach Party" left off; with its vicious groove, "How About That?" presents Miss Ann at her most sexually aggressive; The lighthearted "Secret Weapon" boasts a secret formula guaranteed to set the fringe flying on a go-go dancer's miniskirt; ditto for the live recording of "Happy Feeling," which swipes a riff from The Isley Brothers' "Twist and Shout." La Funicello pays tribute to Chubby Checker with a snappy version of "Let's Twist Again" and gives Eydie Gormé a run for her money with a sublime cover of "Blame It On The Bossa Nova." Undoubtedly, the album's brightest highlight is the Sherman Brothers-composed theme from the Disney film The Monkey's Uncle. Annette's famous duet with The Beach Boys on this pogo stick of a track made the single version a cult hit the minute it hit the racks. Yet, "Jamaica Ska," her charming cover of an obscure 1964 single by The Ska Kings, is just as essential. This song became the basis of a show-stopping production number when Annette and punk band Fishbone remade it for her 1987 reunion movie with Frankie Avalon, Back To The Beach.