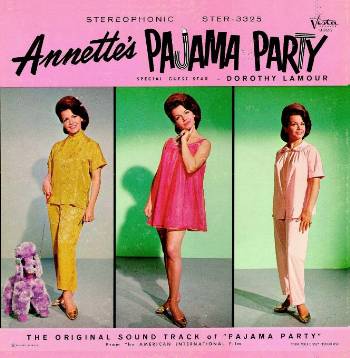 Annette's Pajama Party
Released in 1964
An amorous extra-terrestial, girls in sexy lingerie bouncing on beds, and unlikely guest appearances by Dorothy Lamour and Buster Keaton embellished the convoluted plot of 1964's Pajama Party, arguably the wackiest of the wacky movies Annette made for American-International Pictures. It yielded the only true soundtrack album she ever released on Buena Vista Records, worth the purchase price just for the inside-gatefold photos of her cavorting with co-star Tommy Kirk wearing nothing but a negligée and pumps! Guy Hemrick and Jerry Styner strike again with a batch of tunes that prove their excellent contributions to Bikini Beach were no fluke. The Disneyland Diva's reading of the rockin' title track is so cheerleader contagious, even the most jaded listener is compelled to indulge in the latest craze . . . havin' a party wearin' your PJ's! A litter of puppies couldn't be more frisky than "That Kind Of Day", another of Annette's lively fusions of bubblegum with surf music; just one minute-forty-four-seconds long, it's the vinyl equivalent of a volleyball in play. On "Among The Young," La Funicello offers a street classy explanation of teen leisure habits circa 1964: We walk the dog/we do the twist/we do the swim/and it goes like this! She blends a deliciously sullen vocal with a groaning, insolent saxophone riff.

A pair of whipped cream ballads was by now customary for Annette albums. The first one featured on Pajama Party, "There Has To Be A Reason" is a typically frothy confection, but the second, "Stuffed Animal," takes the Baroness of Bouffant into uncharted territory. Hemrick and Styner crafted a song for Annette that actually conveys (gulp!) eroticism. And kinky eroticism, at that! Sure, it's possible to interpret the lyrics in a non-prurient way, but what's the average Jerry Springer Show addict liable to think when he hears the Buena Vista Bombshell coo steamy lines like a stuffed animal just loves to be kissed? Advocates of mixed marriage (aliens with humans) must've felt empowered when Annette took up their cause on "The Maid and The Martian." This sprightly harpsichord number's inclusion on the soundtrack underscores Miss Ann's ability to sound credible singing the most absurd material. And speaking of absurd, try "Where Did I Go Wrong?," an exercise in high camp set to a '60s go-go beat . . . guest vocalist Dorothy Lamour confronts the generation gap with hilarious results!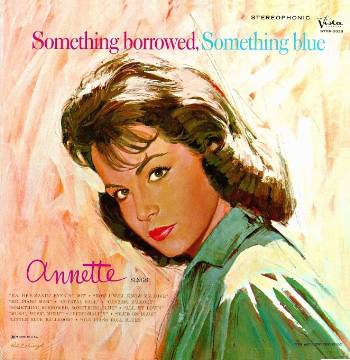 Something Borrowed, Something Blue
Released in 1964
Buena Vista Records conceived this album as a celebration of Annette's forthcoming marriage to her agent, Jack Gilardi. However, far from being a collection of love songs, it contains a mishmash of tracks: Previously released material (old), fresh material (new), covers (borrowed) and songs with the word "blue" in the title . . . you get the idea. Why the Disney people settled for wordplay when they could've produced a romantic masterpiece is puzzling, as is their omission of the one song that absolutely should've been included, "Chapel of Love." What this compilation does include is old-timey tunes like "Music! Music! Music!," Teresa Brewer's smash hit from1950; confident readings of Lloyd Price's "Personality," Bobby Vinton's "Blue On Blue," and The Beatles' "All My Lovin';" plus colorful new bubblegum tracks like "Crystal Ball" and the Four Seasons-styled "Little Blue Ballroom." Old standbys Bob and Dick Sherman are represented with "Mr. Piano Man," a lively throwback to Dixieland days; "Canzone D'Amore," a lilting Italian air featuring accordionist Gianni Marzocchi; and the title tune, their personal wedding gift to Annette. The Disneyland Diva recut her very first record for this package; the new version of "How Will I Know My Love" is soft and sexy, her vocal skills having progressed to where she's able to create a sultry mood on wax. Neither the individual selections nor Annette's interpretations can be faulted, but this LP still sounds like it was thrown together as an afterthought. A final studio album (Annette Sings Golden Surfin' Hits) and a few straggling singles completed La Funicello's Buena Vista catalog.

When Miss Ann's wedding day arrived on January 9, 1965, you could hear the sound of thousands of hearts breaking! She filmed her next movie (How To Stuff A Wild Bikini) while pregnant with her first child, Gina. Yes, our little Mousketeer was all grown up. Between 1966 and 1968, the Baroness of Bouffant co-starred in three flop movies, culminating with the unintelligible Monkees film Head. Small wonder nearly 20 years passed before she surfaced on the big screen again! She had two more children, both boys, and the whole Gilardi brood appeared in TV commercials with their mother after she began her decade-long turn as the Skippy Peanut Butter Lady. The Eighties brought Annette big life changes: She divorced Jack Gilardi and wed horse trainer Glen Holt. Concurrently, her movie career began heating up again. It was during the filming of Back To The Beach that Annette first experienced vision and muscle coordination problems. Neurological examinations confirmed the worst: she had multiple sclerosis. Sadly, her condition quickly deteriorated, and the former ballet dancer is confined to a wheelchair now. Despite her health problems, Annette Funicello remains as beautiful as ever. Her face glows with the same youthful sweetness that won the hearts of millions 49 years ago. Later editions of the Mickey Mouse Club have launched other girl singers to fame, but diva wannabees like Britney and Christina are strictly dime-a-dozen! They'll never have enough class to compare with Annette . . . the one, the only Disneyland Diva. She's still our Candy Girl, and we love her.
Copyright 2002 Don Charles and Laura Pinto
Special thanks to Tutti Camarata.