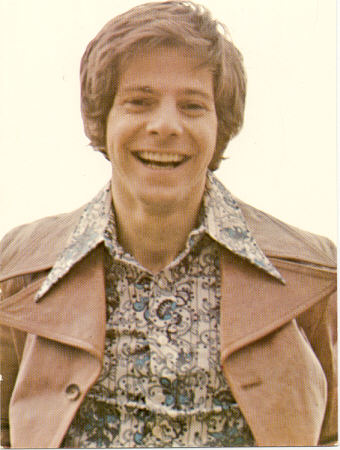 The perfect pop music voice! A voice that effortlessly adapts to high energy rock performances, glacier-smooth ballads and soulful dance grooves. A voice whose timbre and phrasing conveys the feeling of youthful exuberance like no other. That's the voice of Carmine John Granito, alias Ron Dante, arguably the most overlooked talent the East Coast music industry ever produced. Born in Staten Island, New York, Dante initially made his mark in the business as a staff songwriter and demo singer for Screen Gems Music, the publishing house run by Don Kirshner and affiliated with Columbia Pictures. He sang scores of TV and radio jingles during the 1960s and 70s, but achieved commercial success as a recording artist only a handful of times: First as one-third of the novelty act The Detergents; again in 1969 as the anonymous lead voice of both The Cuff Links and The Archies; and ten years later, he made some noise on the dance charts with Dante's Inferno, yet another vocal aggregation. In-between and after these hits, Dante cut a slew of obscure singles. There were solo records recorded under various pseudonyms as well as under his own name, and one-shot releases by various "dummy groups" like The Web Spinners, The Pearly Gate, Abraham and Strauss, Noah's Ark and The Two-Dollar Question. None of these cracked Billboard's Hot 100, but most are sparkling, three-minute samples of his genius as a singer and, frequently, songwriter. Each of the following titles would make an excellent addition to any pop singles collection.
Janie, Janie
Columbia Records 43862
Music by Ron Dante, Lyrics by Gene Allan
Arranged by Arnold Goland
Produced by Neil Levenson
released in 1966
Eastern exoticism meets Western folk rock! "Cherry, Cherry" styled rhythm guitar combines with sitar and cymbals for a smoker of a dance track. The arrangement is tricky, shifting back and forth between contrasting music styles, but Ron Dante's sunny, upbeat vocal performance holds the pieces together. The novel sound of this record immediately piques your interest, and then the beat grabs you and won't let go. Watch out! It's impossible to sit still while this one is playing.
Charmer
Bell Records 610
Music and Lyrics by Tim Moore
Arranged by Joe Renzetti
Produced by Barry Manilow and Ron Dante
released in 1974

Yes, Barry Manilow was involved in the production of this single, just as Ron Dante was involved the production of all of Manilow's hits from the 70s. However, if you're expecting a kitchen sink ballad of the type Manilow is famous for, guess again! This one's a rocker, and a damn good one, too. The beefy rhythm track, dominated by piano and bass, thumps along like a piston drive. The lyrics spin the tale of a sassy temptress who charms 'em, loves 'em, and then leaves 'em high and dry. Dante sinks his teeth into this song with a lusty enthusiasm. Once she gets a foot inside your door, he warns, baby, then its all over! Yeah, the lady's a charmer all right, but his sterling tenor has a charm all its own. This version of the song isnt as well-known as the one recorded by its composer, Tim Moore, which charted briefly in the spring of 1975.
Follow A Dream
Mercury Records 72812
Music By Ron Dante, Lyrics by Gene Allan
Arranged by Jimmy "The Wiz" Wisner
Produced by Bob Feldman
released in 1968

This single was cut just prior to Dante signing on to sing lead with The Archies. It's probably the most exciting of his solo records. Producers Wisner and Feldman demonstrate what can result when the creative juices really start flowing in the studio. "Follow A Dream" is a Halley's Comet of a track, an earful of breakneck drums and snarling overdubbed vocals tearing through space. The lyrics are nearly unintelligible, but who cares? It's the overall aural experience thats important here. Mama Granito's bambino screams his ever-lovin' heart out, and by the time he breaks into a chorus of reverberating yeah-yeah-yeahs, tumbling one after the other like a row of dominoes, the listener is completely spellbound. This is a bizarre but wonderful piece of vinyl.
Don't Call It Love
Bell Records 460
Music by Ron Dante, Lyrics by Gene Allan
Arranged by Paul Griffin
Produced by Barry Manilow and Ron Dante
released in 1973

Another Barry Manilow co-production, and an early disco waxing, but don't prejudge it. If you think you don't like disco, just wait until youve heard Ron Dante's way with a dance floor groove. A vocal sweeter than honey pours itself over Gamble and Huff-styled orchestrations and percolating percussion. Gene Allan's lyric is written from the perspective of a man willing to enter into a romantic liaison only if the sentiment remains unspoken. Call it anything you want, girl, he insists, but don't call it love. Lets hear it, then, for the Dance Away Lover! Fear of intimacy has seldom sounded so pleasing to the ear, or so well-suited for dancing. A true rarity, this single was issued under the name Bo Cooper.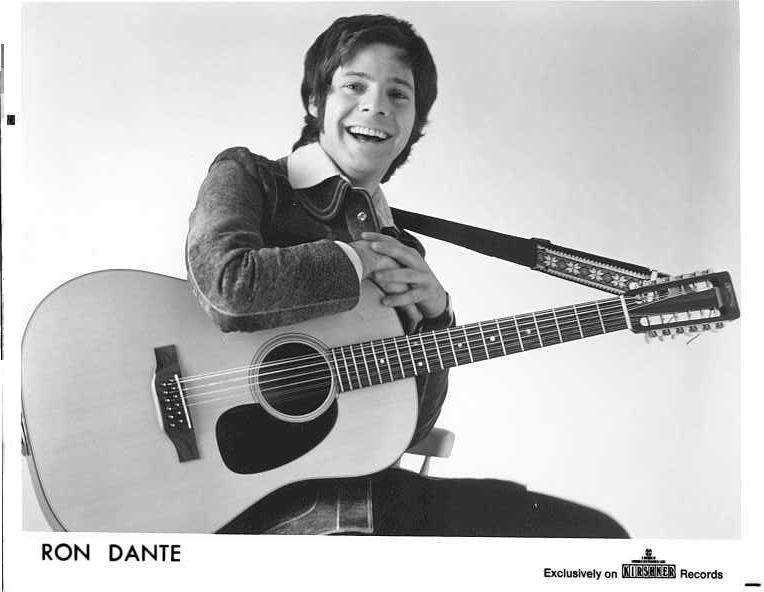 Let Me Bring You Up
Kirshner Records 1010
Music and Lyrics by Jeff Barry and Andy Kim
Music Supervision by Don Kirshner
Produced by Jeff Barry
released in 1970
The best of Ron Dante's recorded work must certainly include his sessions with producer/songwriter extraordinaire Jeff Barry. Of course, there are The Archies' timeless recordings, but Barry also produced Dantes first solo album, which was issued on the Kirshner label. If youre lucky enough to own a copy of that LP (Ron Dante Brings You Up), then you already know what a sizzler the title track is. Wouldja believe the slightly faster single mix burns even hotter? Its bottom-heavy, Caribbean-tinged dance rock in the style of The Archies' "Sunshine" and Bobby Bloom's "Montego Bay." An incendiary record, with Dante's energetic vocal at its flaming core . . . when he pleads let me bring you higher, quite frankly, you don't have much choice in the matter! Talk about offers you can't refuse!
C'mon, Girl
Kirshner Records 5007
Music by Ron Dante, Lyrics by Jamie Carr
Music Supervision by Don Kirshner
Arranged by Ron Frangipane
Produced by Jeff Barry
released in 1970

Also from the Ron Dante Brings You Up album, here's a tune co-written by Jamie Carr, a fellow Screen Gems songwriter and label mate on Kirshner Records. Once again, the single outshines the LP cut. Dante layers a string arrangement over Jeff Barry's original folk rock combo, and the results are stunning. His creamy vocals get caught up in the airy strings and ride them like a magic carpet, swirling and soaring. The sheer beauty of it all takes your breath away! Call it a fairly ordinary love ballad transformed into an exceptionally good record by an early example of the now-common single remix.
Midnight Show
Bell Records 619
Music by Ron Dante, Lyrics by Gene Allan
Arranged by Joe Renzetti
Produced by Barry Manilow and Ron Dante
released in 1974

Drama is the word that best sums up this record: Drama in the way Joe Renzetti's orchestra has been couched in a cavernlike echo; drama in the way the melody rises and falls like a huge ocean wave; and drama in the story of a rock superstar torn between his lover and commitment to his music. One minute, he's ready to kiss the bright lights goodbye as soon as his woman gives the word. The next minute, he's begging her please don't ask me to! This is the kind of over-the-top rock ballad that Tom Jones specialized in. Had the Wailer from Wales gotten hold of the tune, hed surely have wrung every drop of sentiment from it that he could. Ron Dante doesn't go that far, and he doesn't need to. His searing, passionate delivery is more than sufficient to put the song across.
He's Raining In My Sunshine
Mercury Records 72812
Music by Ron Dante, Lyrics by Gene Allan
Arranged by Jimmy "Wiz" Wisner
Produced by Bob Feldman
released in 1968
It's the flipside of "Follow A Dream," and there's more drama in store here as a jilted lover broods over the man who's come between him and his lady. "Raining In My Sunshine" was a moderate hit for Jay and The Americans in late 1966; the team of Wisner and Feldman produced both that version and this one. Strange, because while The Americans' disc plods along to a weird, semi-Baroque arrangement and never really catches fire, Ron Dante's single rocks to thumping tom toms and builds to a frenzied vocal crescendo. Arabian Nights flourishes provide an engaging hook, but make no mistake! It's the powerhouse singing that sells this number. To outperform a vocal talent like Jay Black takes some doing, but here, Dante does it and makes it look easy. Too bad so few record buyers bothered to witness his triumph.
Think
Columbia Records 43720
Music and Lyrics by Neil Levenson
Arranged by Arnold Goland
Produced by Neil Levenson
released in 1966
Heres one of those 45s with a vintage 60s pop sound that you've gotta love! A broken-hearted melody set to a rock n roll waltz and aurally enhanced by that most trusted of studio devices, the echo chamber. You'd swear the track was recorded inside fucking Carlsbad Caverns! This time, our hero knows in his heart that his woman's gone for good, but he's appealing to her one last time to think, think, before you run to his arms and tell him you care. The lady's a cold-hearted bitch; she probably won't reconsider her decision to dump Dante, but if she digs music at all, she may wait around long enough to enjoy some wicked good belting! Male vocalist magic at its most potent. Neil Levenson, who wrote Randy and The Rainbows' 1963 classic "Denise," takes writer and producer credits on this tasty little platter. Way to go, Neil!

Yellow Van
RCA Victor 10651
Music by Ron Dante, Lyrics by Gene Allan
Arranged and Produced by Barry Manilow and Ron Dante
released in 1976

Issued under the name Ronnie and The Dirtriders, this ode to draggin' wagons would've made one hell of a good Archies record. If you're into hot rod songs, this baby has everything you require: Twangy fuzz guitars, Beach Boys-influenced harmonies, a runaway beat, even engine-revving sound effects ... and right in the middle of it all, you've got your favorite road hog, Ron Dante, wailing up a storm. Oh, man! Could this guy teach Jan and Dean a thing or two, or what? Drag racing in a minivan may not turn you on, but believe you me, when Dante sings move on out with me, he makes it sound like nothing could be more fun!