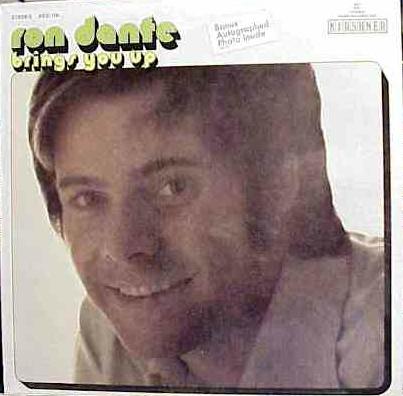 By January of 1970, the trio of singer/songwriters who comprised The Archies studio group was on the verge of splitting up. In fact, Toni Wine had already quit and relocated to Memphis, Tennessee, where she was singing background on recordings produced by her future husband, Chips Moman. Jeff Barry was tiring of his hectic New York lifestyle and seriously considering job offers from Hollywood. As for lead singer Ron Dante, he was itching to parlay his success with The Archies into long sought-after solo stardom. "I'm gradually phasing myself out of The Archies scene, " he casually remarked to a reporter from Hit Parader magazine. At the same time that he was cutting tracks for the third season of the Archie cartoon series, he was also recording an album of his own. Kirshner Records, the vehicle for Archies hits, would now serve as the launching pad for Ron Dante's solo career. To ensure success, Jeff Barry and his studio cats were engaged to help record Ron Dante Brings You Up, the singer's first album under his own name. Barry and songwriting partner Andy Kim contributed two new tunes to the project, but a decision was made to have the LP showcase Dante's own composing skills. Accordingly, the balance of material was co-written by him and several collaborators, including Gene Allan, with whom he'd been writing since his days as a Brill Building demo singer in the early '60s.

In terms of style, Ron Dante Brings You Up strove for more profound lyrical content and musical sophistication than could be found on Archies records. Frankly, that goal was not realized, which says a lot about the quality of The Archies' releases. Give or take a lyric or two, this could easily have been another Archies album, and is often thought of as one. Which isn't to say that the music suffered, because it didn't. Archies fans who purchased this all-too-obscure collection found the same high production values and strong performances they'd been accustomed to in the past.

Dante belts out his own compostion "Don't Let Love Pass You By" with the manic fervor of an Italian-American Little Richard! Behind him, Ron Frangipane coaxes convincingly soulful sounds from his organ, but it's Hugh McCracken's lowdown and bluesy guitar-playing that pockets the groove. The mood mellows on "Mister Sun", another Dante solo writing effort. Its cheery midtempo melody and idyllic lyrics evoke images of young lovers frolicking on hillsides and romping through green meadowlands.

Then we have "How Do You Know", a pop song so polished it could only have come from the pens of Jeff Barry and Andy Kim. While Dante muses about the signs and symbols of true love, the backing track builds to a crescendo of handclapping and choral singing. Ron Frangipane's sunny organ refrain is the thread that ties the various song elements together. Gary Chester's frenetic drum and cymbal accents highlight "Muddy River Water", an energetic Allan/Dante country rocker. The tune's protagonist bids his Mississippi home and backwoods lover good-bye in order to pursue dreams of fame and fortune in Chicago. Predictably, all he finds when he gets to the Windy City is poverty, cold city streets and a rundown, fleabag, cold water flat. Still, if he keeps writing and singing songs as atmospheric as this one, it shouldn't be long before those elusive dreams come a-knocking at his door.
"C'mon, Girl", a plaintive love ballad with soaring vocals, is Ron Dante's hands-down finest performance on the album. The lyrics, written by sometime Archies background singer Jamie Carr, are exquisite:
You live today, girl/Don't let it go by/Find a way, girl/Before our love dies/You've got to take me in your arms
. . . The best part of this number comes when the lead vocals dissolve into a series of doo-doo-doo's halfway through, conjuring up memories of '50s street corner harmony groups. "C'mon, Girl" was issued as a single, remixed by Dante himself and embellished by a stunning
Ron Frangipane
string arrangement. With pounding rhythms, insistent tambourine and snarling lead guitar, "Lovin' Lady" is easily the album's most danceable cut, and a missed opportunity for single release. This Ron Dante/Kim Milford composition also boasts the most suggestive lyrics to be found on the LP. When Dante sings
She's the kinda woman/Makes you get up with a smile/In the morning
, it doesn't take a genius to figure out what he means! Now and again, Jeff Barry holds forth with some deft, quick touches on his bongo kit.

"Games", another Ron Dante solo outing appears to be an intensely personal song, chronicling the pain and confusion of a child caught in the middle of his parents' divorce. There's nothing to say, Dante wails over rueful organ strains. We're only playin' games. The games aren't much fun, but the lyrics are heartfelt, and the musicianship is solid. Capped off by an impassioned vocal reading, "Games" makes for a moving listening experience. The focus shifts to a more pleasant kind of emotion on "Sweet Taste Of Love". Whispering seductively, Dante takes the hand of his lover and counsels her: The feeling you get/When you're close to me, girl/Is nothing to be ashamed of. (Well, not yet, anyway!) This collaboration with Jamie Carr has a very '70s flavor to it, due to prominent use of a harpsichord and background vocals a la The Partridge Family.

In contrast to their bold and brash "Lovin' Lady", Dante and Milford's "Jo Anna" is as gentle as an early morning breeze. Overlapping acoustic guitars lend the tune a distinct folk flavor. This song is very much in the singer/songwriter mold soon to be popularized by such artists as Carole King and James Taylor. Dante does an excellent job here of waxing poetic over the girl of his dreams. Happiness and good feeling permeate "Go Where The Music Takes You", a bright, uplifting melody crafted by Dante and veteran Brill Building tunesmith Howie Greenfield. Like "Mister Sun", it's an idyllic reverie from the "Everything's Alright" school of songwriting, only this one is fused with the pop sensibility of Mama Cass Elliot's "Make Your Own Kind Of Music". Gary Chester's drum figures hop, skip and bounce through this track like a carefree young girl on her way to visit Grandma.

Universal love was a popular theme of late '60s/early '70's youth culture, and one of the era's best universal love songs (albeit little-known) was "Get On The Line", written by Jeff Barry for the third season of the Archie show. Here Ron Dante takes his own stab at the genre with results that are quite respectable. "A Million Voices" is a rousing choral rock anthem that finds the singer fronting a choir composed entirely of his own overdubbed harmonies. If you remember the famous Coca-Cola commercial that showed people holding hands and performing "I'd Like To Teach The World To Sing", then you know the kind of imagery this song calls to mind. But lest we get too sentimental, the album's killer title cut, "Let Me Bring You Up" takes us back to the real nitty gritty: Physical attraction between a boy and a girl! This Barry/Kim soul rocker is the very definition of a great pop record. Dante's vocals are fabulous, at once passionate, cocky, playful and sexy, but it's Jeff Barry who steals the show with his blitz of percolating Caribbean percussion. Poor Ron Frangipane is hard-pressed to compete, but he does rise to the occasion, making his keyboard purr like the engine of a sleek sportscar! Kids who enjoyed The Archies' "Sunshine" couldn't help but love this wicked track, so hot you can practically scramble eggs on it. Heaven only knows why it stalled at #102 on the Billboard charts.

This album's selections show Ron Dante's songwriting skills to be impressive indeed. The material is too good to have been ignored so completely by the record-buying public, but even the promise of an autographed color photo of Dante inside the album jacket wasn't enough to boost sales. Fortunately for Archies fans, the failure of this record was a blessing in disguise. Don Kirshner was able to coax the artist back into RCA Studios to cut another album's worth of Archies songs, this time as singer, songwriter and producer. This production experience would prove beneficial a few years later when Dante found himself supervising the recordings of a talented newcomer named Barry Manilow.
Review written by Don Charles