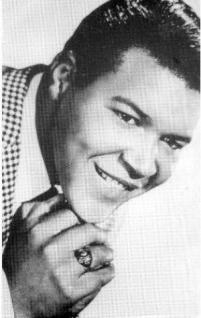 A name. A dance. A legend. Chubby Checker and his world-famous Twist. Only the most successful single of all time, "The Twist" has the distinction of hitting #1 in two separate chart runs - a feat still unequalled four decades later. And what of Chubby himself, whom millions of devoted teen fans dubbed their "leader?" A delightful contradiction. A rock 'n roll star-by-accident who once said he preferred waltzes to his own brand of hard-driving dance music. A fat kid who became one of the worlds best-known dancers. You had to love him, and oh, how we did! At the height of his career, Chubby commanded fees in excess of $2,500 per performance (a pittance for rock acts today, but not bad money in the early '60s), and his name was used to market everything from footwear to frankfurters. To this day, there are restaurants that make reference to Chubby's name and trademark red-and-black checkerboard trademark in their promotions. In 1962, Ebony Magazine called him "a dynamo of energy" and "the quintessence of exuberant youth."
The King of the Twist was born Ernest Evans on October 4, 1941, in the farming community of Spring Valley, South Carolina. At age ten, he moved to Philadelphia, Pennsylvania, with his parents Eartie and Raymond Evans, and his baby twin brothers, Spencer and Tracy (the Evanses were evidently a movie-loving household)! Ernest was inspired to become a performer in the early 1950s after his parents took him to a show featuring the young piano prodigy "Sugar Chile" Robinson. Saving up money hed earned as a shoeshine boy, Ernest bought a piano of his own and practiced every day. By his teens, hed mastered both piano and drums, and was singing after school with an amateur vocal group called The Quantrells. The group disbanded after only a year or so, but Ernest's sights were firmly set on becoming a professional singer by then. Armed with a talent for doing voice impressions of popular singers, the teenager began making the rounds of local record companies. Though turned away countless times, he remained doggedly undaunted. "I just kept going back and getting tossed out," he recalled in 1990 to interviewer Wayne Jancik. "There are times (when) you've got to pick yourself up and go back, just to be put out again and again. Persistence pays!"
So does luck. By this time, Ernest had given up shining shoes to become a butchers apprentice at Philadelphia's Ninth Street Meat Market (he never worked as a chicken-plucker, as has often been reported). More than once, he got in trouble with his boss, Henry Colt, for clowning around and amusing the customers with his voice impressions. Finally, seeing that any attempt to suppress the boy's boundless energy would be futile - and recognizing genuine talent when he saw it - Colt decided to help Ernest realize his singing ambitions. He set up a meeting for his rambunctious employee with a songwriter friend of his named Kal Mann. Ernest soon discovered that this Mann was an important guy to know! Not only had he written huge hits for Elvis Presley ("Teddy Bear") and Charlie Gracie ("Butterfly," also a hit for Andy Williams), he was acquainted with Dick Clark, the host of TVs "American Bandstand."
In the late 1950s, "Bandstand" still originated from Philadelphia. As if to accomodate the shows need for fresh young talent, several rock 'n roll-oriented record labels had sprung up around the city. There was Swan Records, where Freddy "Boom Boom" Cannon recorded; Chancellor Records, the musical home of Fabian and Frankie Avalon; Jamie Records, which marketed Duane Eddy's instrumental hits; and Cameo Records, where Kal Mann was employed as the unofficial head of artist and repertoire. Late in 1958, Dick Clark and his then-wife Barbara asked Mann if he knew any singers who'd be interested in recording an aural Christmas card for them. The Clarks wanted a Christmas carol sung in the voices of current rock 'n roll stars; the record was to be pressed up in limited quantities and distributed to their friends. Mann didn't have to think about it for long. Who better equipped for this special project than Ernest Evans, the young vocal impressionist to whom he'd just been introduced? He summonded an excited Ernest to Reco-Arts Studio to cut the Christmas demo. So impressed was he by the results that he signed the tubby teen to Parkway Records, Cameo's brand new sister label.
Chubby with Fabian in 1987
Barbara Clark, who fancied Ernest a teenaged Fats Domino after meeting him and hearing him play the piano, rechristened the now ex-butcher boy Chubby Checker (Chubby = Fats, Checker = Domino). He hated the name, but it stuck. By January of 1959, Kal Mann had written and produced another recording that capitalized on Ernest's talent for mimickry, but this time for commercial release. "The Class," a novelty disc featuring impressions of Fats Domino, Elvis Presley, Cozy Cole and The Coasters flipped into the national Top Forty. So it happened that Chubby Checker was cast in the role of novelty recording artist at the beginning of his career. Nobody would've predicted long-term success for Chubby after seeing him appear on "Bandstand" in 1959. Sporting horn-rimmed glasses and a plaid jacket, he lip-synched "The Class" and came across like a second-rate Jerry Lewis. Even in the era of Sheb Wooley and Dickie Goodman, novelty artists tended to lack long-term appeal. However, this one was destined to beat the odds.
While Ernest Evans was undergoing his transformation into Chubby Checker, rhythm and blues star Hank Ballard was setting off a chain of events which would make the rotund teen famous as America's #1party animal. During an appearance in Tampa, Florida, with his band The Midnighters, Ballard took note of teens in his audience dancing a corkscrew-styled step known as The Twist. This dance had existed in the black community for several years; the Clyde McPhatter single "Let The Boogie Woogie Roll" contains a reference to The Twist, and it was recorded in 1953. For some reason, seing it danced on that particular night inspired Ballard to pen a song. "The Twist" was issued by King Records as a Hank Ballard and The Midnighters single in March of 1959, but only as the flipside of a number called "Teardrops On Your Letter." Still, this original version found its audience, logging in at #6 on the R & B charts.
In the summer of 1960, long after The Midnighters' single had dropped off the charts, Dick Clark saw The Twist beginning to catch on with his "Bandstand" studio dancers. Because of The Twist's vigorous hip-thrusting movements, however, he was reluctant to allow it to be telecast. The early 60s were culturally conservative years, and televising a suggestive dance could bring howls of outrage from parents, politicians and community leaders. Still, Clark sensed that its time had come, and he also believed that Hank Ballards song could become an even bigger hit if a more pop-oriented version were recorded. Over at the Cameo-Parkway offices, Kal Mann felt the same way. He and Henry Colt (now the co-managers of Chubby Checker) hustled their eighteen-year-old protégé into a late-night recording date, eager to reverse the trend set by two failed follow-ups to "The Class." With musical accompaniment provided by Dave Appell and The Applejacks, Mann recut Ballard's dance tune at a 35-minute session. Appell's musical arrangement infused the track with an irresistible choo-choo train rhythm. After the musicians had gone, Chubby laid his vocal over the track in one take; he mimicked Hank Ballard so closely, Ballard would be fooled into thinking it was his own voice when he heard the record. The next day, Mann brought in a local quintet known as The Dreamlovers to overdub background harmonies.