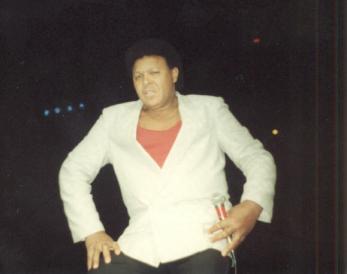 Chubby Checker in 1987
On the evening of August 6, 1960, Chubby Checker debuted his new disc on "Dick Clark's Saturday Night Show." In retrospect, everyone seems to agree that his light-footed demonstration of the step was what really put the song across. "I'd seen (Hank Ballard) perform it," Chubby recalled years later, "but he didn't do The Twist. Ever see in old movies where the Indians catch the settlers, and then they dance around them? Well, that's what Hank Ballard would do to the song onstage. When my Twist came out, we (himself and Cameo-Parkway executives) decided that The Twist would be like putting out a cigarette with both feet, or like coming out of the shower and wiping your butt with a towel. That little bit of instruction was like the guy who invented electricity . . . it was a great discovery!" It was a great promotional device as well, powerful enough to launch the new version of "The Twist" on its initial flight to the top of Billboards Hot 100 charts. Hank Ballard was enraged, and remained bitter about Chubby's cover version until the day he died. Yet its success arguably gave Ballards recording career a boost. His original version was reissued and went Top Thirty Pop. What's more, Dick Clark promised that his next single, "Let's Go, Let's Go, Let's Go," would get maximum exposure on "American Bandstand." Sure enough, that record became a monster hit for The Midnighters, sailing into the Top Ten during the Fall of 1960. Meanwhile, Chubby Checker's career was shifting into overdrive. Over the next three years, he'd make six return visits to the Top Ten with dance-oriented singles, and hit the top spot twice more.
America was more than ripe for a new dance craze in 1960. When rock n roll exploded onto the national scene in the mid-1950s, rock 'n roll dancing followed hot on its heels. The Bop, The Stroll, The Chalypso, and The Hand Jive were just a few of the myriad varieties. Just prior to the Twist explosion, a line dance called The Madison was popular. But not since the Charleston craze of the 1920's had any dance captured the publics imagination like The Twist. The most notable aspect of this dance phenomenon was that adults were just as likely as teens to join in - especially after "The Twist" scaled the charts a second time! In October of 1961, over a year after the Parkway single's original release, Chubby performed it in primetime on the top-rated "The Ed Sullivan Show." The unprecedented result was a renewed demand for the record, this time among an older audience, and stronger than before. Suddenly, dancing The Twist became the trendiest of trends for people over the age of thirty.
In November of 1961, Life Magazine reported that celebrities like Judy Garland, Tennessee Williams, Greta Garbo, dance instructor Arthur Murray and a host of others were jamming into Manhattan's tiny Peppermint Lounge for late-night twisting sessions. Smalls Paradise, a mecca for hot jazz enthusiasts during the Roaring Twenties, became Harlems Twist headquarters; the club drew through its doors blue bloods from Europe and the Far East with its initiation of "Tuesday Twist Nights." In Hollywood, the Crescendo nightclub was the spot to which celebrity twisters flocked. By the summer of 1962, the Twist had swept the globe. Cameras captured Twist disciples on dance floors from Warsaw to Tokyo. The Duke and Duchess of Windsor were spotted twisting it up at Chez Regines in Paris. Mary Tyler Moore loosened up her hips to a Twist tempo on "The Dick Van Dyke Show." Photographers on the set of Cleopatra, a lavish Elizabeth Taylor vehicle shooting on location in Rome, caught movie extras swiveling hips during film breaks. Even President John F. Kennedy and his wife Jackie reportedly caught the groove while dancing at a White House dinner party. Of course, not everyone wanted to get in on the act. "It took me an hour to get a drink," snarled one disgruntled nightclub patron to an entertainment reporter. "Even the waitresses were twisting!"
People of all ages and backgrounds embraced The Twist because, as Dick Clark commented one night while visiting The Peppermint Lounge, "It's fun and youthful, but not difficult to do." The Leader concurred. "There are no basic steps in The Twist," Chubby Checker explained at the time. "You move chest, hips, and arms from side to side, and balance on the balls of the feet." Unwittingly, Chubby had ushered in Americas first "disco" craze. The years 1960 to 1963 were an era of rocking dance music, and Chubbys releases dominated Top Forty radio along with those of his Cameo-Parkway labelmates The Dovells, The Orlons, Bobby Rydell and Dee Dee Sharp. Chubby teamed with Bobby to cut a best-selling album that mixed Twist with Swing tempos, and later scored a Top Ten dance duet with Dee Dee, "Slow Twistin'." Although chiefly remembered for his Twist recordings today, Chubby also popularized The Pony, The Fly and The Mess Around, revived The Hucklebuck, and touched off a major Limbo craze in 1962 with his reworking of The Champs' instrumental hit, "Limbo Rock." People who enthusiastically rotated their pelvises at Chubby's command were no less obedient when he urged them to stretch their spines backward and limbo lower now! How low can you go?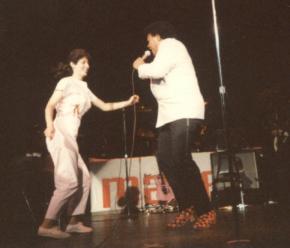 Laura (OC webmistress) twistin' with Chubby in 1987
Guitarist and arranger Dave Appell, whod later produce big hits for Tony Orlando and Dawn, assisted Kal Mann in creating a chaotic frat party atmosphere on Chubbys records. Key elements were a drunken, bluesy saxophone (usually played by Georgie Young), and lockstep rhythmic interplay between piano, bass and drums. Appells trademark choo-choo train rhythm was never more effective than on 1961's "Let's Twist Again," a record that literally propelled people onto the dance floor. Jimmy Wisner picked up the bandleaders baton in 1963 and helped craft funky acoustic rhythm tracks for "Loddy Lo," "Hooka Tooka," "Lazy Elsie Molly" and other folk-based dance hits that Chubby cut after Twist mania had subsided. In later years, up-and-coming Philadelphia producers like Thom Bell, Kenny Gamble and Billy Jackson supervised some of his hottest dance tracks, among them "You Got The Power," "You'd Better Believe It, Baby" and "Karate Monkey." Over the top of it all boomed Chubbys wild man vocals, punctuated by spontaneous whoops and yells. "I've always liked to expend my energy, and make people (go) nuts," Chubby once said. "A going crazy is what I was looking for - where the music is so good, you lose control." Judging from the sound of his hit singles, and the large quantities in which they sold, he definitely found what he was looking for. Female audience members would be so aroused by his energy, theyd jump up on stage and do the Twist with him - something that still happens today.
When the early 60s morphed into the mid-60s, Ernest Evans was able to look back on a remarkable series of triumphs. As Chubby Checker, hed appeared in person all over the world, and starred in the motion-pictures Twist Around The Clock, Don't Knock The Twist and Ring-A-Ding-Rhythm (his performance of "Lose-Your-Inhibitions Twist" in the latter film burns up the screen). Most important of all, he charted a staggering 32 pop singles and 16 pop albums. His album sales are especially significant when you remember that the album rock era didnt officially begin until after The Beatles released Sgt. Pepper's Lonely Hearts Club Band in 1967. By 1965, the tally for Chubby was well over 15 million records sold! He gave legitimacy to dance music like no artist before him had ever done, thus paving a path for the disco acts of the 1970s as well as for todays hip-hop crowd. In fact, hip-hop and rap acts have sampled "The Twist" repeatedly on their records, most successfully in 1988 when The Fat Boys paid Top Twenty homage to the King with "Yo, Twist." Pop historians Bob Gilbert and Gary Theroux rightly call Chubby Checker "the most important disco artist of all-time." Its an accolade that the King of the Twist himself takes in stride. As far as he's concerned, there's nothing complicated about his success: "My philosophy is to sing as many happy songs as possible, and to make people feel good." Over forty years later, hes still taking that philosophy with him wherever he goes.
A name: Chubby Checker. A dance: The Twist. A legend that's known the world over. Unfortunately, its also a legend that isn't being well-served by the music industry. At this writing, there are no legitimate CD collections of Chubbys original Cameo-Parkway hits. In fact, there hasn't been a decent Chubby Checker compilation on the American market since 1972! That sorry situation may or may not be rectified in the near future, but thanks to oldies radio, the legend survives. Chubby's records sound as lively and infectious today as they did in his heyday; no matter how old or young you are, when you hear him shout "Let's Twist Again," it can feel just like 1961 all over again.