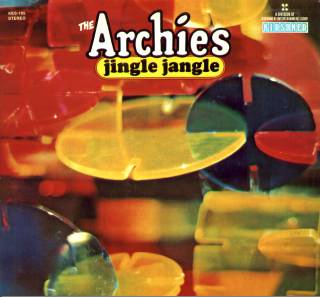 After finding my first two Archies albums in Honolulu back in 1977, I learned that at least two more were floating around out there, and I was determined to find them. I had fallen in love with The Archies' fun and frisky bubblegum blues sound, and I just had to have more! However, it took another four years for me to locate copies of The Archies and Jingle Jangle. Just like before, I was flabbergasted at how good the music was on these so-called "kiddie records". I was especially impressed by Jingle Jangle, which became my favorite Archies platter after just one spin. The twelve songs on this disc are, in my opinion, nothing less than fantastic, from the title track to the universal love anthem "Get On The Line", to the power pop "Nursery Rhyme", which sounded like anything but its namesake and should've been one of 1969's top hits. One of the main reasons I'm so enthusiastic about Jingle Jangle is the outstanding bass work of Chuck Rainey and Joey Macho. I've always dug bassmen, from legends like Paul McCartney and Bill Wyman to modern-day masters like Stanley Clarke and Van Halen's Michael Anthony. Rainey, whose chops also graced records by soul legends Aretha Franklin and Etta James, is one of the unsung greats. He and Mr. Macho provided this album with plenty of thunder.

The opener, "Jingle Jangle" was obviously destined for platinum status. Penned by Jeff Barry and Andy Kim (as was its predecessor on the charts, "Sugar, Sugar"), it's a choral rock tour-de-force, bristling with Hugh McCracken's electric guitar and the silk-on-sandpaper duet vocals of Toni Wine. She's so good, she almost steals the spotlight from Ron Dante, who sings in a higher-than-normal register on the track. Gary Chester provides a beat that's so danceable, rigor mortis is the only thing that could possibly stop it from moving you. This song is a killer in every way, shape and form! "Everything's Alright" is a groovy uptempo piece both written and sung by Ron Dante, supported by a crowd-pleasing keyboard riff played by Ron Frangipane, whose work I've praised before.

Dante teams with his brother-in-law Kim Milford to write "She's Puttin' Me Through Changes", an uptempo rocker that once again features Gary Chester's outstanding rhythm. All you've gotta do is listen to Dante describe the way a girl can put you through good, good changes, and you'll be reminded how much fun teenage love can be. Next comes "Justine", an underrated number from the Jeff Barry songbook that was hidden away on the flipside of "Jingle Jangle". Blues and country influences are in evidence as Dante raps to his lady: Oh! Justine/Don't ya just know/You're drivin' me wild/Pretty child. Buoyed by an excellent choral arrangement, "Justine" is a love song tailor-made for adults, kids and everyone in-between.

Okay cowboys, it's time to put on your ten-gallon hats and saddle up! Jeff Barry's "Whoopie-Tie-Ai-A" is a playful sendup of western ballads that beckons you back to the days of Red Ryder and Hopalong Cassidy. When ya hear Hugh McCracken makin' like a Nashville cat, Bobby Bloom ticklin' the ivories on his barroom piano, and Deputy Ron Dante yodelin' about how he's roped himself a gal and won't let her go, well pardner, it just makes ya wanna go "YEEEE-haw!" Now, after hearing me sing the praises of "Jingle Jangle", you'd think it was my favorite track on the album, but . . . think again! My number-one-with-a-bullet is Barry and Kim's street classy "Nursery Rhyme", and never have I heard a more down 'n' dirty raver disguised as a bubblegum song. This track kicks ass with Shaquille O'Neal-sized sneakers! Everything cooks: Hugh McCracken and David Spinozzas searing guitars, Joey Macho's booming bass, Buddy Saltzman's bad-to-the-bone drumming, double-time handclappings, and super cool duet vocals by Dante and Wine, all combining to heat Jeff Barry's lyrics to a sizzle: Tweedle-Deedle-Dum and my son John/Went to sleep with their stockin's on/One shoe off and one shoe on/Tweedle-Deedle-Dum and my son John. In fact, this song is so hot, it's a wonder my tonearm didn't melt!

The temperature stays high on Side Two's first track, "Get On The Line", a song that debuted on a primetime Archie TV special. Originally slated for single release, this gospel-flavored anthem features the funkiest organ work to be found on an Archies track. Lyrics like Gonna get together/Every man and woman/ Boy and girl/Lovin' one another/All the sisters and the brothers/Lovin' one another /'Round the world perfectly capture the mood of the times. Had it gotten any radio airplay at all, it may well have become a battle cry for the Flower Power youth movement. Once again, Toni Wine almost steals the show, leading the background chorus with soulful cries that send shivers down my spine every time I hear them. This segues into "You Know I Love You", a savory slice of the blues peppered with Hugh McCracken's imitation Johnny Rivers chords, Ron Frangipane's sanctified keyboards, and more of those great backing vocals I enjoy so much, courtesy of Dante, Wine and Barry.

Now the pace slows down a bit as The Archies travel south of the border for a date with "Señorita Rita". It's that old story about a tourist in México meeting up with a dark-eyed temptress, translated for a preteen sensibility and sung with gusto by Ron Dante. Vinnie Bell enhances the melody's Spanish flavor with his exceptional acoustic guitar strumming. Bells past experience as a session player with salsa bands, and A & R supervisor Herman Diaz, Jr.'s extensive knowledge of Latin music undoubtedly had much to do with its authentic ranchera sound. One spin of this catchy little number, and you'll be more than ready for a trip to your neighborhood cantina! Then you'd better "Look Before You Leap" as Dante and longtime songwriting partner Gene Allan advise you to be extra careful before falling in love. This is the album's second nod to Jeff Barry's favorite genre, country music, but it's less satirical in execution than "Whoopie-Ti-Ai-A".

Dante and Allan do the writing honors again on "Sugar And Spice", a succulent rocker that discloses the secret recipe for cookin' up some love: Sugar and spice and everything groovy/Come on a magic carpet ride/Sugar and spice and everything groovy/Come on everybody and just give it a try. Don't mind if I do . . . in fact, I'd like an extra helping! But before I can refill my plate, it's time to motor on down to The Andrews' house for "Archie's Party". Jeff Barry and company pull out all the stops for one hell of a mean closing number. Hugh McCracken flays his guitar to within an inch of its life, while Toni Wine tears it up big time on duet vocals with Ron Dante. Were it not for the lyrics naming Archie, Betty and the rest of the cartoon gang, you might forget and think you'd put a punk rock album on by mistake! This is yet another Jeff Barry tune that stretches the boundaries of kiddie pop with its unexpected adult appeal.

There's so much to recommend this album: Danceability, good musicianship, variety, and especially Toni Wine's knockout singing. I look forward to playing it whenever I get the chance. In a perfect world, "Justine", "Nursery Rhyme" and "Get On The Line" would've joined "Jingle Jangle" on Billboard's Top Ten singles list, and the LP itself would've registered much higher than the #125 placing it notched on the American album charts. (Yes, folks, contrary to what you may have heard, Archies albums did sell.) I'm not exaggerating in the slightest when I say Jingle Jangle is an overlooked treasure in the vaults of pop music history.
Review written by Jeff Branch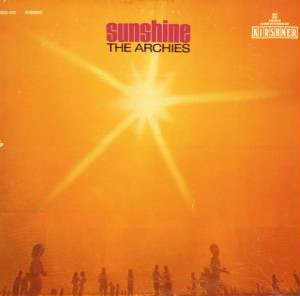 Up until now, every song on every Archies soundtrack album had been featured on the cartoon series, complete with its own psychedelic music video. However, less than half of the songs included on Sunshine were telecast, so in the strictest sense of the word, this album is not really a soundtrack. With its summertime theme, it can perhaps be considered the first Archies release to stand alone as an artistic statement. We start the festivities with "Sunshine", an incendiary tune from Jeff Barry and the late Bobby Bloom which boasts the heavy Caribbean flavor that Barry's productions were becoming increasingly known for. Heard numerous times on television during the winter of 1970/'71, the track is punctuated throughout by funky guitar accents, and sounds just like an Afro-Cuban jam session at its climax, with Barry and Bloom cutting loose on a barrage of Latin percussion instruments. ¡Ahí namá!

Who's gonna love me/Who's gonna kiss me/Who's gonna hold me/If you go away? wails Ron Dante on "Who's Gonna Love Me?", a rockin' update of an antebellum American nursery rhyme. The snarling organ and lively guitars (courtesy of our homeboys: Ron Frangipane, Hugh McCracken and David Spinozza) lend this number a nice, swingin' rhythm that's hard to resist. Then we have an Archies song that, believe it or not, conveys an explicit political statement: "Mr. Factory", penned by newcomers Nancy Cal Cagno (Jeff Barry's wife) and Neil Goldberg. (Though uncredited, Goldberg and Ron Dante actually produced this and three other tracks on the album under Jeff Barrys auspices.) A smooth country ballad highlighted by Vinnie Bell's mellow guitar riffs, it nevertheless packs a wallop. Cal Cagno's lyrics indict corporate America for polluting our planet. On the cartoon series, viewers got a sobering dose of environmental issues: An animated music video depicted smog-choked skies, dead fish floating in filthy waters, and children wearing gas masks. Listen and be moved by Ron Dante's anguished vocal on this cut, and don't give me any of that "bubble gum" bullshit! This one tells it like it is.

But now it's back to the fun with "Love And Rock And Roll Music", a groovy little number that's just perfect for the beach. Ron Frangipane's organ work is typically top notch, and handclappings provide the rhythm foundation for this Gene Allan/Jeff Barry/Ron Dante collaboration. Falling in love "Over And Over" is a blast, and Dante and Barry prove it on a crisp Latin-flavored tune with that name. A perfect mix of guitars, keyboards, maracas and drums make this song an absolute joy to listen (and dance) to.

There's even more fun in store on "Waldo P. Emerson-Jones", a sarcastic Barry/Kim number in which Dante grumbles about a beachfront Romeo who comes on like Rock Hudson (!??) and thinks he's Superman while flirtin' with all the babes. Listening to it, you can just picture Archie blowing his top as Reggie Mantle swaggers onto the scene. By now, peace songs were a staple in The Archies' repertoire, and this album features two of them: The rockin' "One Big Family" (another Goldberg and Dante production) and the moody ballad "A Summer Prayer For Peace". Ron Dante's vocal performance on the latter song is sheer gospel poetry. What's really wonderful about this number is the lyric structure. Between choruses, Dante calls out the names of major cities around the world, and Jeff Barry responds by quoting population figures. Powerful choral backing emphasized the song's antiwar message, and evidently struck a chord with South African fans, because they sent a single mix of "A Summer Prayer For Peace" to the top of their charts. "Prayer" would get belated release as an American single in August of 1971.

Next, it's time to shake that booty, so get up on your feet and "Dance"! Cal Cagno and Goldberg strike again with a hip-shaker powered by high octane guitar pickin' a la Chuck Berry. Hugh McCracken once again does himself proud, both on this number and the next, "Comes The Sun". His supercharged chords barrel through these tracks like a runaway train. While Neil Goldberg looks on in awe from the recording booth, Ron Dante works his multitrack vocal magic, creating harmonies so tight even The Beach Boys couldn't improve on them. Hearing this pair of cuts without moving some part of your body is a physical impossibility!

But just as your feet feel like they're gonna fall off after the workout you've put them through, the tempo slows down just in time. "Suddenly Susan" is a tender love ballad from Allan, Barry and Dante that teen idols like Bobby Sherman and David Cassidy would've killed for. Rocking gently in a cat's cradle of background harmonies, Ron Dante sings the praises of Susan, the girl who walks into his life and turns his world upside-down. Any similarity to the NBC-TV series starring Brooke Shields is strictly coincidental, folks!

The aforementioned "One Big Family" provides the album's penultimate highlight. The fingerpoppin' '50s rock rhythm compliments a message that's spiritual without being preachy: I've got a brother in Birmingham/I've got a brother in Amsterdam/I've got a brother in Kokomo/I've got a brother everywhere I go/We're one big family/And our daddy's in the sky/We're one big family/Don't you make your brother cry. The telecast version of this song features a Hugh McCracken guitar solo that's regrettably absent from this recording, but its world harmony theme is the main attraction, and that comes across loud and clear. This exceptionally good album finishes off with "It's The Summertime", which is yet another Jeff Barry/Andy Kim masterpiece. Ron Frangipane's festive organ riffs dominate the track, giving it an island flavor similar to that of Jimmy Buffetts records. Conga percussion, handclappings and party whoops from the studio personnel complete the summer fiesta imagery. When you hear Dante tell you to Get your baby and make romance, you'll want to dial up your significant other right away and make plans to have fun in the sun.

Except for the single "Together We Two", which would be issued later in 1970, Sunshine would be Jeff Barry's final outing with The Archies. Even as this album hit the racks, he was preparing for his big move to the West Coast. The blues, country and tropical elements that Barry infused his music with, as well as the youthful enthusiasm he put into each and every production, grounded Archies records in American folk tradition and gave them a lasting appeal. His presence would be missed, but this little cartoon band wasn't quite ready to call it quits yet.
Review written by Jeff Branch