PART ONE: It's Called Rock And Roll
The name Jeff Barry, though not widely recognized outside the music business, is practically synonymous with American pop music. The music and lyrics he's written have sold upwards of 40 million records. He's worked at the right hand of pioneering music industry figures like Jerry Leiber, Mike Stoller, George Goldner, Don Kirshner and Phil Spector. He is an inductee of the Songwriter's Hall of Fame, and deservingly so. His songs, which have gone to #1 on the charts seven times in the United States alone, have been recorded by everyone from John Lennon and Elton John to Bruce Springsteen and Celine Dion. They've been heard in countless TV commercials and in some of the biggest movies of the 1980s and '90s, including Four Weddings And A Funeral, GoodFellas, and Forrest Gump. His television theme songs have graced popular prime time series like "One Day At A Time", "Family Ties" and "The Jeffersons"; and both his songs and record productions saturate "golden age" rock 'n' roll radio. You can hardly listen to airwaves anywhere in the world without hearing a song written and/or produced by Jeff Barry several times a day. For younger people who've grown up hearing "Chapel Of Love," "Doo Wah Diddy Diddy," "Hanky Panky," "Da Doo Ron Ron" "Leader Of The Pack," "I Honestly Love You," and "Sugar, Sugar," it must be inconceivable that, as recently as forty years ago, nobody had ever heard these titles, or any of Jeff's other work.
Born to a working-class Jewish family, Jeff grew up in New York and New Jersey, alternately enjoying Tin Pan Alley pop, country music, and the emerging sounds of rhythm and blues. Although he'd written songs since he was a small boy (his first composition was titled "Got A Gun, Got A Saddle, Got A Pony, Too"), he'd never thought of himself as a songwriter. After graduating high school and completing a hitch in the Army, his career goal was to become an engineer. Then he was seduced by the sounds of doo-wop, and decided to become a rock 'n' roll singer instead. A family friend introduced Jeff to music publisher Arnold Shaw, who agreed to listen to him sing and evaluate his potential as a recording artist. "I couldn't play other people's songs," he admitted to radio journalist Charlotte Grieg in the 1980s, "(so) I had written some of my own to sing. I only knew two chords, so I sat at the piano and played several songs, all with the same two chords, but different melodies."
Shaw heard the young man's true potential in those rudimentary melodies he played that day in 1958. Since what he really wanted at that point was to sing, Shaw set him up with an RCA Victor recording contract. However, along the way, he also signed Jeff to a publishing contact with his firm, EB Marks Music, and encouraged his songwriting. After his initial RCA release, "It's Called Rock 'N' Roll" failed to generate interest, it was clear that his recording career would take time to develop. However, it didn't take long for his songs to catch fire! By the summer of 1960, he'd written a major Rhythm & Blues hit, Sam Cooke's "Teenage Sonata," and co-written a Top Ten pop smash for Ray Peterson called "Tell Laura I Love Her." A cover version in England by local teen idol Ricky Valance gave Jeff his first #1 chart record. The royalty checks for these hits astounded him; he could scarcely believe getting paid, and paid well, to do something he considered a hobby! Arnold Shaw knew that it was just a matter of time before Jeff Barry changed his career path.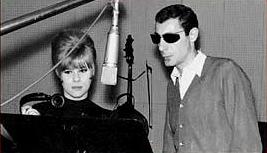 Ellie Greenwich and Jeff Barry
In-between record dates for RCA Victor and, later on, Decca, Epic and United Artists Records, Jeff Barry honed his craft, writing a slew of songs and cutting demo discs with titles like "Shout My Name," "Dickie Went And Did It" and " Shaddy Daddy Dip Dip." They were catchy, sometimes frantically up-tempo numbers, more often than not with a novelty slant. His own recordings definitely had a novelty flavor, but gems like "It Won't Hurt," "Teen Quartet" and "The Face From Outer Space" unfortunately weren't destined to go down in history alongside comedy classics like "Purple People Eater," and "The Chipmunk Song." As Jeff Barry was searching for his musical direction, his personal life was heating up. He'd taken up with a vivacious Russian Jewish blonde who'd been introduced to him at a Thanksgiving dinner party. Ellie Greenwich was also a songwriter, and an exceptionally good singer, so they spent their dates harmonizing to popular songs, practicing the piano, and talking in-depth about music. After awhile, it seemed only natural for Jeff to pick up Ellie at her parents' home in Levittown, Long Island, and bring her into New York City to help him work on song demos. By 1961, Jeff had jumped ship at EB Marks to go on staff at Trinity Music, an up-and-coming firm operated by Ed Burton and Joe Csida. Jeff encouraged his girlfriend to become a professional songwriter like himself, and he was keen to set up an interview for her with Burton and Csida. However, Ellie had a strong independent streak; she decided that she'd rather not get into the business on her boyfriend's coattails. She went shopping for a publishing deal on her own. After freelancing for a few months, she landed a job with prestigious Trio Music, owned and operated by legendary R & B producer/songwriters Jerry Leiber and Mike Stoller.
The year was 1962. Separately, Jeff and Ellie bagged chart records with their songs. After a lengthy dry spell, Gene McDaniels took Jeff's song "Chip Chip" into the Top Ten in January, and he enjoyed another British smash a month later when Helen Shapiro scored big with his rocker "Tell Me What He Said." Ellie Greenwich scored her first hit that July when one of Leiber and Stoller's groups, Jay & The Americans, took her song "This Is It" into Billboard's Bubbling Under the Hot 100 chart for five weeks. In October, she began writing songs with Phil Spector, a former Leiber-Stoller protégé who'd recently started up his own label. This collaboration would eventually result in a pair of Top Forty hits, "(Today I Met) The Boy I'm Gonna Marry" and "Why Do Lovers Break Each Other's Hearts" on Spector's Philles Records. However, throughout 1961 and '62, the hits were few and far between. Neither Jeff nor Ellie were making what they felt was a decent steady income; Ellie became so frustrated at one point, songwriting veteran Doc Pomus had to convince her to continue in the music business. Jeff was writing hit-and-miss material with Artie Resnick, and Ellie was doing the same with her partner at the time, Tony Powers. Only after they got married did they finally hit upon the brilliant idea of writing together! Leiber and Stoller wooed Ellie's new husband to Trio Music, and the stage was set for one of rock 'n' roll's greatest success stories to begin.
Nineteen-sixty-three, the first full year of Jeff and Ellie's marriage and professional partnership, started off slowly, but shifted into overdrive as summer approached. Two events precipitated the upturn. The first was Ellie's introduction of Jeff to Phil Spector (Spector had already produced one of Jeff's songs, "Anyone But You," in 1961, so it's possible they'd met earlier). A magic songwriting team was born, which soon began generating an assembly line of top-notch material for Spector's girl artists, The Crystals, Darlene Love, and The Ronettes. First out of the box was "Da Doo Ron Ron," a record which standardized the use of "scat" or "nonsense" song titles for pop songs, and provided new Crystals lead singer La La Brooks with one hell of a debut. This juggernaut of a song barreled into the Top Ten and exploded like dynamite on the international scene. Next, Darlene Love applied her gospel training to the jaunty "Not Too Young To Get Married" (issued under the group name Bob B. Soxx & The Blue Jeans), "Wait 'Til My Bobby Gets Home" and "A Fine, Fine Boy", scoring chart singles with all three. Her fourth Barry-Greenwich-Spector song, "Christmas (Baby, Please Come Home)" flopped on release, but ultimately proved to be the most successful of the four. It became a Christmas perennial in the 1980s, and has since become Darlene's signature song.
Then, Spector kayoed the music industry with the swift one-two punch of The Crystals' "Then He Kissed Me" and The Ronettes' "Be My Baby". To be fair, La La Brooks' near-operatic delivery on the former, and Ronnie Spector's baby doll cooing on the latter had a lot to do with their success. Yet, the songs proved to have a life beyond these maiden interpretations, as dozens upon dozens of cover versions in subsequent years by the likes of The Beach Boys, Sonny and Cher, Linda Ronstadt, Bette Midler, Martha Reeves and The Vandellas and The Carpenters have demonstrated. "My catalog as a writer has been amazingly active," Barry would later note in a 1977 Record World article. The follow-ups, "Little Boy," "I Wonder," (released only in England), "Baby, I Love You" and "All Grown Up" were less well-received, but still came to be regarded as classics, and garnered their share of covers. These releases transformed the Leiber-Stoller Spanish tinge that Spector's previous records had copied into an up-tempo whirlwind of guitar, strings and castanet percussion. This sound, strongly influenced by Spanish flamenco and pasodoble music, became standard for every subsequent record that sought to copy what was fast becoming known as the "girl group" sound.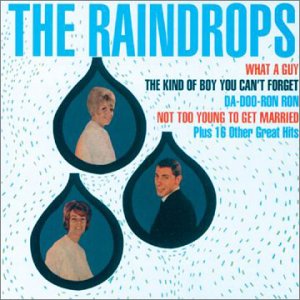 The Raindrops
Spector's then-wife Annette Merar has stated, "(Phil) never before or after had a year like he had in 1963." The songwriting prowess of Barry and Greenwich had everything to do with that fact. At the same time they were turning the Philles label into a cornucopia of hits, the couple were also scoring on the charts themselves . . . as their own girl group! This second stroke of good fortune came to pass by accident. Jeff and Ellie wrote and demoed a song called "What A Guy," which they hoped to place with a currently popular group known as The Sensations. When Leiber and Stoller heard the record, they decided it was too good to give away. Unbeknownst to Jeff and Ellie, they made a deal for the demo to be issued as a finished master on the Jubilee label. Confronted with the reality of becoming recording artists, the newlyweds were told to quickly come up with a group name! Ellie chose "The Raindrops" in honor of her favorite Dee Clark record. No one was more surprised than she when her voice began to appear on the radio in heavy rotation a few weeks later. "What A Guy" became a Top Thirty R & B favorite, and the hastily-written follow-up, "The Kind Of Boy You Can't Forget" went Top Twenty on the pop charts. Ellie Greenwich suddenly found herself making personal appearances with a group that included her sister, Laura, and session singers Bobby Bosco and Beverly Warren. Although he sang bass on the records, Jeff chose to remain in the background as producer. This was to be Ellie's most successful stab at a singing career until her appearances on stage in the musical Leader Of The Pack over twenty years later.
However, sock hops and amusement park dates soon had to be curtailed. Jeff and Ellie were simply too busy as songwriters to accommodate such frivolity! They were now considered a "hot" songwriting team, and there was a growing demand for their songs. In 1963, their compositions were cut by The Crystals, The Ronettes, Darlene Love, The Exciters, The Chiffons, The Majors, The Darlettes, Baby Jane and The Rock-A-Byes, The Summits, and numerous other acts in addition to The Raindrops. Most of these songs charted. "At one point in 1963," Ellie later told England's
Record Collector
Magazine, "Jeff and I looked, and we saw that we had
seven
songs in the Top Twenty. We thought, "Oh . . .my . . . God!" The Raindrops' sound was considered so commercial, the pair was also being asked to sing background on recording sessions around New York, and even to sing demos of other writers' songs. Quincy Jones hired Ellie to sing background on nearly all of Lesley Gore's recordings, and she became the preferred demo singer for many of the top Brill Building composers, including Bob Crewe, Mark Barkan, Ben Raleigh, Hank Hunter and Stan Vincent. Leiber and Stoller hired Jeff to sing demos of Doc Pomus and Mort Shuman songs that were later recorded by Elvis Presley. Superstar Connie Francis had both Jeff and Ellie harmonizing on the soundtrack to her forthcoming movie
Looking For
Love
. The background vocal and demo dates they participated in during this period are far too numerous to mention. However, the talented couple managed to set aside enough time to chart four additional Raindrops singles, cut a Raindrops album for Jubilee Records, and lay down early studio versions of their future hits "Hanky Panky" and "Doo Wah Diddy Diddy."