Ron Dante is best known as the lead voice for the 1960's groups The Archies and The Cuff Links, and as the producer extraordinaire who co-piloted Barry Manilow's million-selling albums during the Seventies. Ron also achieved a bit of stardom, along with Danny Jordan and Tommy Wynn, as one-third of the group The Detergents, the cutups responsible for parody songs such as "Leader of the Laundromat" and "Double 0-Seven" in 1964 and '65. And what many people are just discovering, thanks in no small part to the Internet, is that Ron had an impressive catalogue of recordings under his own name both before and after his stint with The Detergents and prior to his passing the audition to become an Archie.
Ron's ambition was to become a singer when he landed in Manhattan in the early Sixties (just a short jaunt from his native Staten Island). Initially, though, he got a foothold in the biz as a staff songwriter for Don Kirshner. Kirshner had founded the publishing company Aldon Music in the late Fifties, along with partner Al Nevins, and among his hugely successful roster of composers were notables like Neil Sedaka/Howard Greenfield, Carole King/Gerry Goffin, and Barry Mann/Cynthia Weil. Most of the members of Kirshner's songwriting teams were teenagers, and these talented teens were churning out the hits by the dozens. Rock and roll was firmly established in the mainstream, and the Brill Building on Broadway was the music mecca of New York City, which made it the music mecca of the U.S.
By the time Ron arrived on the scene, change was in the air. In spring of 1963, Kirshner surprised everyone by selling his publishing business to Screen Gems. Part of the deal was that he would head its music division. It wasn't exactly an abrupt end of an era (Kirshner brought his writers with him), but it was definitely the beginning of another, overlapping one. Kirshner's veteran songwriters were all out of their teens by this time-the oldest was nearing thirty-and the first rumblings of Beatlemania were being felt from across the big pond.
Ron, then known as Ronnie Dante, was part of this second wave of teenage staff songwriters. (An article in the March, 1964 issue of New York-based magazine Show featured an article on the fresh faces in Kirshner's crew; those profiled included Ronnie, Danny Jordan, Tommy Wynn, and a pretty 16-year-old named Toni Wine.) At the tender age of 18, along with Danny Jordan and Tommy Wynn, Ron co-wrote (and recorded) "Little Lollipop," which was released as his first solo single. Primarily, though, Ron's job was to create hit songs for others to record, and to do occasional stints in the studio making demos of songs created by the other songwriting teams (also for others to record).
Enter Paul Vance.
"I met Paul when I was booked to do background sessions for him on one of his demos," Ron says. "He liked me so much he offered to record me as a solo artist and get me a recording deal." Vance, Danny Jordan's uncle, had been a professional musician for years. His writing credits included Perry Como's "Catch a Falling Star" and Brian Hyland's "Itsy Bitsy Teenie Weenie Yellow Polka-Dot Bikini." Vance was hoping to replicate the success of "Bikini" with a little ditty of comparable style and tempo called "Don't Stand Up in a Canoe." The arrangement was playful and upbeat and even included a gaggle of girls accompanying Ron on the refrain, similar to the lighthearted "one two three four" within the chorus of its predecessor.
"'Don't Stand Up' was my first experience with [Vance] and co-writer/co-producer Lee Pockriss," comments Ron. "I remember we did the track one afternoon with me singing live with the band. I found it strange since no one ever recorded live with the band those days. Most of the time we overdubbed on the track so we could make changes while we went along." The song, recorded in a minor key, deals with a hapless guy who can't keep the three gals he took for a canoe ride from rising to their feet in the craft, with predictable results.
"After the 'Stand Up' session Paul got it released on Musicor Records, and they promoted it pretty well. I heard it on some [New York] radio stations and did some local TV shows including the Clay Cole Show." Despite being a strong, professional production, "Canoe" sank after only a short stint on local radio. Undeterred, Ron resumed his job as staff writer for Screen Gems Columbia Music. He later released a second Vance/Pockriss single, "Look At Me (You Did It)" b/w "There's Love."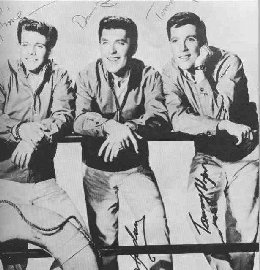 During the latter part of 1964, Ron and fellow writers Danny Jordan and Tommy Wynn decided to form a trio. Surf songs, and the "boy" groups that performed them, were very much in vogue, and it was the popularity of beach music that indirectly led to the boys' putting together the group known as ... The Cabin Kids?
Ron explains: "Don Kirshner asked us to write some surf songs for the Beach Boys. The demos turned out so well he decided to have us form a group and record for the Screen Gems label. That's when the Cabin Kids were born. We did maybe a half dozen songs and took some promo pictures (that's why there is a picture of us on a ship type of set with nautical dress) and planned on doing some touring soon afterwards."
Enter Paul Vance.
"Paul need[ed] some singers for a record he wanted to cut [called] 'Leader of the Laundromat.' We recorded all the parts one night in the studio and never heard the complete version until it was on the radio and headed for the charts." Paul Vance had come up with the name The Detergents for the record. Ron continues, "[That's when] we had to decide which group we wanted to be. The Detergents had a huge hit and the group was in demand for touring. We went with the sure thing and had the best time for the next year or so."
The Detergents were booked on the Dick Clark Caravan of Stars in the spring of 1965. For Ron, it was a dream job. Not only would the touring and live performing be invaluable experience for a singer on the way up, Ron would also be doing what he loved-and getting paid for it-and meeting and working with performers he idolized, like Little Anthony and the Imperials. Some of the other artists on the tour, like Peter Noone, would become lifelong friends.
The Caravan opened up a whole new world for Ron, and it gave him a glimpse into what until then had been an alien lifestyle. While many of the acts on the bill were younger than twenty, others were well into their second decade—and well into their first decade of performing. Rock and roll, conceived from the blues music of the Deep South, was already more than ten years old and had spawned a subculture all its own. Sex and drugs were synonymous with rock and roll then as now, and while a six-year age difference doesn't seem too terribly significant, in the mid-Sixties it may as well have been a hundred when one compared the life experience of a 25-year-old seasoned veteran versus that of a green 19-year-old newcomer. When the Rolling Stones joined the tour for several dates, beginning in Canada and for several shows as the caravan made its way south, the party became even wilder.