THE FIFTIES -- THE DECADE THAT STARTED IT ALL!!!
And here's the MAN who started it all -- Bill Haley! Click here to catch up with the Comets!
Why's it called rock and roll? Because of this guy! Meet the man who put the name to the kid's own special brand of music --
Alan Freed
! (And just think, the label's stuck all these years!)
Alan Freed referred to the hot new sound as "rock and roll" when he was a deejay in Cleveland. That's why Cleveland is now home to the Rock and Roll Hall of Fame!
Meet the hitmakers before the Brill Building heyday ... Sam Phillips and
Sun Records
! (They were the first major label to record a guy named Elvis...)
And, speaking of Elvis ... !!!
Don't forget to stop by the official
Roy Orbison
site too! (WHAT a voice!)
Hard to believe it, but Chuck Berry is still going strong in his 80s!!! One of the few and true living legends, Chuck continues to make live appearances, amazing audiences everywhere with his boundless energy!

As the Fifties gave way to the Sixties, a second wave of rock artists hit the airwaves. Suddenly, the sound that had begun in the Deep South was spreading to New York and LA and everywhere in between!
Like in, for example, Philadelphia...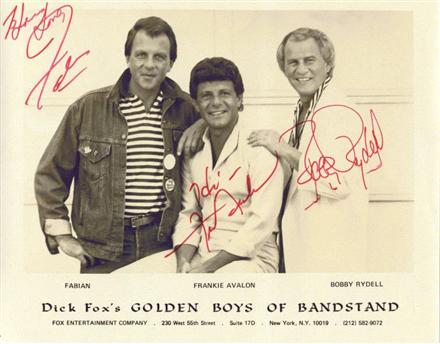 From bobby sox to stockings, and from "Venus" to "Beauty School Dropout" - Mr. Frankie Avalon!
Say hello to Bobby!
Let's twist again with Chubby!
What else can I say? ... Fabian, Fabian, FABIAN!!!
Special Frankie and Annette section on the Pop 60's page!
And Nashville...
Remember Phil and Don? Who can forget those BEAUTIFUL harmonies? Catch up with the Everly Brothers at their official site!
And New York...
Read all about Bobby (Darin, that is!)